10 Career-Defining Scott Rolen Baseball Cards – Instant PC
With so many different base cards, subsets, parallels, memorabilia cards and autographs, building out a collection for a single player can be overwhelming.
Luckily, the 10-Card Instant PC article series is here to help.
There are more than 6,500 Scott Rolen cards, according to the Beckett database.
So where does one begin putting together a Scott Rolen PC?
These 10 cards serve as an excellent representation of his playing career and footprint on the hobby, making them a great place to start.
1994-95 Excel #246 Scott Rolen
A second-round pick in the 1993 MLB draft out of Jasper High School in Indiana, Rolen made his pro debut in rookie ball before spending the 1994 season at Single-A Spartanburg where he hit .294/.363/.462 with 34 doubles, 14 home runs and 72 RBI in 138 games.
His first licensed cards came in 1994 minor league products. He has major release cards in the 1994 Classic/Best Gold and 1994-95 Excel sets, as well as team set cards from Classic and ProCards.
Buy on: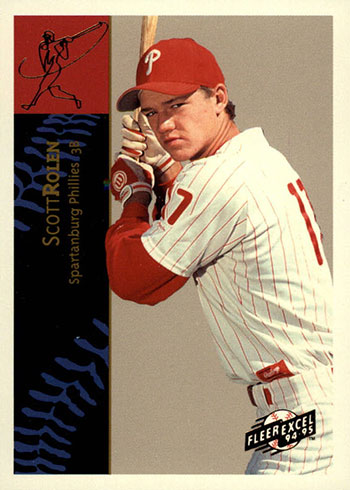 1995 Bowman #271 Scott Rolen FOIL RC
Following his stellar full-season debut, Rolen checked in at No. 91 on the Baseball America Top 100 prospects list at the start of the 1995 season, making him the top prospect in the Philadelphia Phillies farm system.
His strong performance also earned him a spot in the 1995 Bowman and Bowman's Best releases for his only two true Rookie Cards. Those two sets also feature Rookie Cards of Vladimir Guerrero and Andruw Jones.
Buy on: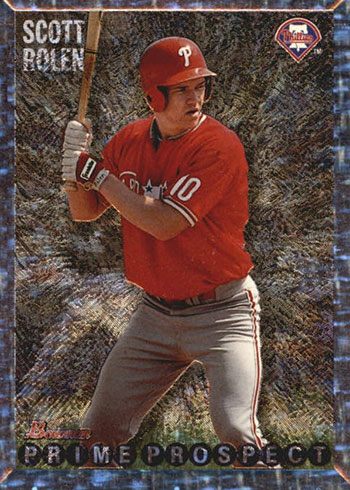 1996 Topps #434 Scott Rolen
After dealing with some injuries in 1995, Rolen solidified his standing as one of baseball's top prospects the following year when he hit .324/.416/.515 with 52 extra-base hits in 106 games between Double-A and Triple-A. He made his MLB debut on August 1, 1996, setting himself up to claim the everyday third base job in 1997.
His first Topps flagship card was part of the 1996 set and he shares it with three other players. The most notable of the group is Scott Spezio, who played 12 seasons in the majors and wound up being Rolen's teammate on the St. Louis Cardinals in 2006 when they won the World Series.
Buy on: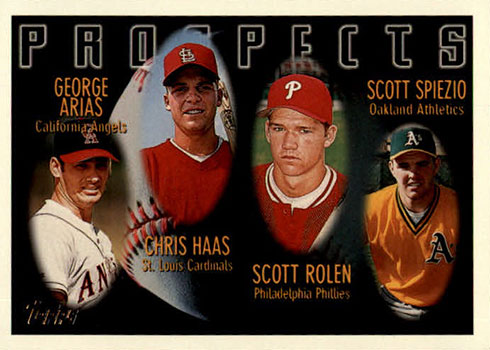 1998 Finest Mystery Finest 2 #M3 Nomar Garciaparra/Scott Rolen
Penciled in as the starting third baseman from the jump in 1997, Rolen quickly emerged as one of baseball's brightest young stars. He hit .283/.377/.469 with 35 doubles, 21 home runs and 92 RBI in a 4.5-WAR season to win NL Rookie of the Year honors unanimously.
In the other league, Nomar Garciaparra made a similarly strong first impression with the Boston Red Sox to win AL Rookie of the Year honors. The two up-and-comers were featured on a number of cards together the following year, including the always fun Mystery Finest insert set in 1998 Finest.
Buy on: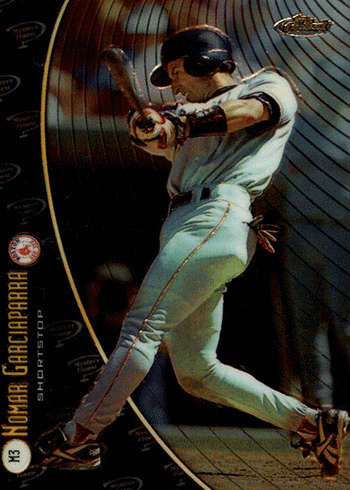 1998 Topps #25 Scott Rolen
Rolen was even better in his second full season in the majors, hitting .290/.391/.532 with 45 doubles, 31 home runs and 110 RBI while also winning his first of eight Gold Glove Awards.
After his 1997 Rookie of the Year win, his 1998 Topps base card not surprisingly featured the iconic Topps Rookie Cup. The card also comes in a Chrome and Chrome Refractor version, and all three are worth owning.
Buy on: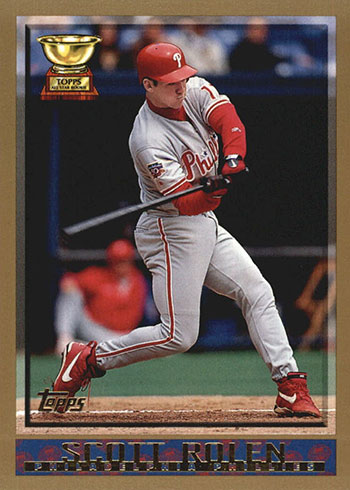 1999 Bowman's Best Franchise Favorites #FR2C Scott Rolen/Mike Schmidt
The Philadelphia Phillies have featured two of the greatest third basemen in MLB history over the years, with Rolen following in the footsteps of Hall of Fame legend Mike Schmidt. They rank first (Schmidt, 106.9) and ninth (Rolen, 70.1) in MLB history in career WAR among third basemen.
The pair have shared several different cards over the years, but the first came in the 1999 Bowman's Best Franchise Favorites insert set. The set also includes individual cards of Rolen and Schmidt, as well as a duo card and individual cards of Derek Jeter and Don Mattingly. There are also autographed versions of each card.
Buy on: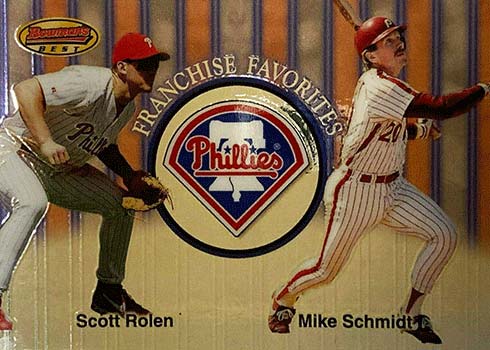 2002 Topps Traded #T72 Scott Rolen
On July 29, 2002, Rolen was traded to the St. Louis Cardinals in exchange for Placido Polanco, Mike Timlin and Bud Smith. He had demanded a trade as a result of ongoing tension with manager Larry Bowa and the team's failure to move toward contention. The Cardinals signed him to an eight-year, $90 million extension that September.
His first Topps card in a Cardinals uniform is part of the 2002 Topps Traded set. The 110 players and managers in the set were short-printed, so it carries a slightly higher price tag than the average veteran in a Traded set.
Buy on: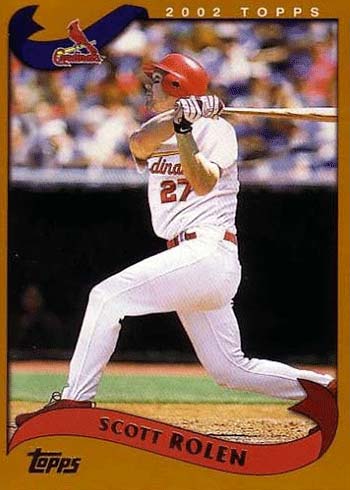 2003 Leaf Clean Up Crew #7 Scott Rolen/Albert Pujols/Jim Edmonds
From Rolen's first full season in St. Louis in 2003 through the end of the 2007 season, the trio of Albert Pujols, Jim Edmonds and Rolen wreaked havoc in the middle of the St. Louis Cardinals lineup. The trio combined for 449 home runs and 74.9 WAR during that five-year stretch, and St. Louis won the World Series in 2006.
The 2003 Leaf Clean Up Crow insert set is the perfect representation of that teammate trio's terrific production. The cards were found at a 1:49 hobby packs rate, with 10 trios of teammates making up the checklist.
Buy on: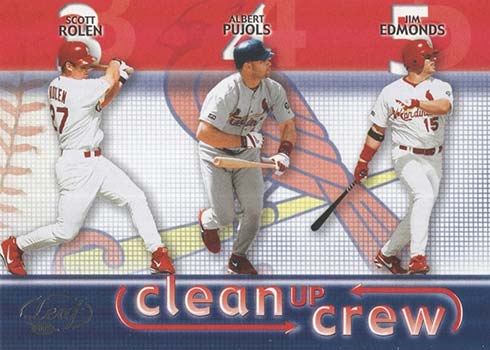 2008 Topps Update #UH180 Scott Rolen
With three years and $36 million remaining on his contract, Rolen was traded to Toronto in exchange for Troy Glaus prior to the 2008 season. In his first year with the Blue Jays, he posted a 109 OPS+ with 30 doubles, 11 home runs and 50 RBI in 115 games in his age-33 season.
He's still pictured with the Cardinals on his 2008 Topps base card, but he was included in the Topps Update set for his first flagship card in a Blue Jays uniform.
Buy on: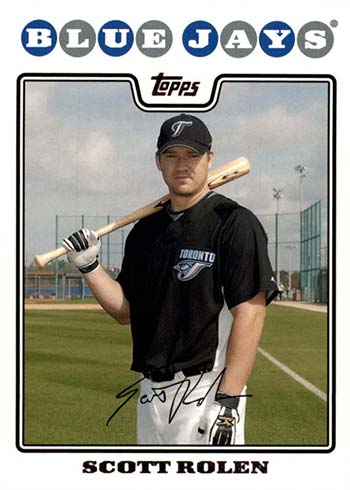 2012 Topps #255 Scott Rolen
Rolen was hitting .320/.370/.476 with 37 extra-base hits in 88 games during the 2009 season when he was traded again, this time to the Cincinnati Reds in exchange for a young Edwin Encarnacion.
He made his sixth and seventh All-Star Game appearances in 2010 and 2011 before hanging it up after the 2012 season. In 17 seasons, he logged a 122 OPS+ with 2,077 hits, 316 home runs, and 1,287 RBI.
Buy on: