10 Career-Defining Patrick Ewing Basketball Cards – Instant PC
Patrick Ewing became the face of the New York Knicks from the moment he was chosen No. 1 overall in the 1985 NBA draft, and he went on to lead the team for more than a decade on his way to a Hall of Fame career.
All told, there are more than 3,000 Patrick Ewing cards, according to the Beckett database.
So where does one begin putting together a Patrick Ewing PC?
The following 10 cards serve as an excellent representation of his playing career and footprint on the hobby, making them a great place to start.
1985-86 Star #166 Patrick Ewing XRC
One of the most decorated players in college basketball history, Ewing averaged 15.3 points, 9.2 rebounds and 3.4 blocks per game in four seasons at Georgetown while helping lead the Hoyas to an NCAA title during his junior year. The Knicks made him the No. 1 overall pick in the 1985 draft and he averaged 20.0 points, 9.0 rebounds and 2.1 blocks to win Rookie of the Year during the 1985-86 season.
His first officially licensed NBA card was part of the 1985-86 Star set and is considered an extended Rookie Card or XRC.
Buy on: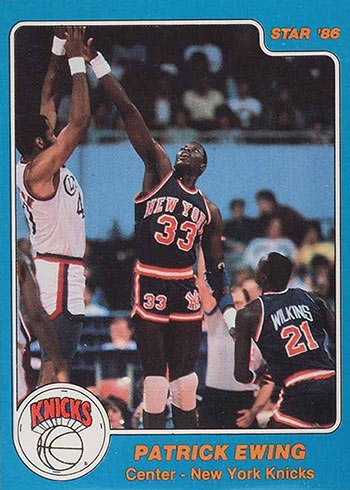 1986-87 Fleer #32 Patrick Ewing RC
The Knicks won just 23 games during Ewing's rookie season and just 24 the following year, but Ewing continued to shine with 21.5 points and 8.8 rebounds playing alongside fellow future Hall of Famer Bernard King.
Ewing's only Rookie Card is part of the iconic 1986-87 Fleer Basketball set and the only cards in the set with a higher book value are rookies of Michael Jordan, Hakeem Olajuwon, Charles Barkley and Karl Malone.
Buy on: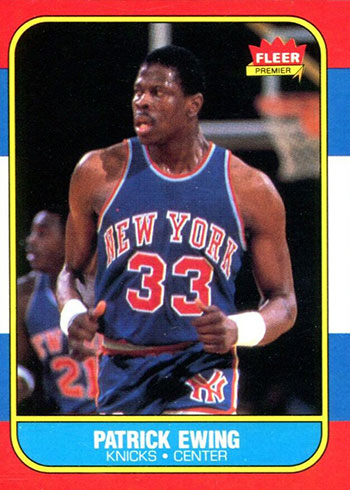 1989-90 Hoops #80 Patrick Ewing
A defensive force in the paint, Ewing had a career-high 327 blocks during the 1989-90 season, a number that stands as the 13th-highest single-season total in NBA history. That season also saw an uptick in his scoring from 22.7 points the previous year to a career best 28.6 points as he finished fifth in MVP voting.
The 1989-90 set was the inaugural release from the Hoops brand, and while mass production has limited its enduring value, it's a timeless design.
Buy on: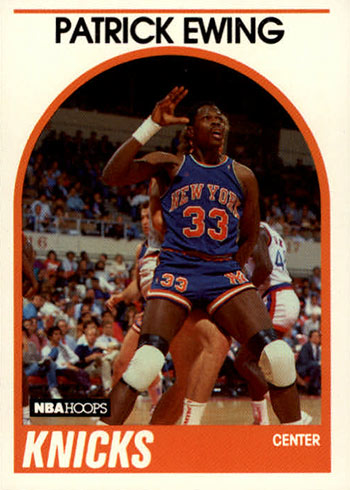 1991-92 Hoops #577 Patrick Ewing USA
Ewing was a member of the fabled Dream Team during the 1992 Olympics. He averaged 9.5 points, 5.3 rebounds and 1.9 blocks during the team's 8-0 run to the gold medal while splitting time at center with David Robinson.
The 1991-92 Hoops and SkyBox checklists both featured a subset that focused on the Team USA rosters, and both are great low-cost additions to any Ewing PC.
Buy on: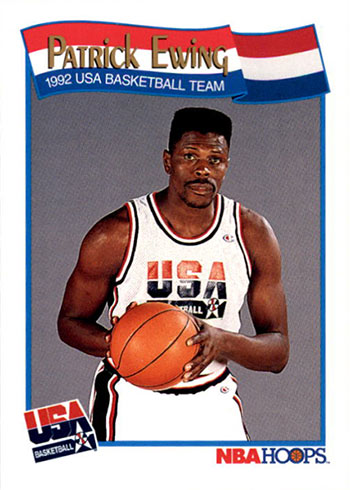 1993-94 Ultra Scoring Kings #3 Patrick Ewing
The Knicks reached the NBA finals during the 1993-94 season, knocking off the Michael Jordan-less Bulls in the Eastern Conference Semifinals before falling to Hakeem Olajuwon and the Houston Rockets in seven games in the NBA Finals. Ewing averaged 18.9 points and 12.4 rebounds in the series.
The 1993-94 Ultra Scoring Kings inserts have held their value as well as any cards from the insert boom of the 1990s, and they were a tough pull at 1:36 packs of Series 1.
Buy on: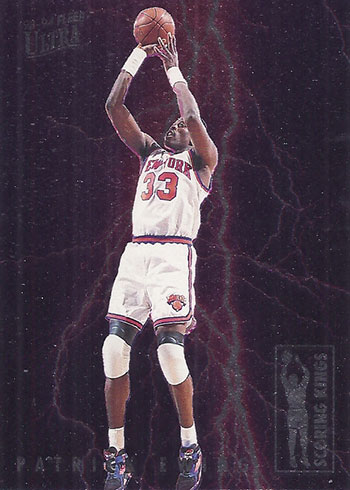 1996-97 Topps Stars Imagine #I18 Patrick Ewing/Willis Reed
Two of the greatest centers in NBA history have suited up for the Knicks, with Ewing and Willis Reed both earning a spot on the 75th Anniversary team when it was announced during the 2021-22 season.
The duo was featured together in the 1996-97 Topps Stars Imagine insert set which paired a current NBA star with a past legend. There is also a Members Only parallel version of the 25-card set.
Buy on: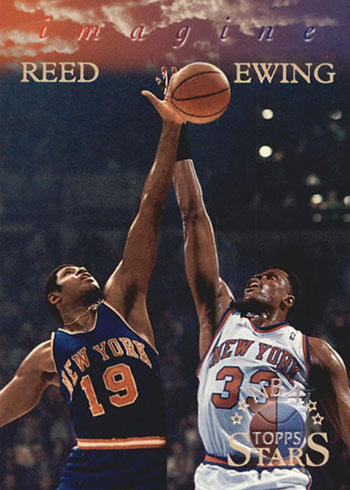 1996-97 Collector's Choice Mini-Cards #M135 Alonzo Mourning/Dikembe Mutombo/Patrick Ewing
Georgetown University produced three of the greatest centers in NBA history, with Ewing paving the way for Alonzo Mourning and Dikembo Mutombo in the early 1990s. They represent three of the four players from Georgetown who are in the Basketball Hall of Fame, with the other being point guard Allen Iverson.
The trio of Hoyas big men were featured side-by-side on a mini card in the 1996-97 Collector's Choice set.
Buy on: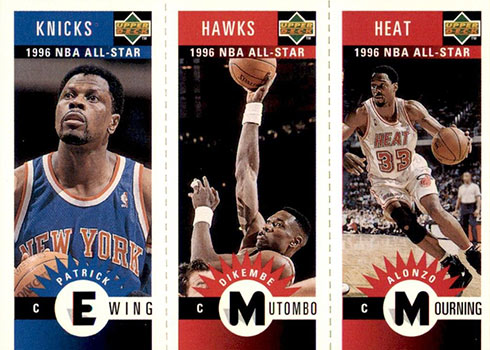 1997-98 Upper Deck Game Jerseys #GJ20 Patrick Ewing
The 1997-98 season marked the final year that Ewing averaged more than 20 points, checking in at 20.8 points and 10.2 rebounds in his age-35 campaign. A significant wrist injury limited him to just 26 games that year, but he returned much sooner than expected during the playoffs.
The 1997-98 Upper Deck Game Jersey insert set was ground-breaking in that it was the hobby's first exposure to game-used patch cards. They were an extremely difficult pull at 1:2,500 packs and still sell for a premium.
Buy on: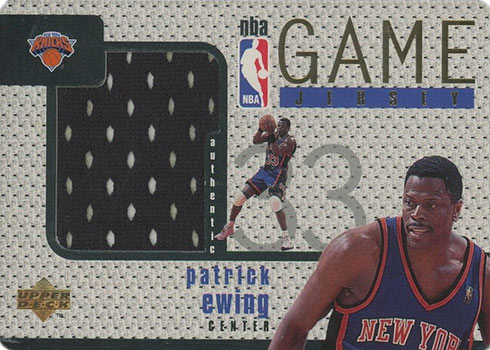 2000-01 Topps Chrome Refractors #58 Patrick Ewing
After 15 seasons with the Knicks, Ewing was traded to Seattle prior to the 2000-01 season in a massive four-team, 12-player, five-pick deal that also included Glen Rice and Horace Grant. He started 79 games and averaged 9.6 points and 7.4 rebounds in 26.7 minutes for a 44-win team playing alongside Gary Payton, Rashard Lewis, Vin Baker and Ruben Patterson.
What better way to represent his brief time in Seattle than with a Topps Chrome Refractor?
Buy on: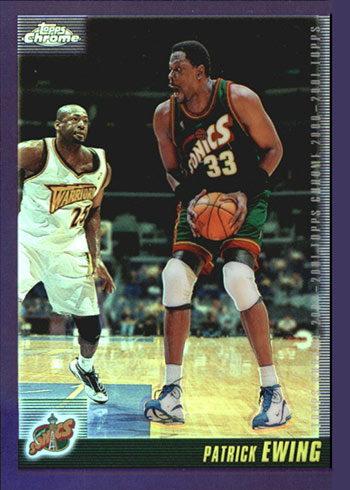 2002-03 Topps #33 Patrick Ewing
Ewing played his final NBA season with the Magic during the 2001-02 season, averaging 6.0 points and 4.0 rebounds in 13.9 minutes per game serving as backup to Horace Grant at center on a team led by Tracy McGrady.
While he didn't play during the 2002-03 season, Ewing was featured in the 2002-03 Topps set, and that means his final card features a full stat back of his Hall of Fame career.
Buy on: