10 Career-Defining Nomar Garciaparra Baseball Cards – Instant PC
When you click on links to various merchants on this site, like eBay, and make a purchase, this can result in this site earning a commission.
With so many different base cards, subsets, parallels, memorabilia cards and autographs, building out a collection for a single player can be overwhelming.
Luckily, the 10-Card Instant PC article series is here to help.
There are more than 7,500 Nomar Garciaparra cards, according to the Beckett database.
So where does one begin putting together a Nomar Garciaparra PC?
These 10 cards serve as an excellent representation of his playing career and footprint on the hobby, making them a great place to start.
1992 Topps Traded #39T Nomar Garciaparra RC
After hitting .363/.429/.500 with 82 hits in 61 games during his freshman season at Georgia Tech, Garciaparra earned a spot on the U.S. National Team for the 1992 Olympics.
As a result, his only Rookie Card is part of the 1992 Topps Traded set, and at his peak the card was one of the hottest on the market and regularly sold for north of $100. Prices have since come back down to earth but it remains an iconic card of the late 1990s and early 2000s.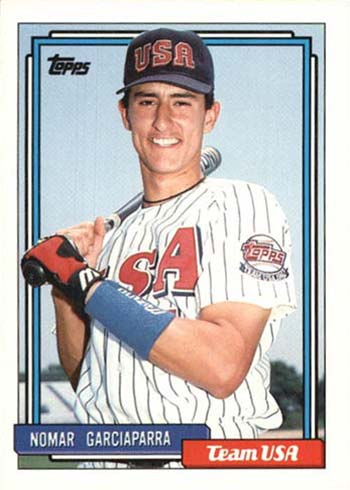 1994 Stadium Club Draft Picks #69 Nomar Garciaparra
Following a junior season with the Yellow Jackets where he hit .427/.505/.777 with 26 doubles, 11 triples, 16 home runs and 73 RBI in 64 games, Garciaparra was the No. 12 overall pick in the 1994 draft.
In 1994, Stadium Club released the first and only Stadium Club Draft Picks set which featured that year's top draft picks in their MLB uniforms. With no veteran players on the checklist, they are not considered Rookie Cards, but the set does contain XRCs of Paul Konerko and Aaron Boone.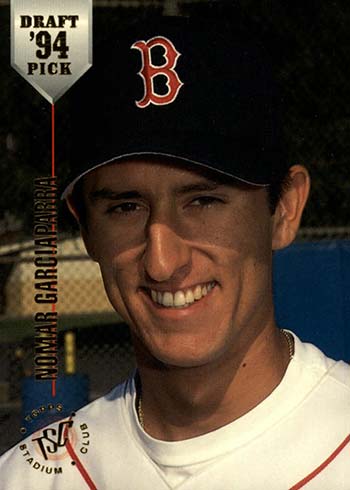 1997 Topps Awesome Impact #AI4 Nomar Garciaparra
After making his MLB debut on Aug. 31, 1996, Garciaparra took over as Boston's starting shortstop during the 1997 season. He hit .306/.342/.534 with 44 doubles, 30 home runs, 98 RBI, 122 runs scored and an AL-leading 209 hits to win AL Rookie of the Year honors over Blue Jays outfielder Jose Cruz Jr.
The 1997 Topps Awesome Impact insert set has held its value as well as any late '90s flagship insert, with Derek Jeter ($20), Garciaparra ($12), Vladimir Guerrero ($8), Chipper Jones ($8), Mariano Rivera ($8), Andruw Jones ($5) and Scott Rolen ($5) all commanding a premium.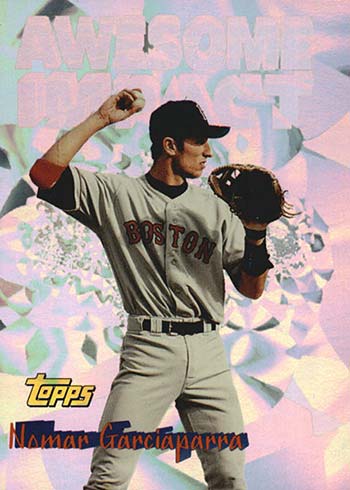 1998 Bowman Certified Blue Autographs #42 Nomar Garciaparra
Garciaparra followed up his stellar rookie season by hitting .323/.362/.584 with 37 doubles, 35 home runs and 122 RBI in 1998, finishing second in AL MVP voting to Texas Rangers slugger Juan Gonzalez.
He has autographed cards in the 1995 SP Top Prospects and 1997 Donruss Signature sets, but his first 1998 Bowman autograph gets the nod here thanks to a reasonable price tag and the recognition of the Bowman brand. The card has three different variations—a Blue, Silver and Gold.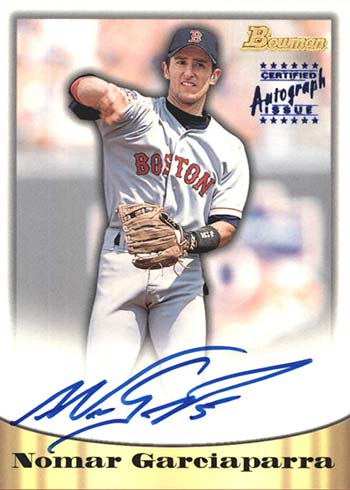 1998 Topps #335 Nomar Garciaparra
A terrific rookie campaign earned Garciaparra a spot on the 1997 Topps All-Star Rookie team and the accompanying gold cup logo on his 1998 Topps flagship card.
The rest of the All-Star Rookie roster that year was made up of teammate Scott Hatteberg, Dmitri Young, Wilton Guerrero, NL Rookie of the Year winner Scott Rolen, Jose Cruz Jr., Jose Guillen, Andruw Jones, Jason Dickson and Mike Holtz.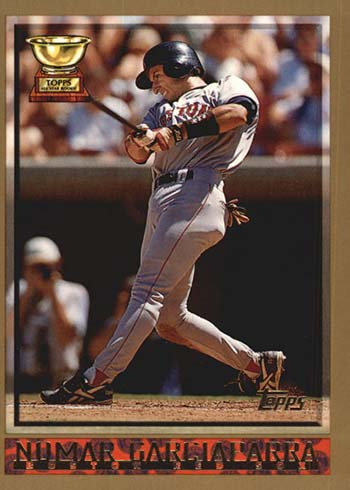 1998 Ultra Double Trouble #16 Nomar Garciaparra/Mo Vaughn
When Garciaparra first broke onto the scene with the Red Sox, he joined slugging first baseman Mo Vaughn as one of the faces of the franchise in Boston. The pair played together for two seasons before Vaughn signed with the Anaheim Angels in free agency.
The Double Trouble inserts in 1998 Ultra Series 1 were found in 1:4 packs, and featured some of the game's best teammate duos, including Ken Griffey Jr and Alex Rodriguez, Pedro Martinez and Vladimir Guerrero, and Chipper Jones and Greg Maddux.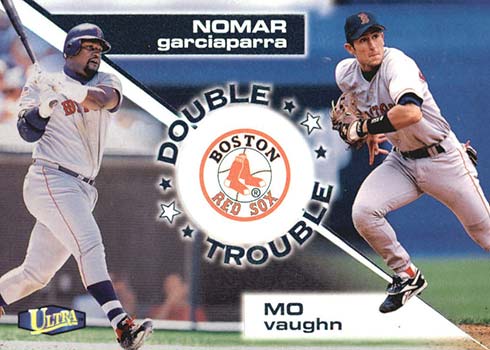 1999 Topps #452 Alex Rodriguez/Nomar Garciaparra/Derek Jeter
Garciaparra was one of the headliners of an explosion of talent at the shortstop position during the late 1990s, alongside Seattle Mariners phenom Alex Rodriguez and New York Yankees homegrown superstar Derek Jeter.
The 1999 Topps Series 2 checklist includes an All-Topps subset featuring notable trios from around the league, with the A-Rod-Jeter-Garciaparra serving as the perfect representation of the league's young stardom at the shortstop position.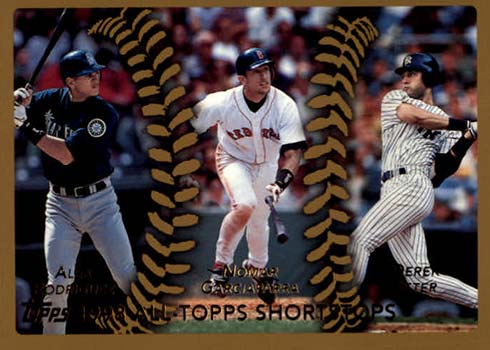 2004 Topps Traded #T36 Nomar Garciaparra
Midway through his ninth season in a Red Sox uniform, Garciaparra was traded to the Chicago Cubs in a three-team deal that brought shortstop Orlando Cabrera and first baseman Doug Mientkiewicz to Boston for the team's World Series run.
His first card in a Chicago Cubs uniform came in 2004 Topps Traded after he hit .297/.364/.455 with four home runs and 20 RBI in 43 games following the trade. The Cubs re-signed him to a one-year, $8.25 million deal that offseason, but a groin injury sidelined him for much of the 2005 campaign.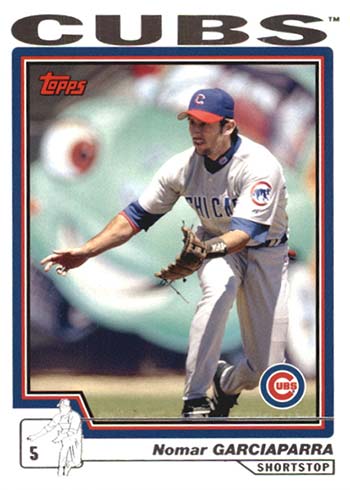 2006 Topps Chrome #29 Nomar Garciaparra
Following his injury-plagued 2005 season, Garciaparra signed a one-year, $6 million deal with the Los Angeles Dodgers and enjoyed a bounce-back season. The 32-year-old hit .303/.367/.505 with 31 doubles, 20 home runs and 93 RBI as the team's starting first baseman, earning his final All-Star selection.
Garciaparra was still pictured in a Cubs uniform for the Topps base set, but his photo was edited for 2006 Topps Chrome. It gets the nod to represent his move to the Dodgers in this collection.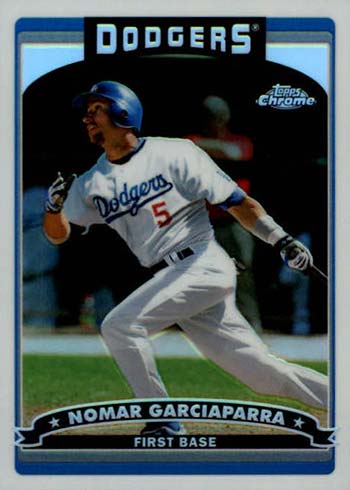 2009 O-Pee-Chee #33 Nomar Garciaparra
After three seasons with the Dodgers, Garciaparra joined the Oakland Athletics on a one-year, $1 million deal for the 2009 season. He played in 65 games for the A's, hitting .281 with three home runs and 16 RBI in 169 plate appearances.
He doesn't have a Topps flagship card in an Athletics uniform, but he does have a few options from 2009 sets, including one in the 2009 O-Pee-Chee release from Upper Deck that serves as the bookend to his playing days.