10 Career-Defining Mike Piazza Baseball Cards – Instant PC
With so many different base cards, subsets, parallels, memorabilia cards and autographs, building out a collection for a single player can be overwhelming.
Luckily, the 10-Card Instant PC article series is here to help.
There are more than 13,000 Mike Piazza cards, according to the Beckett database.
So where does one begin putting together a Mike Piazza PC?
These 10 cards serve as an excellent representation of his playing career and footprint on the hobby, making them a great place to start.

1989 Salem Dodgers Team Issue #25 Mike Piazza
The Los Angeles Dodgers selected Mike Piazza in the 62nd round of the 1988 MLB draft as a favor to Piazza's father Vince, a childhood friend of Dodgers manager Tommy Lasorda.
He made his pro debut the following year with the Salem Dodgers of the Low-A Northwest League, and his first official card was released as part of the club's team set that year.
Buy on: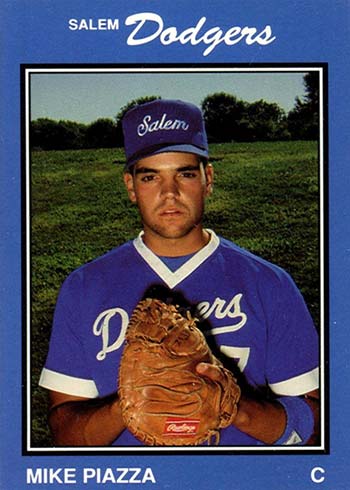 1992 Bowman #461 Mike Piazza RC
Following a breakout season in the minors, in 1991, Piazza hit .350/.413/.587 with 33 doubles, 23 home runs and 90 RBI in 125 games between Double-A and Triple-A in 1992 before making his debut later that year as a September call-up.
The future Hall of Famer only has two Rookie Cards in the 1992 Bowman and 1992 Fleer Update sets. Both have a shorter print run than the majority of the rest of the Junk Wax Era, helping them hold their value better than most from the early 1990s.
Buy on: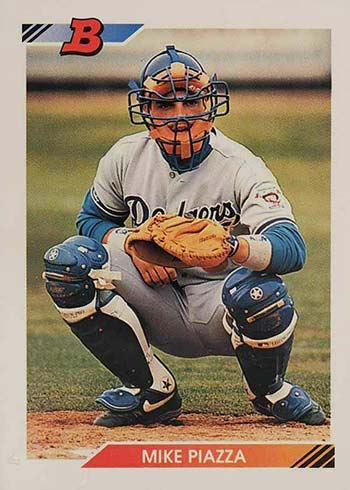 1993 Topps #701 Mike Piazza 
In 1993, Piazza replaced veteran Mike Scioscia as the Dodgers' starting catcher to begin the year, and he went on to put together one of the greatest rookie seasons in MLB history. The 24-year-old hit .318/.370/.561 with 35 home runs and 112 RBI to win NL Rookie of the Year unanimously.
His first Topps card was part of the 1993 flagship set, and he shared it with three other players, including Toronto Blue Jays rising star Carlos Delgado who began his pro career as a catcher before shifting to first base.
Buy on: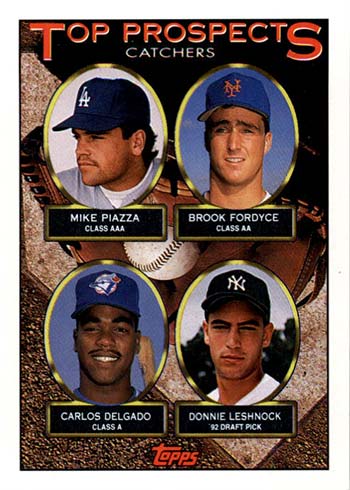 1994 Topps #1 Mike Piazza
During the strike-shortened 1994 season, Piazza followed up his stellar rookie campaign by hitting .319/.370/.541 with 24 home runs and 92 RBI in 107 games to earn his first starting nod in the All-Star Game.
His fantastic rookie season earned him a spot on the Topps All-Star Rookie team and his card featured the accompanying gold rookie cup logo for the 1994 Topps release.
Buy on:
1996 Pinnacle Team Pinnacle #8 Mike Piazza/Ivan Rodriguez
Mike Piazza and Ivan Rodriguez were voted to start the All-Star Game opposite each other at the catcher position eight different times over the course of their Hall of Fame careers, including six years in a row from 1993-99.
The duo was featured together on the popular Team Pinnacle inserts in 1994, 1996, 1997 and 1998, and the '96 design gets my vote for best-looking of the bunch with an action shot over a baseball seam background decked out in bright gold.
Buy on: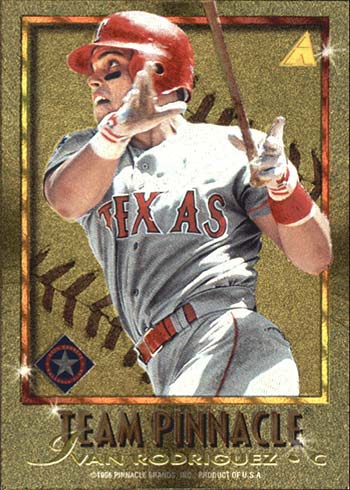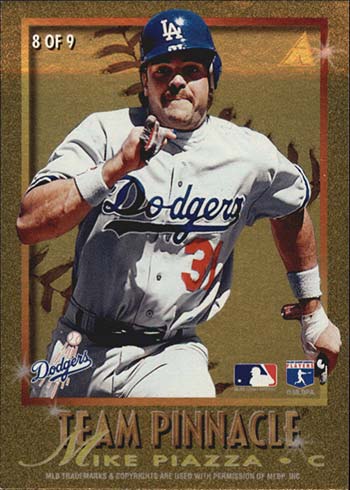 1998 Pacific Omega #100 Mike Piazza
In his seventh season with the Dodgers, and with free agency looming during the upcoming offseason, Piazza was traded to the Florida Marlins on May 14, 1998 in a seven-player deal that sent Gary Sheffield and All-Star catcher Charles Johnson the other way.
Eight days later, after playing five games for the Marlins, Piazza was traded again, this time going to the New York Mets in exchange for Preston Wilson and a pair of prospects.
His busy season of shuffling teams is captured perfectly on his 1998 Pacific Omega card, which features him in uniform for each of the three clubs he suited up for during the '98 campaign.
Buy on: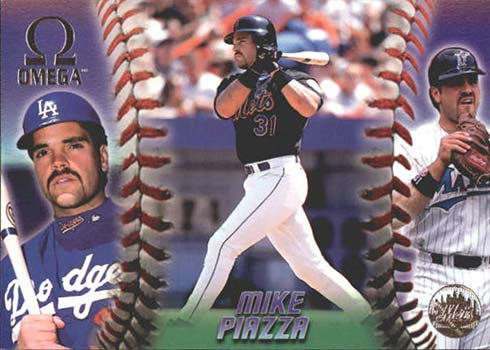 1999 Topps #340 Mike Piazza
After hitting .348/.417/.607 with 23 home runs and 76 RBI in 109 games following his trade to the Mets in '98, Piazza signed a seven-year, $91 million extension with the team on Oct. 24. It was the largest contract in MLB history both in total money and average annual value when it was signed.
There was no Topps Traded set in 1998, so his first Topps card in a Mets uniform had to wait until the 1999 flagship release.
Buy on: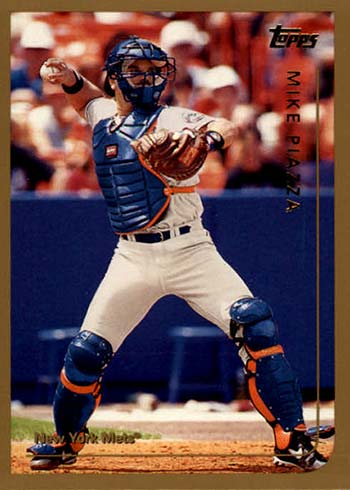 2000 SPx Power Brokers #PB5 Mike Piazza
A year after losing in the NLCS, the Mets won the NL pennant during the 2000 season, which set up a clash with the New York Yankees in the World Series. The Yankees came out on top in five games, and that was the only time that Piazza would reach the Fall Classic in his 16-year career.
The 2000 SPx Power Brokers set is an underrated and extremely affordable 20-card checklist if you're looking for a fun insert set to build. They were a relatively easy pull found in 1:8 hobby packs.
Buy on: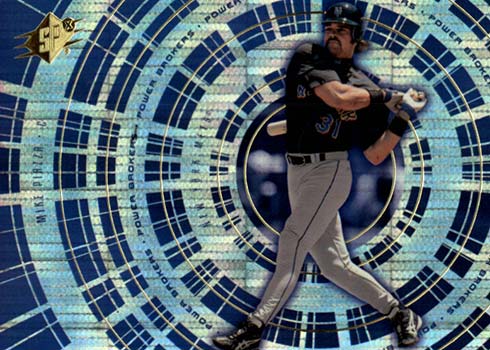 2006 Topps #585 Mike Piazza
After playing out his seven-year deal with the Mets, Piazza signed a one-year, $1.25 million deal with the San Diego Padres for his age-37 season. He still had something left in the tank, hitting .283/.342/.501 for a 122 OPS+ with 22 home runs and 68 RBI.
It's easy to forget he spent a season with the Padres, and it's still bizarre to see him in that uniform on his 2006 Topps card.
Buy on: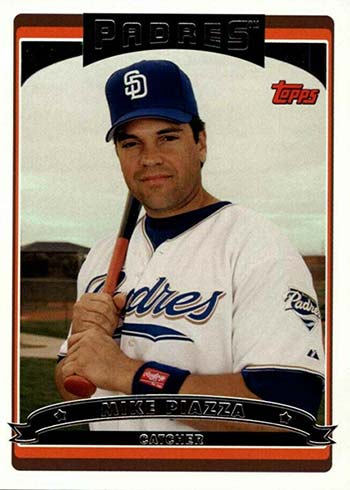 2008 Topps #72 Mike Piazza
His strong 2006 numbers were enough for Piazza to land a one-year, $8.5 million deal from the Oakland Athletics, who signed him to replace Frank Thomas in the designated hitter role. In what would be the final season of his career, Piazza hit .275/.313/.414 with eight home runs and 44 RBI in 83 games.
He's pictured in an Athletics uniform for his 2007 and 2008 Topps card, with the '08 version featuring a full statback since he retired following the '07 campaign.
Buy on: