10 Career-Defining Manny Ramirez Baseball Cards – Instant PC
With so many different base cards, subsets, parallels, memorabilia cards and autographs, building out a collection for a single player can be overwhelming.
Luckily, the 10-Card Instant PC article series is here to help.
There are more than 11,000 Manny Ramirez cards, according to the Beckett database.
So where does one begin putting together a Manny Ramirez PC?
These 10 cards serve as an excellent representation of his playing career and footprint on the hobby, making them a great place to start.
1991 Front Row Draft Picks #47 Manny Ramirez
The Indians selected Ramirez with the No. 13 overall pick in the 1991 MLB draft out of George Washington High School in New York. He hit .326/.426/.679 with 19 home runs and 63 RBI in 59 games in rookie ball that year after signing.
Ramirez has a variety of cards in 1991 minor league sets, and his 1991 Front Row Draft Picks cards also came in a gold parallel version and an autographed version that was numbered to 1,900. The autograph version has a high book value of $25.
Buy on: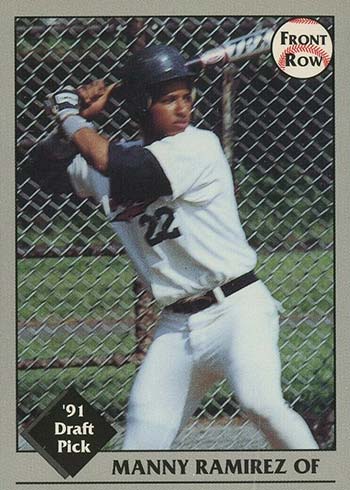 1992 Bowman #532 Manny Ramirez RC
A year after he was drafted, Ramirez shot up to No. 37 on the Baseball America Top 100 prospect list entering the 1992 season. He spent the entire season at High-A Kinston where he posted an .881 OPS with 13 home runs and 63 RBI in 81 games.
He has nine different Rookie Cards scattered across 1992 products, and his 1992 Bowman is the most valuable of the bunch. Ramirez also has a foil card in the 1992 Bowman set, though that one is not considered a rookie.
Buy on: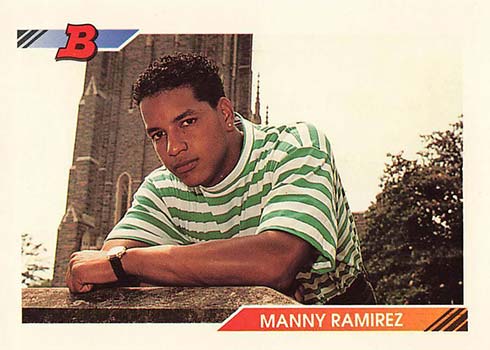 1993 SP #285 Manny Ramirez FOIL
The 1993 season is when Ramirez officially announced himself as a budding superstar with a huge season in the upper levels of the minors. The 21-year-old hit .333/.417/.614 with 44 doubles, 31 home runs and 115 RBI in 129 games between Double-A and Triple-A, and he made his MLB debut as a September call-up.
Though not a Rookie Card, his 1993 SP card is among his most sought after early cards. His foil card is part of the same "Premier Prospects" subset as the most valuable Derek Jeter rookie.
Buy on: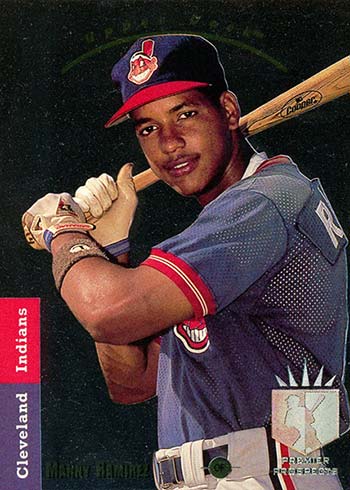 1994 Topps #216 Manny Ramirez
In his first taste of regular MLB action in 1994, Ramirez hit .269/.357/.521 with 22 doubles, 17 home runs and 60 RBI in 91 games to finish runner-up to Bob Hamelin in AL Rookie of the Year balloting.
He was still included in a number of "rookie" and "prospect" subsets in 1994 sets, and that included the "Future Star" subset in the 1994 Topps flagship release.
Buy on: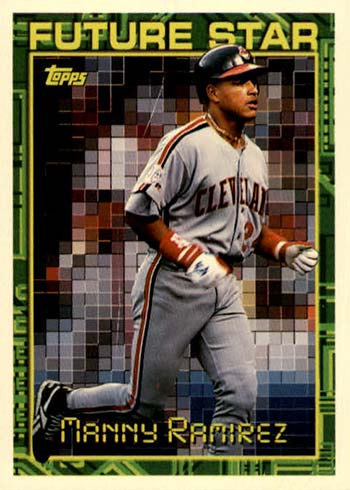 1995 Topps #577 Manny Ramirez
The Indians boasted one of the most prolific offenses in MLB history during the 1995 season. Ramirez was a big part of that, hitting .308/.402/.558 with 31 home runs and 107 RBI to earn his first All-Star selection, win Silver Slugger and finish 12th in AL MVP voting.
His strong rookie performance earned him a spot on the Topps All-Star Rookie Team with its accompanying rookie cup logo on his 1995 Topps flagship card. It's a no-brainer addition to any Ramirez collection.
Buy on: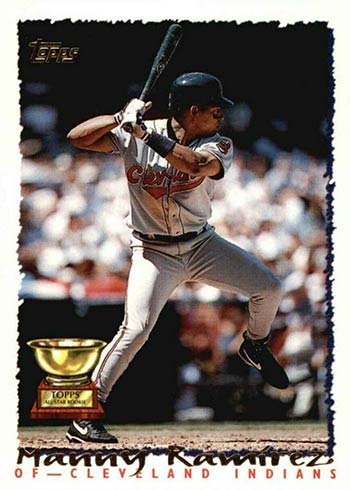 2001 Topps #596 Manny Ramirez
After eight seasons in Cleveland, Ramirez hit free agency during the 2000-01 offseason as one of the most sought after bats on the market. He wound up signing an eight-year, $160 million contract with the Boston Red Sox, and he would help transform the organization in the years that followed.
Ramirez was still pictured as a member of the Indians for the 2001 Topps Series 1 release, but he was included again on the Series 2 checklist in his new Red Sox uniform.
Buy on: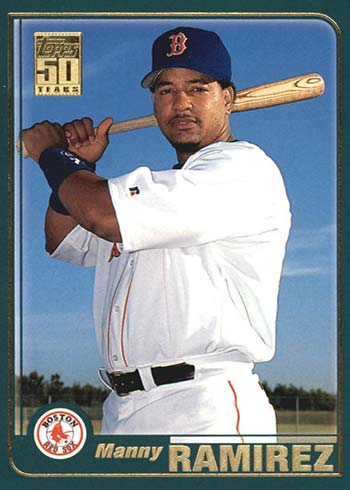 2004 Hot Prospects Draft Tandems #9 M.Ramirez/D.Ortiz
Two years after signing Ramirez, the Red Sox added Minnesota Twins cast-off David Ortiz, and in the process they assembled arguably the most impactful middle-of-the-order duo of the last 50 years. During the five-year stretch from 2003 through 2008, the pair combined for 388 home runs, 1,210 RBI, and led the Red Sox to a pair of World Series titles.
It's only fitting to have a card featuring the dynamic duo, and the 2004 Hot Prospect Draft insert set "Tandems" is as good a pick as any. The cards were found in 1:15 packs and the Ortiz/Ramirez card carries a modest $2.50 book value.
Buy on: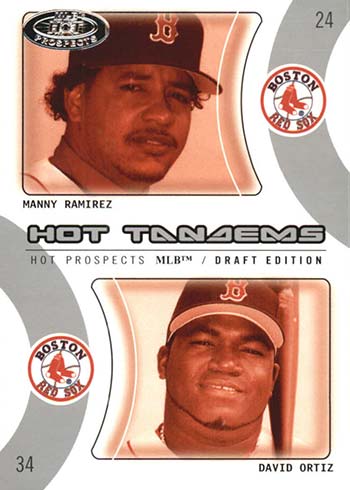 2008 Topps Update #UH237 Manny Ramirez
In the final season of his eight-year contract, Ramirez was traded to the Los Angeles Dodgers in a three-team, six-player deal that brought Jason Bay to Boston. He hit an absurd .396/.489/.743 with 17 home runs and 53 RBI in 53 games following the trade to help the Dodgers win the NL West title. He would re-up with the team that offseason on a two-year, $45 million deal.
His first Topps card in a Dodgers uniform was included in the 2008 Topps Update set.
Buy on: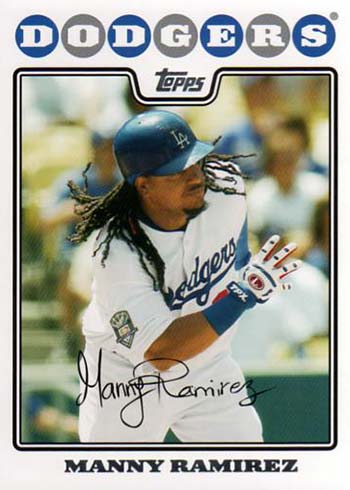 2011 Topps #128 Manny Ramirez
On Aug. 30, 2010, the Chicago White Sox claimed Ramirez off waivers from the Dodgers, absorbing the remainder of his salary with no compensation going the other way in the deal. The 38-year-old hit .261/.420/.319 with two extra-base hits in 88 plate appearances with the South Siders.
Despite playing just 24 games in a White Sox uniform, he does have a White Sox card in the 2011 Topps flagship set.
Buy on: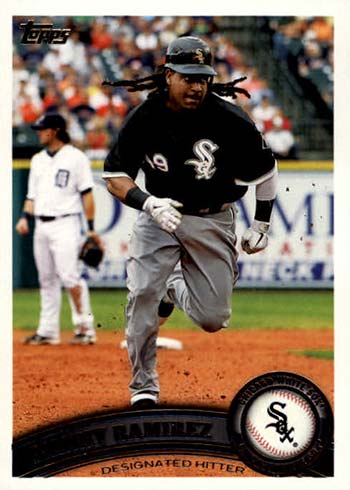 2012 Topps #393 Manny Ramirez
After going 1-for-17 with four strikeouts in five games with the Tampa Bay Rays in 2012, Ramirez called it quits on April 8, 2011. However, he tried to make a comeback the following spring when he signed a minor league deal with the Oakland Athletics.
He never played a regular season game for Oakland, but he does have a card in the 2012 Topps set where he's pictured in an Athletics uniform. The card features a full stat back since he didn't play again at the big league level after the 2011 season.
Buy on: