10 Career-Defining Jose Canseco Baseball Cards – Instant PC
When you click on links to various merchants on this site, like eBay, and make a purchase, this can result in this site earning a commission.
With so many different base cards, subsets, parallels, memorabilia cards and autographs, building out a collection for a single player can be overwhelming.
Luckily, the 10-Card Instant PC article series is here to help.
There are more than 5,500 Jose Canseco cards, according to the Beckett database.
So where does one begin putting together a Jose Canseco PC?
These 10 cards serve as an excellent representation of his playing career and footprint on the hobby, making them a great place to start.
1983 Madison Muskies Fritsch #13 Jose Canseco
The Oakland Athletics selected Jose Canseco in the 15th round of the 1982 MLB draft out of Carol City High School in Miami Gardens, Florida. He began his pro career that same year with 34 games between rookie ball and Single-A, hitting .242 with two home runs in 76 plate appearances.
The following season he was assigned to Single-A Madison and the first card in his database shows him as a member of the Madison Muskies when he was just 18-years old.
Buy on: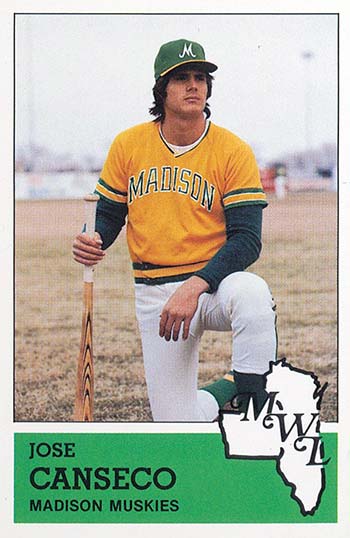 1986 Donruss #39 Jose Canseco RC
Canseco moved quickly through the minor league ranks and made his MLB debut as a September call-up in 1985. He hit .302/.330/.490 with five home runs and 13 RBI in 29 games, and that was enough for him to win an everyday job the following year.
His strong debut earned him a place in the Donruss "Rated Rookie" subset, and his 1986 Donruss Rookie Card stands as one of the iconic cards of the 1980s. At its peak, it regularly fetched more than $100, and it still carries a book value of $30.
Buy on: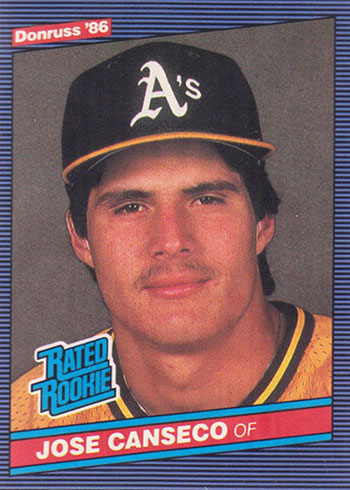 1987 Topps #620 Jose Canseco
The everyday left fielder in Oakland as a rookie in 1986, Canseco hit .240/.318/.457 with 33 home runs and 117 RBI to edge out California Angels first baseman Wally Joyner for AL Rookie of the Year honors.
That stellar performance earned him a spot on the Topps All-Star Rookie Team, and his 1987 Topps card carries the gold cup logo.
Buy on:
1988 Fleer #624 Mark McGwire/Jose Canseco
At their peak during the late 1980s and early 1990s, Mark McGwire and Jose Canseco were the primary run producers in the middle of the Oakland lineup, and they were known as the "Bash Brothers" at their peak.
The duo appears on a few different cards together, including one in the 1988 Fleer base set when both McGwire (164 OPS+, 49 HR, 118 RBI) and Canseco (110 OPS+, 31 HR, 113 RBI) were coming off stellar 1987 campaigns.
Buy on: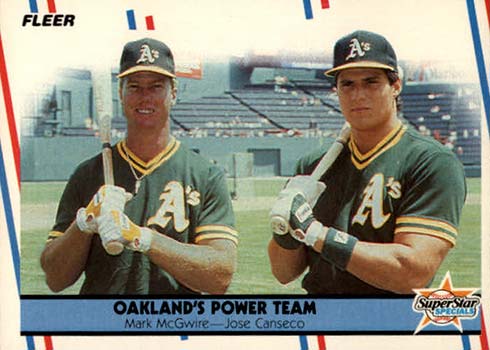 1989 Donruss #643 Jose Canseco – 40/40 Club
In his age-23 season in 1988, Canseco put together his best season, becoming baseball's first 40/40 player with an AL-leading 42 home runs and 40 steals. The feat has only been accomplished three more times since, and it earned Canseco unanimous AL MVP honors.
His 40/40 season was highlighted on a special card in the 1989 Donruss set, and while it can be found for less than $1, it's the perfect representation of when Canseco was at the peak of his productivity and his popularity in the hobby.
Buy on: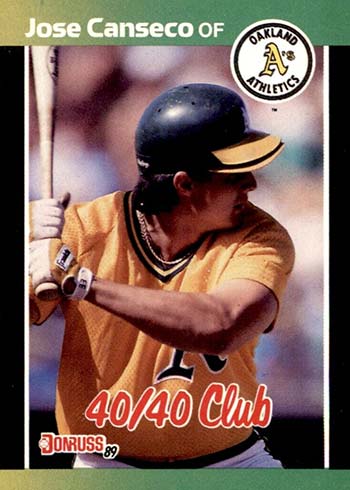 1993 Topps #500 Jose Canseco
The Athletics shocked the baseball world when they traded Canseco to the Texas Rangers on Aug. 31, 1992, in exchange for slugger Ruben Sierra, starter Bobby Witt, and reliever Jeff Russell. He had a 126 OPS+ with 22 home runs and 76 RBI at the time of the trade, and joined a Texas lineup that already included Juan Gonzalez and Rafael Palmeiro.
Canseco was not included in the 1992 Topps Traded set, so his first Topps card in a Rangers uniform was part of the 1993 flagship set.
Buy on: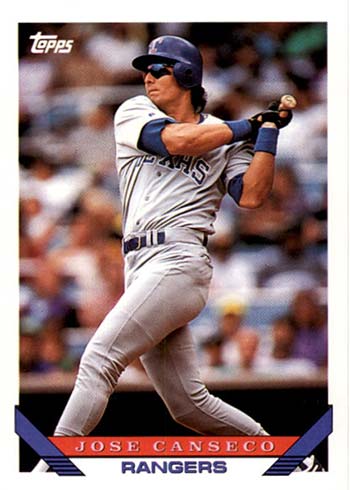 1995 Topps Traded #72T Jose Canseco
After slugging 31 home runs in 111 games during the strike-shortened 1994 season, Canseco was traded again, this time going to the Boston Red Sox in exchange for speedy outfielder Otis Nixon and prospect Luis Ortiz.
He averaged 26 home runs and 82 RBI in two full seasons in Boston before he was traded again, returning to Oakland in the final season of his contract. His first Red Sox team was part of the 1995 Topps Traded set.
Buy on: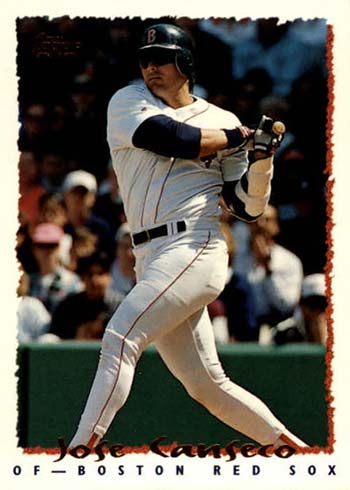 1998 Bowman #277 Jose Canseco
Canseco hit .235 with a 106 OPS+ and 23 home runs in 108 games during a down year in 1997, and he had to settle for a one-year, $2.125 million deal from the Toronto Blue Jays that offseason. He bounced back with a 46-homer, 107-RBI season hitting alongside Carlos Delgado and Shawn Green in the Toronto lineup.
He didn't have a Topps card in a Blue Jays uniform in 1998, so I've gone with his Bowman base card to represent his arrival in Toronto.
Buy on: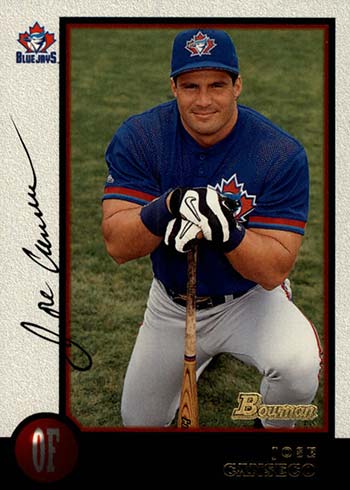 1999 Topps Traded #T83 Jose Canseco
Despite his Silver Slugger winning performance in Toronto, Canseco again had to settle for a one-year deal the following offseason with a slight raise to $3.325 million to join the Tampa Bay Devil Rays in their second year of existence.
He made his sixth and final All-Star appearance with a 34-homer season in Tampa Bay, and returned to the Rays on another one-year deal. He was claimed off waivers by the New York Yankees on Aug. 7, 2000, and he went on to win a ring that year.
Buy on: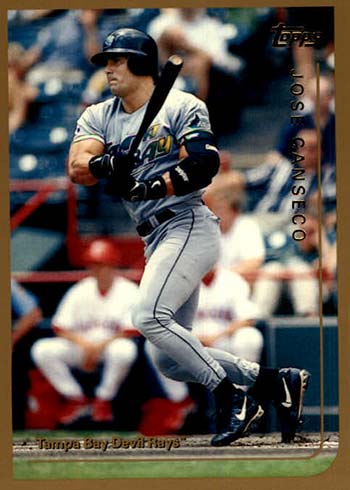 2002 Topps #435 Jose Canseco
After spending some time in indy ball, Canseco joined the Chicago White Sox for the 2001 season, and he wound up posting a 117 OPS+ with 16 home runs and 49 RBI in 76 games.
The Montreal Expos signed him during the offseason, but he was released four days before Opening Day and that was the end of his MLB career. Despite never playing a regular-season game with the Expos, he's featured in an Expos uniform for his final Topps card in the 2002 set, complete with a full stat back.
Buy on: