10 Career-Defining Jason Kidd Basketball Cards – Instant PC
Over a 19-year NBA career, Jason Kidd established himself as one of the best point guards in basketball history. His 12,091 assists rank second only to John Stockton on the all-time list, and the 10-time All-Star is one of just five players in NBA history with more than 100 career triple-doubles.
All told, there are more than 7,500 Jason Kidd cards, according to the Beckett database.
So where does one begin putting together a Jason Kidd PC?
The following 10 cards serve as an excellent representation of his playing career and footprint on the hobby, making them a great place to start.
1994 Pacific Prisms #28 Jason Kidd
Kidd averaged 16.7 points, 9.1 assists and 6.9 rebounds during his sophomore season at the University of California to earn All-American honors. The Golden Bears were a No. 5 seed in the 1994 NCAA tournament, but they were upset by a No. 12 seed Green Bay team that had a pair of future NBA players on the roster.
Kidd has a few different cards from his college days, including a handful in the 1994 Classic set, but it's tough to beat the look of the 1994 Pacific Prisms set. The 75-card checklist also includes Grant Hill, Jalen Rose, Glenn Robinson and Eddie Jones.
Buy on: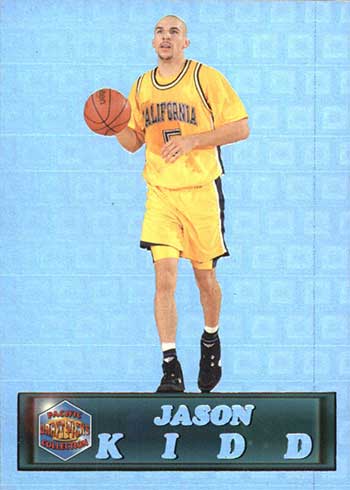 1994-95 Finest #286 Jason Kidd RC
The Mavericks selected Kidd with the No. 2 overall pick in the 1994 NBA draft after the Bucks selected Purdue big man Glenn Robinson with the first pick. He was the starting point guard from the jump and averaged 11.7 points, 7.7 assists and 5.4 rebounds to share 1994-95 Rookie of the Year honors with Grant Hill.
1993-94 Finest Basketball was the inaugural release in the sport of Topps' premium product line, and Kidd is the headlining Rookie Card along with Grant Hill in the set's second go-around.
Buy on: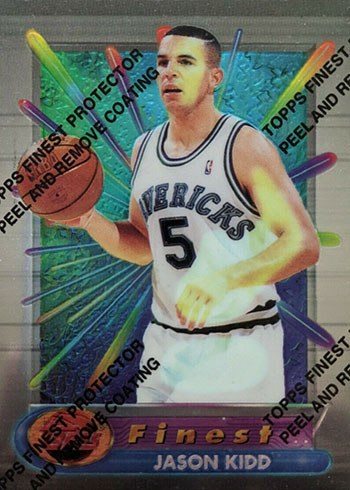 1995-96 Ultra Gold Medallion #39 Jason Kidd
Kidd was named to the All-Star team for the first time in his second NBA season, averaging 16.6 points, 9.7 assists and 6.8 rebounds for a Mavericks team that won just 26 games. He was fourth on the team in scoring behind Jamal Mashburn (23.4), Jim Jackson (19.6) and George McCloud (18.9).
The 1995-96 Ultra Gold Medallion cards are among the early parallels, with a design identical to the base set except for a fully gold background. They were found one-per-pack in Series 1, but discontinued for Series 2.
Buy on: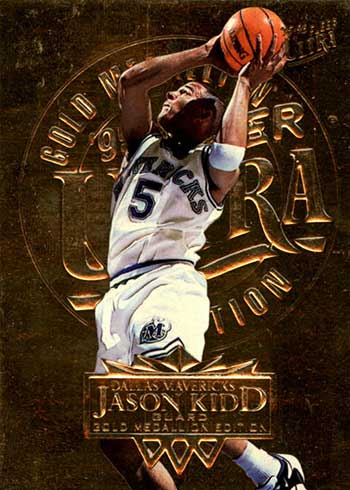 1996-97 E-X2000 Net Assets #9 Jason Kidd
Despite his early success, the Mavericks traded Kidd to the Suns midway through his third NBA season along with Tony Dumas and Loren Meyer in exchange for Michael FInley, Sam Cassell, A.C. Green and a second-round pick.
The midseason trade meant that most of Kidd's 1996-97 cards picture him in a Mavericks uniform, but there are a handful of exceptions, including the Net Assets insert set in the E-X2000 set. They were a tough pull at 1:20 packs.
Buy on: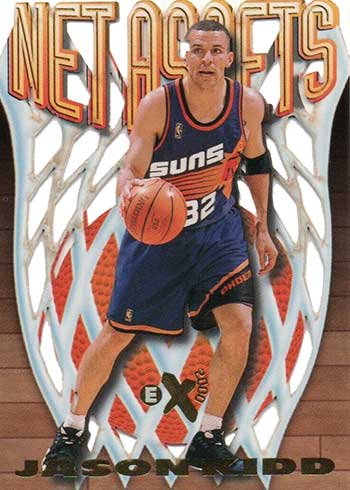 1998-99 SkyBox Premium Autographics #70 Jason Kidd
Kidd enjoyed arguably the best season of his career during the lockout-shortened 1998-99 campaign, averaging 16.9 points and a career-high 10.8 assists to lead the league in that category for the first of what would be five times in six years.
While he has a few different autographs in Classic and Score Board sets from his college days and early in his career, Kidd's first certified autograph in a NBA-licensed set was in 1998-99 SkyBox Premium Autographics.
Buy on: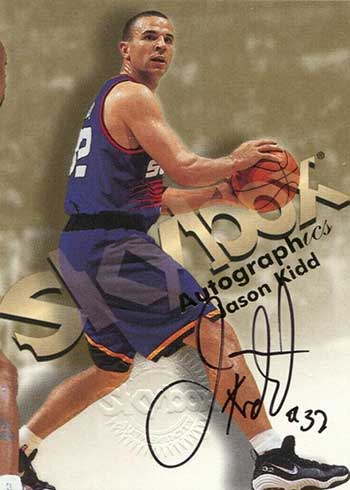 2000 Topps Team USA #81 Jason Kidd
Chosen to the Olympic team in 2000 and 2008, Kidd has a pair of gold medals to go along with his long list of NBA accolades. He averaged 6.0 points, 5.3 rebounds and 4.4 assists while playing 20.1 minutes per game on the 2000 squad, while he was used more sparingly on the 2008 team.
Topps released a 96-card set dedicated to the 2000 Olympic team. Kidd appears four times on the checklist, the best of which is undoubtedly the one with a giant bald eagle head in the background.
Buy on: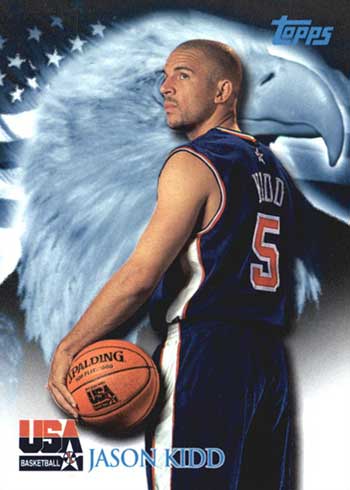 2001-02 Topps Xpectations Changing of the Guard #CG5 Jason Kidd
Kidd was on the move again prior to the 2001-02 season, going from Phoenix to New Jersey in a swap of point guards that sent Stephon Marbury the other way. The trade paid immediate dividends for the Nets, who reached the NBA Finals in each of Kidd's first two seasons with the team, though they lost to the Lakers and Spurs.
The Topps Xpectations product line had a brief two-year run, but it did provide some solid insert card options, including the ultra-shiny Changing of the Guard inserts found in 1:20 packs.
Buy on: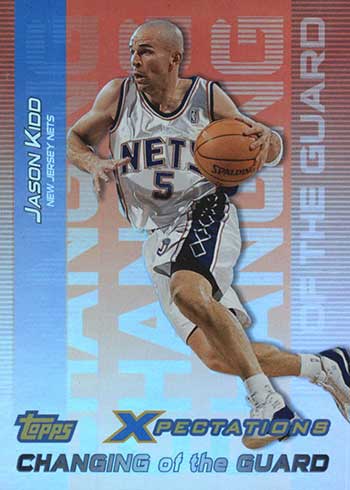 2010-11 Playoff Contenders Patches One-Two Punch #8 Jason Kidd/Dirk Nowitzki
At the age of 34, Kidd saw his career come full circle when he was traded back to the Mavericks midway through the 2007-08 season in a huge eight-player deal that also included two first-round picks. He spent the next four years in Dallas, finally winning his first and only ring during the 2010-11 season playing alongside Dirk Nowitzki.
The two superstars were featured alongside one another in the One-Two Punch insert set in 2010-11 Playoff Contenders Patches.
Buy on: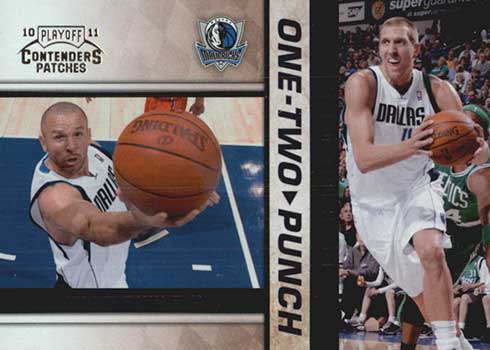 2012-13 Panini Threads #27 Jason Kidd
Kidd signed on with the Knicks for what would be his final NBA season prior to the 2012-13 campaign, and he was still a productive player with 6.0 points, 4.3 rebounds and 3.3 assists in 26.9 minutes of action per night playing behind Raymond Felton and J.R. Smith.
The final cards from his playing days were in 2012-13 products, and the Panini Threads base card is a great shot of him holding up his new uniform after signing with New York.
Buy on: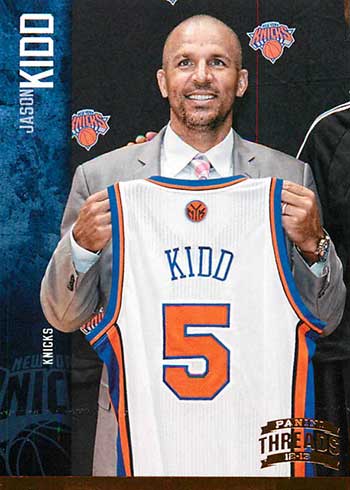 2017-18 Panini Prizm #190 Jason Kidd
The year after he retired, Kidd took over as the head coach of the Nets, going 44-38 in what would be his only season with the team. He has since filled the same role with the Bucks for four seasons, served as an assistant on the Lakers staff for two years, and he is currently the head coach of the Mavericks.
Kidd was included in 2017-18 Panini Prizm Basketball as a coach, a fitting representations of the next chapter in his basketball career.
Buy on: