10 Career-Defining Hideo Nomo Baseball Cards – Instant PC
When you click on links to various merchants on this site, like eBay, and make a purchase, this can result in this site earning a commission.
With so many different base cards, subsets, parallels, memorabilia cards and autographs, building out a collection for a single player can be overwhelming.
Luckily, the 10-Card Instant PC article series is here to help.
There are more than 3,500 Hideo Nomo cards, according to the Beckett database.
So where does one begin putting together a Hideo Nomo PC?
These 10 cards serve as an excellent representation of his playing career and footprint on the hobby, making them a great place to start.
1991 BBM Japan #379 Hideo Nomo
Hideo Nomo began his professional baseball career in 1990 when he was 21 years old pitching for the Kintetsu Buffaloes in the Japanese League. He went 18-8 with a 2.91 ERA and 287 strikeouts in 235 innings in his rookie season, tossing 21 complete games in 27 starts.
One of his first mainstream baseball cards was part of the 1991 BBM set and pictures him at the onset of his memorable windup. The card has a book value of $25 and is a great pre-MLB card to kick off any Nomo collection.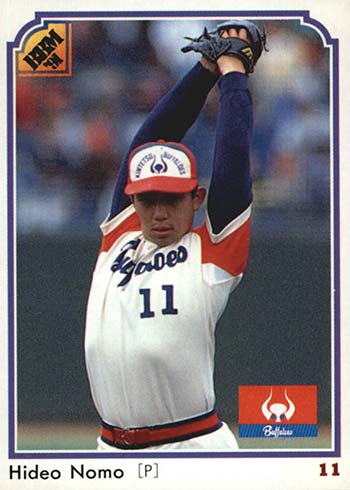 1995 Bakersfield Blaze Team Issue #4 Hideo Nomo
After five seasons in Japan, during which time he won 78 games and racked up 1,204 strikeouts in 1,051.1 innings, Nomo signed with the Los Angeles Dodgers prior to the 1995 season. He began the year in the minors, but made just one start for the Bakersfield Blaze before joining the MLB roster.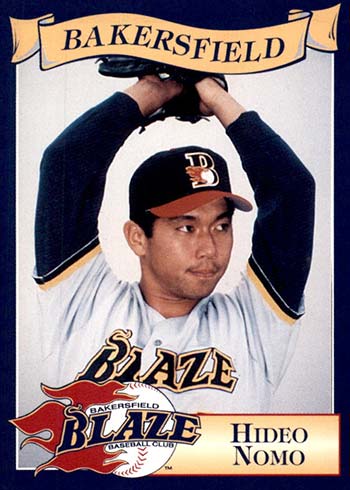 Despite his limited time in the minors, he does have one minor league card in the 1995 Bakersfield Blaze team issue set.
1995 Bowman #238 Hideo Nomo FOIL RC
Simply put, Nomo was the talk of baseball in 1995 when he went 13-6 with a 2.54 ERA, 1.06 WHIP and an NL-leading 236 strikeouts in 191.1 innings while holding opposing hitters to a stingy .182 batting average.
Since he was signed prior to the 1995 season and expected to make an immediate impact in the majors, Nomo was included across a wide variety of 1995 products and he has 19 different Rookie Cards in total. His foil rookie in the 1995 Bowman set is among the best looking of the bunch and can be found for just a few dollars.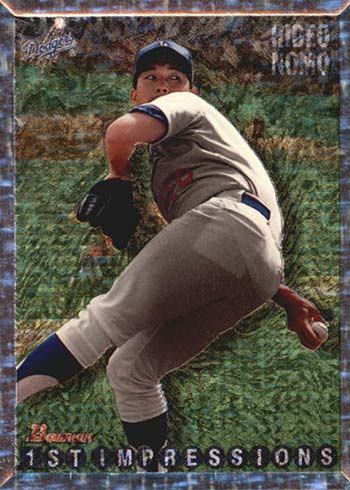 1996 Topps #136 Hideo Nomo
Nomo's stellar rookie season earned him NL Rookie of the Year honors and the starting nod for the National League in the All-Star Game. He also finished fourth in NL Cy Young voting, and all of that earned him a spot on the Topps All-Star Rookie team and the accompanying gold rookie cup on his 1996 Topps card.
The '95 Topps All-Star Rookie team also featured Chipper Jones, Shawn Green, Garret Anderson, Ray Durham and Charles Johnson.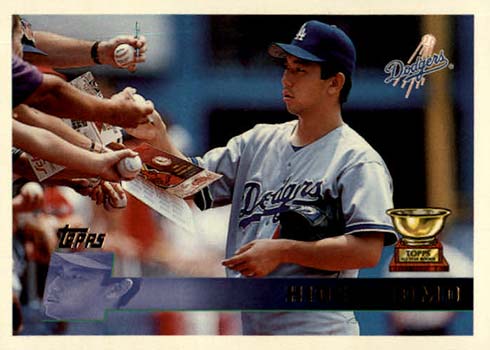 1996 Zenith Mozaics #13 Mike Piazza/Hideo Nomo/Raul Mondesi
The Los Angeles Dodgers won five straight NL Rookie of the Year awards, starting with Eric Karros in 1992 and followed by Mike Piazza in 1993, Raul Mondesi in 1994, Nomo in 1995 and Todd Hollandsworth in 1996.
Piazza, Nomo and Mondesi are pictured together in one of the most underrated insert sets of the 1990s. The 1996 Zenith Mozaics were found in 1:10 packs of Pinnacle's super-premium product line and made great use of the brand's Dufex technology.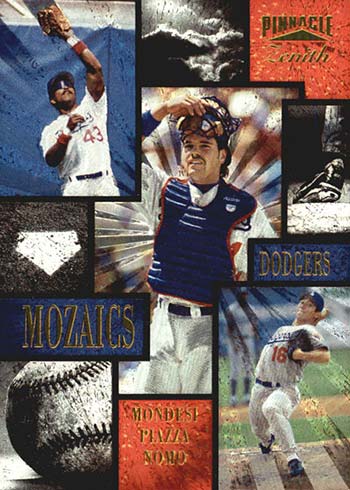 2001 Bowman Heritage #364 Hideo Nomo SP
After three and a half seasons with the Dodgers, Nomo was traded to the New York Mets midway through the 1998 season. From there he spent one year with the Milwaukee Brewers and one year with the Detroit Tigers, chewing through innings but failing to pitch above a league-average level.
He signed a one-year, $4.5 million deal with the Boston Red Sox for the 2001 season, and enjoyed a bit of a career resurgence. The 31-year-old went 13-10 with a 4.50 ERA while leading the AL in strikeouts (220) and walks (96). His short-printed Bowman Heritage card is one of the better options from his brief time in a Red Sox uniform.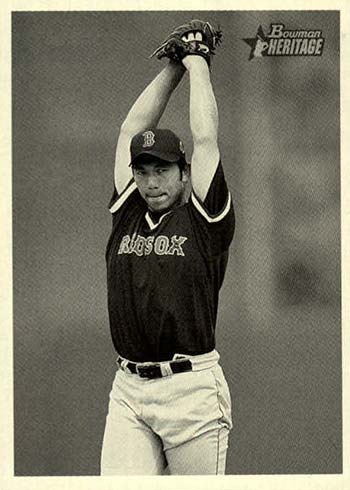 2002 Topps – East Meets West #EWHN Hideo Nomo/Masanori Murakami
When Nomo made his MLB debut on May 2, 1995, he became the first Japanese-born player to play in an MLB game since Masanori Murakami pitched for the San Francisco Giants during the 1965 season.
Murakami was honored with an insert set in the 2002 Topps flagship set that pictured him alongside eight different active MLB players who hailed from Japan. The card mirrors the 1965 Topps set, which is home to Murakami's Rookie Card.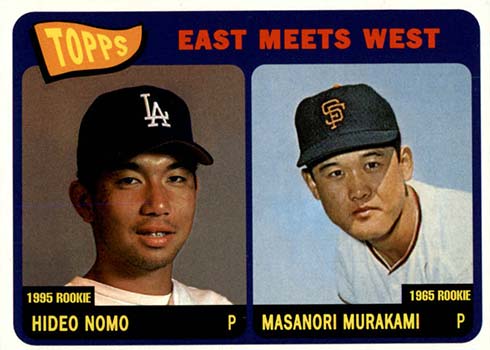 2003 Ultra Double Up #7 Ichiro/Hideo Nomo
While Nomo was the first player to make the jump from Japan to the United States since 1965, it was not until Ichiro Suzuki joined the Seattle Mariners in 2001 that Major League Baseball saw its first Japanese-born position player.
Nomo and Ichiro share a handful of different cards, many of which are short-printed relic cards that are extremely difficult to find. Their double-sided card in the 2003 Ultra Double Up insert set is readily available and an excellent addition to either player's PC.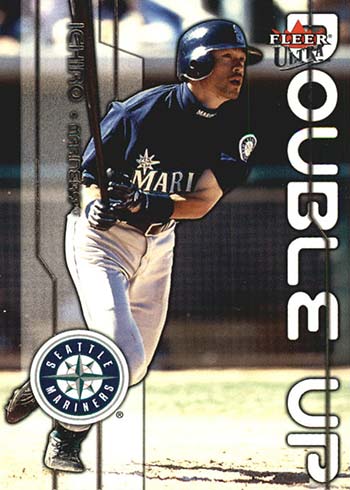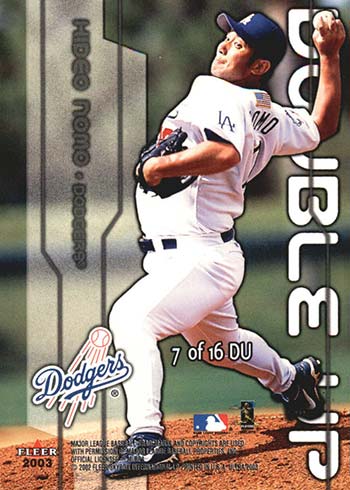 2005 Topps Total #458 Hideo Nomo
Following his strong 2001 season with the Red Sox, Nomo rejoined the Dodgers and pitched well in 2002 (16-6, 3.39 ERA, 193 K) and 2003 (16-13, 3.09 ERA, 177 K) before struggling to an 8.25 ERA in 84 innings in 2004.
At 36-years old, he signed a minor league deal with the Rays prior to the 2005 season and wound up making 19 starts in the majors, posting a 7.24 ERA in 100.2 innings for a team that lost 95 games. His only Topps card in a Rays uniform is part of the 2005 Topps Total set.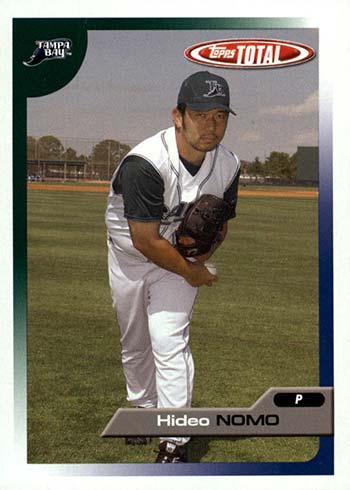 2008 Topps Triple Threads #79 Hideo Nomo
After failing to catch on with the Chicago White Sox in 2006 it looked like Nomo was done in the big leagues, but he popped back up in the Venezuelan Winter League in 2007 and landed a minor league deal with the Royals the following spring.
He ultimately appeared in just three games out of the Kansas City bullpen before being cut loose. Nomo's career officially came to a close, but that was enough for him to be included in the 2008 Topps Triple Threads set wearing his final MLB uniform.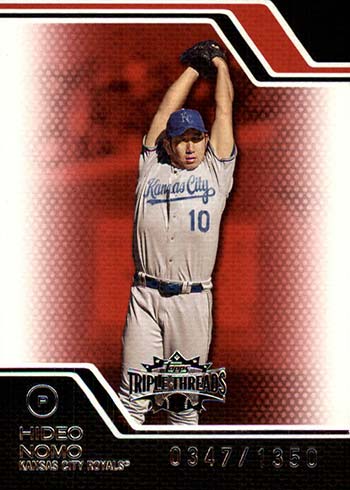 All told, Nomo wrapped up his 12-year MLB career with 123 wins, a 4.24 ERA and 1,918 strikeouts in 1,976.1 innings. He was inducted into the Japanese Baseball Hall of Fame in 2014, becoming just the third player ever to earn enshrinement in his first year on the ballot.