10 Career-Defining Guy Lafleur Hockey Cards
Who was the greatest player ever to wear La Sainte-Flanelle? Maurice Richard inflamed the passions of an entire province with his fiery demeanor and relentless thirst for goal scoring. Jean Beliveau exemplified grace and excellence on and off the ice. Jacques Plante was the innovative goalkeeper who backstopped the team to six Stanley Cups.
Legends all of them, but no one thrilled the Forum die-hards quite like Guy Lafleur.
"Night after night, game after game, he would electrify all of us with his skating, his control and his shot," legendary columnist Red Fisher wrote.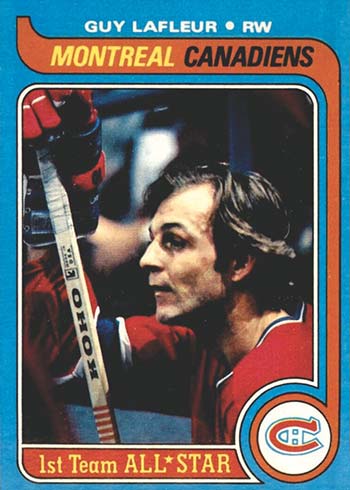 Lafleur, who passed away in April at 70, is remembered as the centerpiece of Montreal's last era of dominance. The flashy right winger helped lead the team to five Stanley Cups and was the first player in NHL history to score at least 50 goals and 100 points in six consecutive seasons. And while he created a larger-than-life image on the ice, he proved to be humble and approachable away from the rink.
"I was lucky," said Canadiens owner Geoff Molson. "I got to see him from the very beginning. I was able to watch him as a young kid. And in those days, you look up at this big hockey player in admiration, and you can't believe how privileged you are to be able to speak to the best hockey player in the world at that time.
"He's a winner. He's somebody who was completely dedicated to being the best he possibly can be every single day."
Lafleur skated 14 seasons for the club until his first retirement in 1984, but his legacy in Montreal extends to this day.
"(You feel) the impact that he had on every single Montreal Canadiens fan," said current Hab Brendan Gallagher. "How much he meant to so many people growing up… the joy he brought people. He was a special person. We're really proud to wear this Montreal Canadiens logo in part because of individuals like Guy Lafleur."
The magic of The Flower extended off the ice into the hobby. Whether growing up watching him play or hearing the tales of him flying down the ice, long blond hair trailing behind, collectors have always revered Lafleur and his cards. Whether current or contemporary, his singles can be counted on to draw a crowd.
Even so, many of Lafleur's cards remain relatively affordable allowing for anyone to build an enviable collection of this Hall of Famer. There's only one challenge: Where to start? He has thousands of options to pursue – nearly 4,500 base, parallel, autograph, relic, and oddball singles in total – so narrowing down the field can be over-whelming. Looking for a little guidance? These 10 Guy Lafleur cards serve as an excellent representation of his playing career, making them the foundation of a PC you can be proud of.
1971-72 O-Pee-Chee #148 Guy Lafleur RC
If you needed a hint of the kind of pressure Lafleur faced in his rookie season, it was summed up in the cartoon on the back of his RC. "Guy will be a superstar," the cutline read. Another hint: the fact that he earned a card during his rookie season, a blue-moon rarity in those days when veterans were the preferred pulls. Weighed down by expectations, Lafleur didn't quite live up to the billing as the next Jean Beliveau in that first season, but he found his groove in year four. This card has been a must-own ever since, with premium graded copies in high demand. Of the more than 1,110 copies graded by PSA, just six have earned the coveted Gem Mint 10.
Buy on: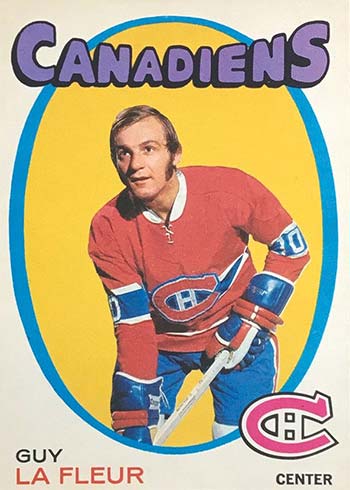 1974-75 NHL Action Stamps #152 Guy Lafleur
Collectors of a certain age vividly remember the thrill of a trip to the grocery store where booklets of these stamps were the prize for dollars spent. Finishing the set became a national obsession, with kids hanging around storefronts begging childless shoppers for their stamps. This Lafleur – one of the first collectibles to picture him with that abomination of a helmet – was a key pull. It coincided with his 53-goal, 119-point breakthrough season, one that saw him finally live up to the massive expectations placed upon him.
Buy on: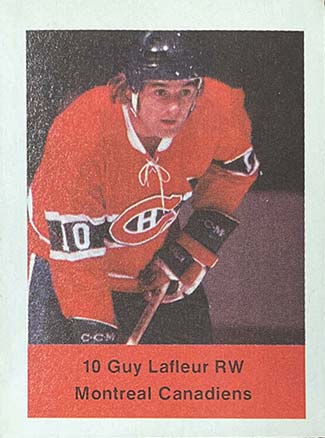 1975-76 O-Pee-Chee #126 Guy Lafleur
So maybe attention to detail wasn't a top priority with OPC or the licensors back in those days, but even then it's hard to imagine how cards listing Lafleur's position as defense ever saw the light of day. After all, Guy was in the midst of one of his best seasons, with his 125 points earning him the first of three consecutive Art Ross Trophies as the league's leading scorer. He also set a new career-high with 56 goals and was honored with the Lester Pearson Trophy as the league's top player as voted on by his fellow athletes. The error, by the way, was never corrected.
Buy on: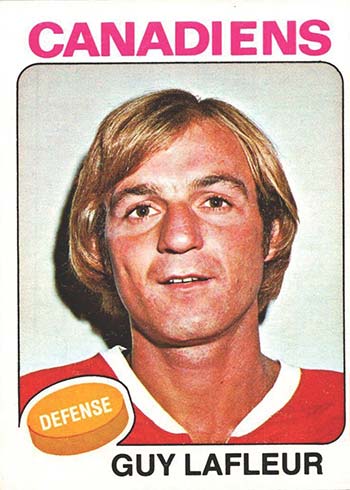 1977-78 O-Pee-Chee #216 Guy Lafleur
The unprecedented dominance of Lafleur's 1976-77 season was reflected in the special cards that honored him the following year. Guy was featured on four League Leaders and three Record Breakers singles this season. It's arguable which was the most impressive, but we like this card which features his 28-game scoring streak, at that time the longest in NHL history. Lafleur scored 19 goals and 61 points over that stretch to help him secure his second Art Ross and first Hart Trophy as the league MVP.
Buy on: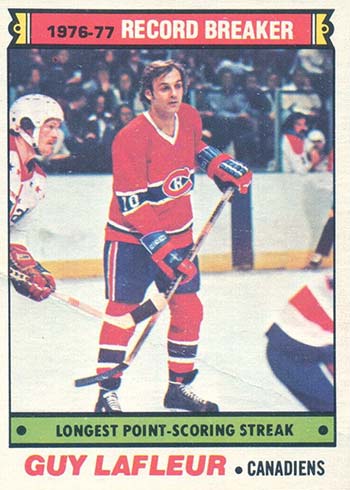 1977-79 Sportscaster Series 51 #5118 Guy Lafleur
Ostensibly a card honoring the NHL's (at the time) seven trophies, this oversized collectible features a photo of Lafleur celebrating his Conn Smythe win as playoff MVP after the Canadiens wrapped up the 1977 Stanley Cup with a 2-1 OT win over the Bruins. Lafleur assisted on both goals by linemate Jacques Lemaire in the clincher and finished with nine goals and 26 points in 14 games to earn the cool $1,000 bonus check that came with the trophy. While this is the North American version of the card, there were tough variations issued in Sweden and Finland as well.
Buy on: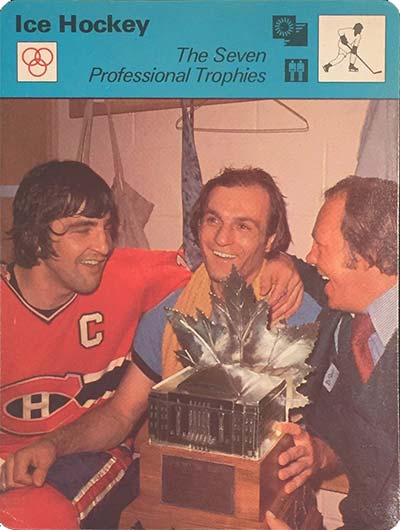 2018-19 Ultimate Collection '97 Ultimate Legends HOF Signatures #LHOFGL Guy Lafleur
Although this card is out of place chronologically, we'll slide it in here as it commemorates Lafleur's induction into the Hockey Hall of Fame in 1988. He was an easy first-ballot selection as the all-time leading scorer in Canadiens history with 1,246 points. His 728 assists also are tops in team history, with his 518 goals ranking second only to The Rocket. This card features an image from the ceremony, along with a hard-signed autograph that seems even more special in the wake of his passing.
Buy on: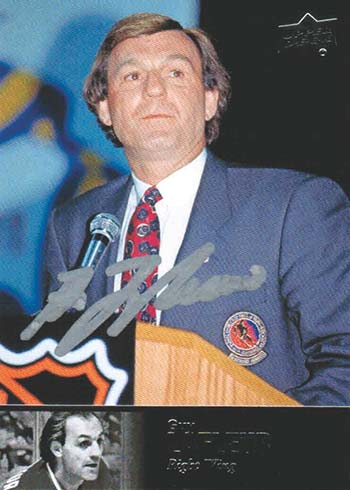 1989-90 Topps #189 Guy Lafleur
Lafleur's return to the NHL at age 37 left his devoted fans torn. They were thrilled to see their hero back on the ice … but in Broadway blue? That was a tough pill to swallow. Lafleur put together a solid season, highlighted by a return to the Forum that saw him score twice on Patrick Roy and earn First Star honors despite being on the losing end of a 7-5 score. He finished with 18 goals and 45 points in 67 games in what would be his only season with the Blueshirts. By the time this card was being pulled from packs, Guy had already found a new employer.
Buy on: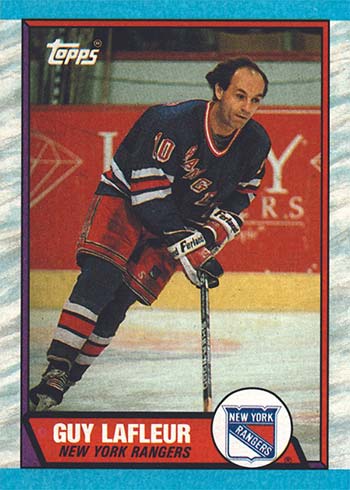 1989-90 Kraft #31 Guy Lafleur
Signing with the rival Nordiques was seen as traitorous by some Canadiens die-hards, but it was simply a homecoming for Lafleur. His two-season curtain call brought his career full circle, to the city where he became a junior legend. This card predates his mainstream Nordiques singles by a full year. It was issued as part of a massive cross-brand promotion in Canada and had to be hand-cut from the back of a Kraft Spirals package. As a result, most copies look like this. A diligent search however might uncover a machine-cut salesman copy that was issued as part of a complete set in a hard-backed album.
Buy on: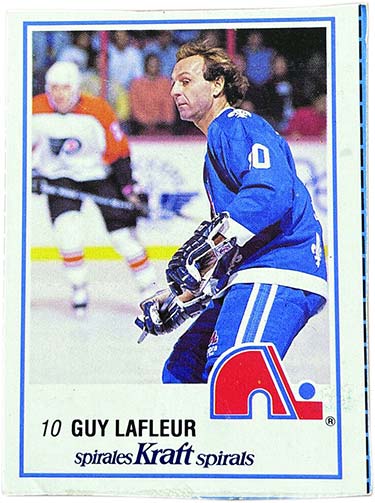 2008-09 Upper Deck Ice Pride of Canada Gold #PC8 Guy Lafleur
Lafleur represented his country three times internationally, and he did it with style. He had a goal and an assist as Canada swept the best-of-three final against Czechoslovakia in the 1976 Canada Cup, but he was at his best at the 1981 Canada Cup where he scored two goals and 11 points in just seven games, one behind tournament leader Wayne Gretzky. Although he'd previously shared an international card with Peter Stastny on a 2007-08 ITG insert, this was the first solo card to commemorate his contributions to Team Canada. Although it's not numbered, it's a tough single to track down today.
Buy on: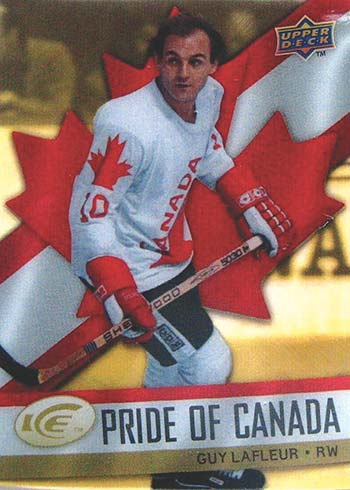 2010-11 Limited Retired Numbers #13 Guy Lafleur
Though he is synonymous with the number 10, Lafleur wore the number 4 in honor of his hero, Beliveau, while playing junior hockey. He could have kept it with the Canadiens – the ever-gracious Beliveau offered to allow Lafleur to wear his number but the youngster wisely chose to carve his own path. Though he left the team on acrimonious terms in 1984, choosing to retire when GM Serge Savard refused to trade him, Lafleur returned to see his number raised to the rafters of the Forum in 1985. This card, limited to 49 and bearing his autograph, is a fitting tribute to his legend.
Buy on: