10 Career-Defining Gary Carter Baseball Cards – Instant PC
When you click on links to various merchants on this site, like eBay, and make a purchase, this can result in this site earning a commission.
Gary Carter is one of the greatest catchers in baseball history, and he was one of the faces of the sport during the 1980s while starring for the Montreal Expos and New York Mets. He was an 11-time All-Star, three-time Gold Glove winner, and was inducted into the Hall of Fame in 2003.
All told, there are more than 4,500 Gary Carter cards,  according to the Beckett database. So where does one begin putting together a Gary Carter PC?
These 10 cards serve as an excellent representation of his playing career and footprint on the hobby, making them a great place to start
1975 Topps #620 Gary Carter RC
A third-round pick in the 1972 draft out of high school, Carter made his MLB debut at the age of 20 as a September call-up in 1974. He went 11-for-27 in a nine-game audition to stake his claim to the starting catcher job for the 1975 season.
That brief but impressive debut earned him a spot in the 1975 Topps set where he shares his only Rookie Card with three other up-and-coming catchers and outfielders. His rookie is also available in 1975 Topps Mini and 1975 O-Pee-Chee Baseball.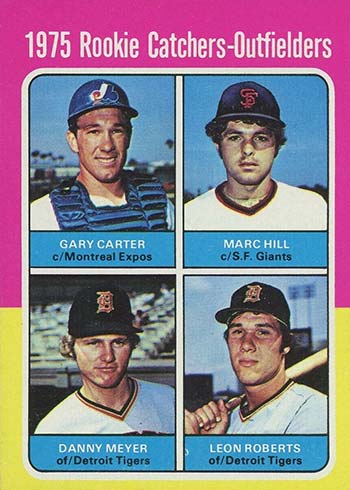 1976 Topps #441 Gary Carter
Carter was an All-Star during his rookie season in 1975, hitting .270/.360/.416 with 20 doubles, 17 home runs and 68 RBI. However, he was edged out in NL Rookie of the Year voting by San Francisco Giants pitcher John Montefusco, who went 15-9 with a 2.88 ERA and 215 strikeouts in 243.2 innings.
Despite playing more games in right field as a rookie, Carter was chosen as the catcher for the 1975 Topps All-Star Rookie team, and his 1976 Topps card features the iconic rookie cup logo. Since it's also his first solo card, it's nearly as valuable as his rookie.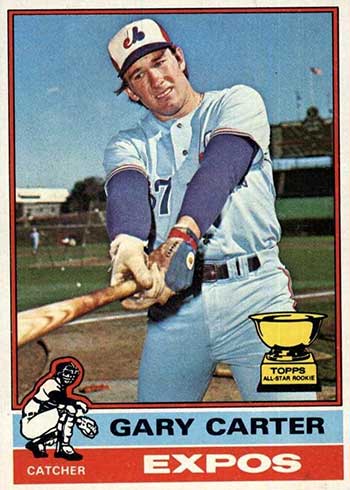 1980 Topps #70 Gary Carter
By the time the 1980 season rolled around, Carter was an established star. He finished runner-up in NL MVP voting that year when he hit .264/.331/.486 with 29 home runs and 101 RBI in 154 games. He also won his first of three career Gold Glove Awards that year.
His 1980 Topps base card is readily available for just a couple bucks, but it's a great action shot.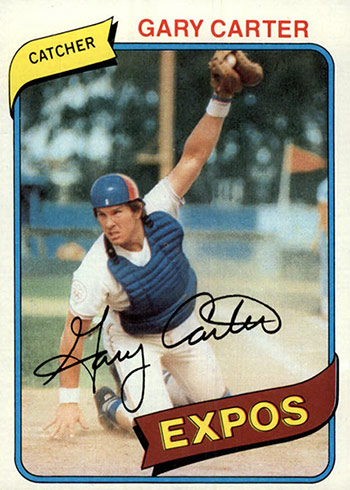 1984 Milton Bradley #5 Gary Carter
In 1984, Carter played in his 11th season with the Expos before. It was his final year with the team until he returned in 1992 to wrap up his career. He hit .294/.366/.487 with 32 doubles, 27 home runs and an NL-leading 106 RBI. It was the only time in his career Carter led the league in a  major offensive category.
1984 Milton Bradley is one of my favorite oddball sets of the era, as it was a 30-card set produced by Topps that was included as part of the "Championship Baseball" board game released by Milton Bradley. The set does not have an MLB license, so there are no team logos. Still, it's a fun, low-cost pickup.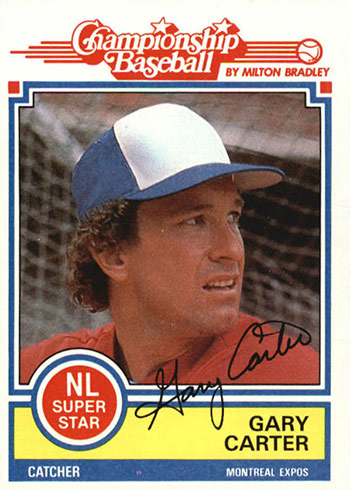 1985 Fleer Update #21 Gary Carter
Prior to the 1985 season, a rebuilding Expos team traded Carter to the New York Mets in exchange for Hubie Brooks, Floyd Youmans, Mike Fitzgerald and Herm Winningham. He was 31-years old at the time of the trade and coming off one of the best offensive seasons of his career.
He was still pictured as a member of the Expos in all of his 1985 base cards, so the first opportunity to grab a Mets card of him came in the 1985 Donruss Highlights, Fleer Update and Topps Traded sets. Fleer Update option is far and away the best looking of the bunch.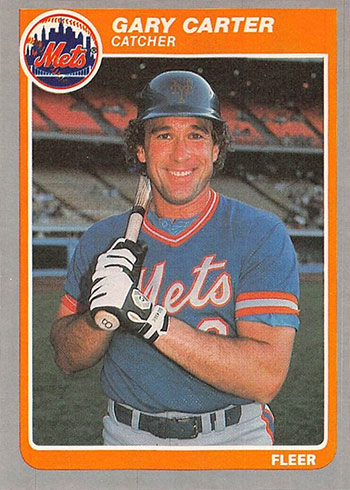 1986 Fleer All-Stars #4 Gary Carter
After slugging a career-high 32 home runs during the 1985 season, Carter helped lead the Mets to a World Series title in 1986. He hit .255/.337/.439 with 24 home runs and 105 RBI to finish third in NL MVP balloting, and he went 8-for-29 with two doubles, two home runs and nine RBI in the Fall Classic.
One of the first true inserts sets available in packs were the 1986 Fleer All-Stars cards, and the fact that they were not a one-per-pack pull made them legitimate chase cards at the time. Carter was part of the long-running insert set's first 12-card checklist.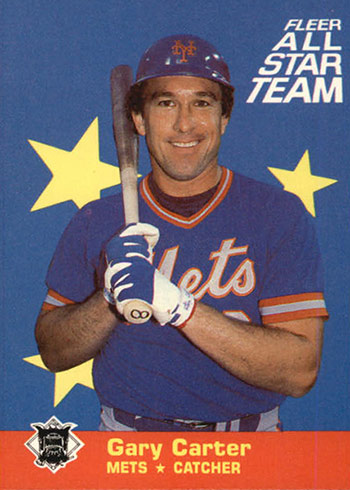 1990 Leaf #134 Gary Carter
Following a successful five-year run with the Mets, Carter was released following the 1989 season. He caught on with the San Francisco Giants where he platooned behind the plate with Terry Kennedy. Carter hi .254/.324/.406 with nine home runs and 27 RBI in 92 games.
1990 Leaf Baseball has held its value better than most of the sets from that year thanks to a shorter print run and a timeless, premium design. There's no better card to represent his one-year stint in San Francisco.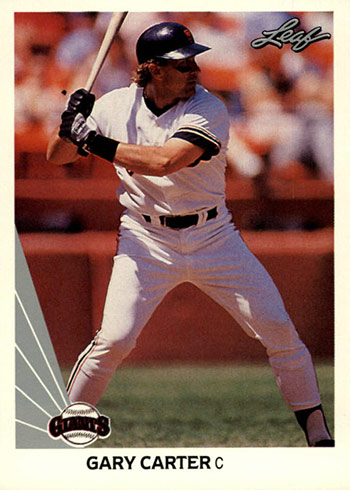 1991 Upper Deck #758 Gary Carter
In 1991, Carter joined the Los Angeles Dodgers where he served as the backup to All-Star catcher Mike Scioscia. Carter was frequently used as a pinch-hitter. The Dodgers won 93 games, but finished second in the NL West standings and missed the playoffs in the pre-Wild Card era.
The 1991 Upper Deck set was one of the only major products to feature Carter in a Dodgers uniform, thanks in part to their late-release High Series.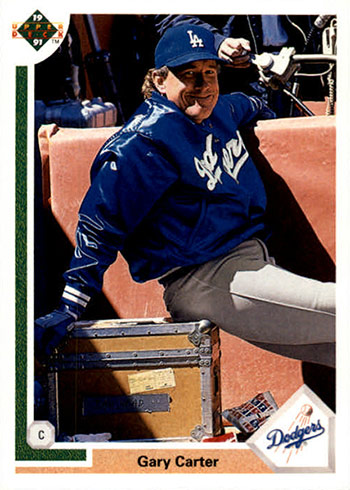 1993 Topps Gold #205 Gary Carter
The Expos claimed Carter off waivers from the Dodgers shortly after the conclusion of the 1992 season, allowing him to play the final season of his career back where it all began. The 38-year-old hit .218/.299/.340 with five home runs and 29 RBI in 95 games.
Since he called it quits after the 1992 season, his 1993 Topps card features a full stat back and is the perfect bookend to his playing days collection. I've opted for the Topps Gold parallel, which was one of the first parallel sets featured in packs.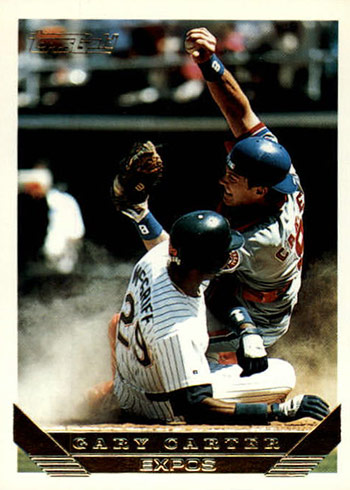 2003 Topps Traded Hall of Fame Relics #GC Gary Carter
In his sixth year on the Hall of Fame ballot, Carter finally earned induction in 2003 when he received 78.0 percent of the vote. He went in alongside first baseman and fellow 1980s star Eddie Murray, who was in his first year of eligibility.
The 2003 Topps Traded set featured relic cards of both Hall of Fame inductees (1:1,009 packs) and a dual relic of both of them  (1:2,015 packs).