10 Career-Defining Clyde Drexler Basketball Cards – Instant PC
Clyde "The Glide" Drexler was one of the most productive shooting guards of the 1980s and 1990s with the Portland Trail Blazers and Houston Rockets. He averaged 20.4 points per game in his 15-year NBA career while ranking among the top 50 all-time with 22,195 career points.
All told, there are more than 4,000 Clyde Drexler cards, according to the Beckett database.
So where does one begin putting together a Clyde Drexler PC?
The following 10 cards serve as an excellent representation of his playing career and footprint on the hobby, making them a great place to start.
1983-84 Star #100 Clyde Drexler XRC
After going 31-3 and reaching the NCAA title game while playing alongside Hakeem Olajuwon at the University of Houston, Drexler was chosen No. 14 overall in the 1983 NBA draft. He averaged 7.7 points per game in a bench role as a rookie, but saw that spike to 17.2 points per game when he moved into the starting lineup in his second year.
His first officially licensed card was part of the 1983-84 Star set, and even ungraded versions of that XRC regularly sell for hundreds of dollars.
Buy on: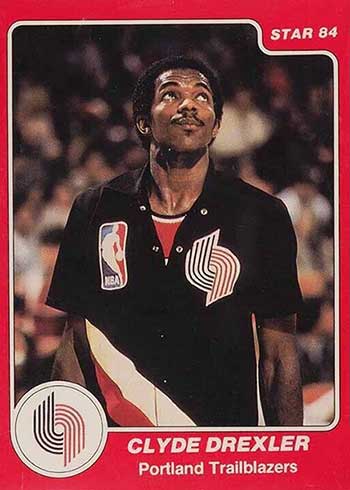 1986-87 Fleer #26 Clyde Drexler RC
Drexler averaged 20 points for the first time in his career during the 1986-87 season, tallying 21.7 points, 6.3 rebounds and 6.9 assists on a team that finished 49-33 but lost to the Houston Rockets in the first round of the playoffs.
His only Rookie Card is part of the loaded 1986-87 Fleer checklist, and it's a must-own addition to any Drexler PC.
Buy on: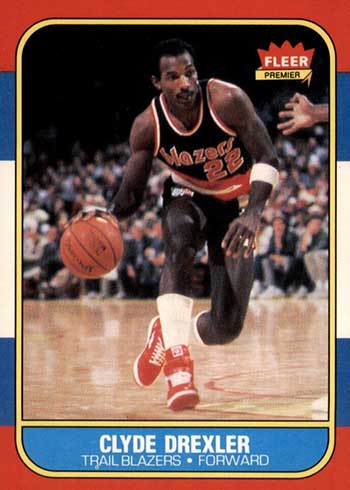 1988-89 Fleer Stickers #3 Clyde Drexler
During the 1988-89 season, Drexler averaged career-highs in points (27.2), rebounds (7.9) and steals (2.7). However, the Blazers were bounced from the playoffs in the opening round for the fourth straight season, and head coach Mike Schuler was replaced with Rick Adelman at midseason.
The 1988-89 Fleer set featured one of the first true insert cards with Fleer Stickers found one-per-pack. The 11-card set features some of the game's biggest stars and they are tough to find in mint condition.
Buy on: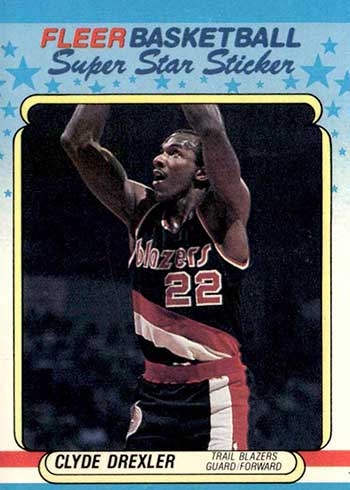 1989-90 Hoops #190 Clyde Drexler
After four straight quick exits from the playoffs, the Blazers finally took a step forward during the 1989-90 season when they reached the NBA Finals and ultimately lost to the Detroit Pistons. Drexler was an All-Star for the fourth time in five years as he averaged 23.3 points, 6.9 rebounds and 5.9 assists.
The options were still limited during the 1989-90 season as Fleer and Hoops were the only mainstream brands. Both Drexler base cards from that season can be picked up for less than $1.
Buy on: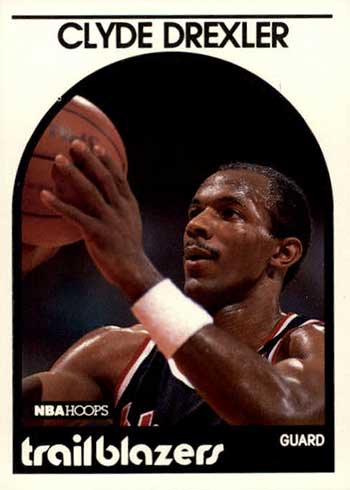 1991-92 Upper Deck #98 Clyde Drexler "Team Checklist"
Two years after the Blazers lost to the Pistons in five games in the 1990 NBA Finals, they were once again playing for a title, squaring off against the Chicago Bulls in 1992. They stretched the series to six games, but came up short once again with Drexler averaging 24.8 points, 7.8 rebounds and 5.3 assists for Portland.
They may not hold much value as a result of mass production, but the Upper Deck team checklists of the early 1990s featured some great-looking artwork.
Buy on: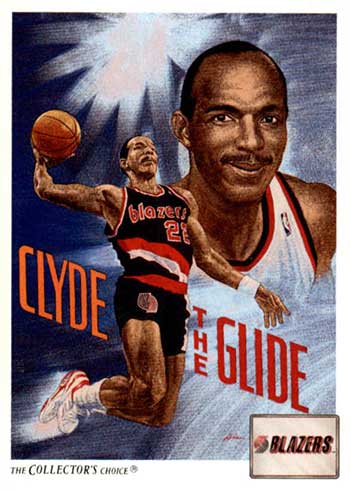 1992-93 SkyBox Olympic Team #USA1 Clyde Drexler
Drexler played 20.9 minutes per game for the legendary Dream Team at the 1992 Olympics, averaging 10.5 points, 3.6 assists, 3.0 rebounds and 2.5 steals during the team's 8-0 run to a gold medal.
There are a wide variety of options to commemorate his time playing for Team USA, including the Olympic Team inserts that were found in 1:6 Series 1 packs of 1992-93 SkyBox.
Buy on: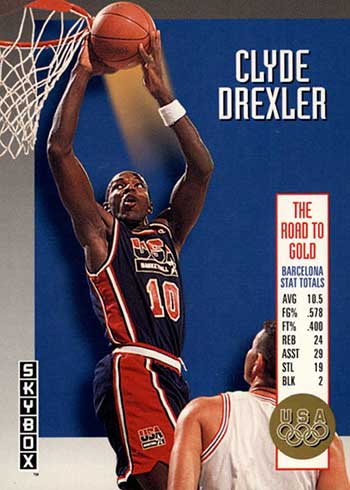 1994-95 SP #77 Clyde Drexler
Midway through his 12th season in Portland, Drexler was traded to the Houston Rockets along with Tracy Murray in exchange for Otis Thorpe, Marcelo Nicola and a first-round pick. He averaged 21.4 points in 35 games following the trade and went on to win his first ring as Houston won the NBA title for the second year in a row.
He only made it into a handful of 1994-95 releases in a Rockets uniform, including the late-release SP and SP Championship sets.
Buy on: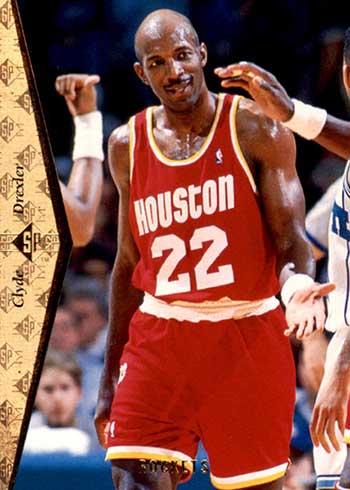 1996-97 Hoops Head 2 Head #HH4 Clyde Drexler/Hakeem Olajuwon
The trade from Portland to Houston reunited Drexler with his college teammate Hakeem Olajuwon. The duo only played together for three and a half seasons, but they made their mark as one of the most iconic tandems in NBA history.
Their insert in the Hoops Head 2 Head set is a great option to get both of them on the same card, even if the set doesn't make a ton of sense considering it's all teammates who are not going head-to-head in anything outside of practice.
Buy on: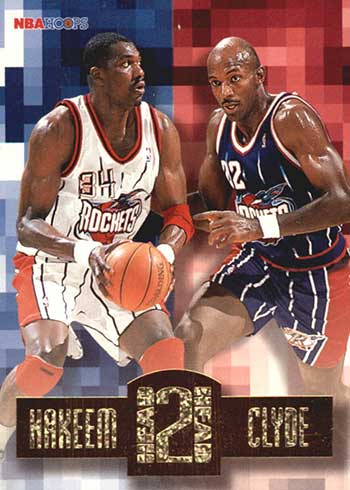 1996-97 SkyBox Premium Autographics #18 Clyde Drexler
Drexler made his 10th and final All-Star team during the 1996-97 season when he averaged 18.0 points, 6.0 rebounds and 5.7 assists. The 34-year-old played 36.6 minutes per game and the Rockets finished 57-25, but they were upended by the Utah Jazz in the Western Conference Finals.
The first certified autograph card of Drexler and a number of other stars was part of the 1996-97 SkyBox Premium Autographics set, and it remains one of the better high-end options available for Drexler collectors.
Buy on: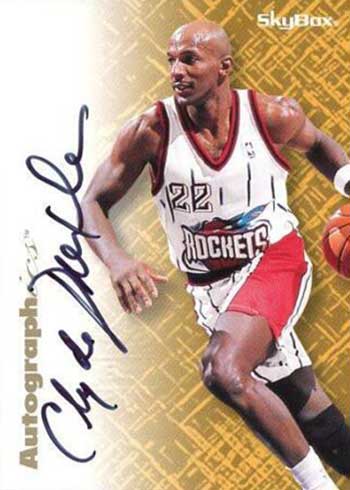 1998-99 UD Choice #187 Clyde Drexler "Year In Review"
The Rockets built their own version of a Big Three during the 1996-97 and 1997-98 seasons when they added Charles Barkley to the mix, but they were unable to chase down another ring during those two seasons. Drexler retired following the 1997-98 campaign despite still going strong with 18.4 points and 5.5 assist per game in his final season.
The budget-friendly 1998-99 UD Choice set honored his retirement as part of their Year in Review subset. It's a nice low-cost card to put a bow on his playing career.
Buy on: