10 Career-Defining Carlos Beltran Baseball Cards – Instant PC
With so many different base cards, subsets, parallels, memorabilia cards and autographs, building out a collection for a single player can be overwhelming.
Luckily, the 10-Card Instant PC article series is here to help.
There are more than 6,000 Carlos Beltran cards, according to the Beckett database.
So where does one begin putting together a Carlos Beltran PC?
These 10 cards serve as an excellent representation of his playing career and footprint on the hobby, making them a great place to start.
1995 Topps Traded #12T Juan LeBron RC UER (Beltran photo)
1995 Topps Traded #18T Carlos Beltran RC UER (LeBron photo)
Selected with the No. 49 overall pick in the second round of the 1995 draft, Beltran posted a modest .660 OPS in 200 plate appearances at rookie ball in his pro debut. He was one of just three players from the Kansas City Royals '95 draft class to reach the majors.
One of the players who failed to make it to the big leagues from that class was first-round pick Juan LeBron, and he was included alongside Beltran in the 1995 Topps Traded set. The two young outfielders had their photos reversed in an uncorrected error, leaving Beltran's only Rookie Card without his picture on it.
Buy on: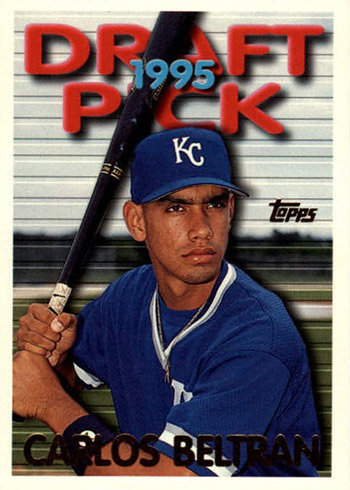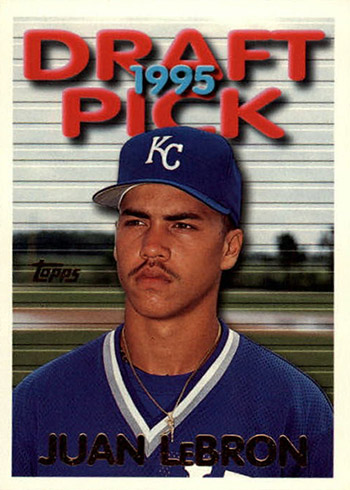 1997 Bowman #377 Carlos Beltran
Beltran hit .249/.330/.393 with 20 extra-base hits and 11 steals in 70 games between Low-A and Single-A in 1996. That performance and his exciting raw tools were enough to earn him the No. 93 spot on the Baseball America Top 100 prospect list at the start of the 1997 campaign.
His top prospect standing earned him a spot in the 1997 Bowman base set, and while it's not a Rookie Card, his 1st Bowman is still an early card worth adding to a Beltran PC.
Buy on: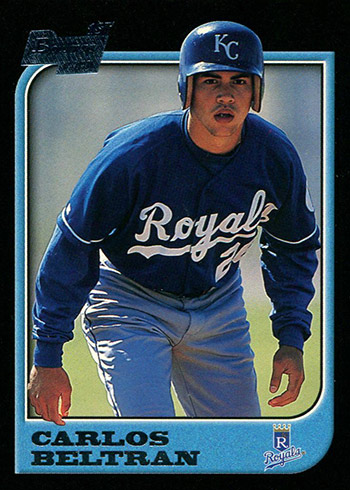 1999 Upper Deck #287 Carlos Beltran
After a 14-game cup-of-coffee the previous year, Beltran took over as the Royals everyday center fielder in 1999. The 22-year-old hit .293/.337/.454 with 27 doubles, 22 home runs, 108 RBI and 27 steals to win AL Rookie of the Year honors by a landslide.
His "Star Rookie" card in the 1999 Upper Deck set is a good representation of his stellar rookie campaign. The Series 1 "Star Rookie" crop that year also includes Adrian Beltre, Troy Glaus, Eric Chavez, J.D. Drew, Aramis Ramirez and Orlando Hernandez.
Buy on: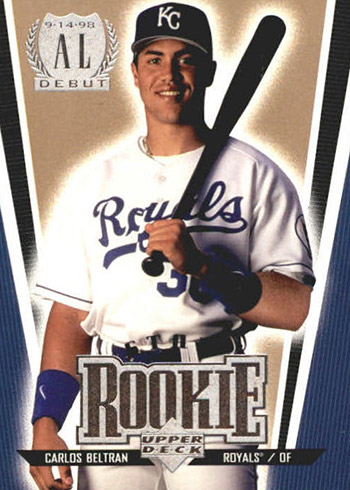 2000 Topps #178 Carlos Beltran
Injuries and middling production cost Beltran his starting job during the 2000 season. However, the midseason trade of Johnny Damon to the Oakland Athletics cleared a path, and Beltran would quickly rebound from that poor performance.
His 2000 Topps flagship card includes the iconic Rookie Cup as he was part of the 1999 Topps All-Star Rookie Team. The other members of that year's Rookie Cup team were Ben Davis, Brain Daubach, Warren Morris, Carlos Koskie, Alex Gonzalez, Chris Singleton, Preston Wilson, Billy Koch and John Halama.
Buy on: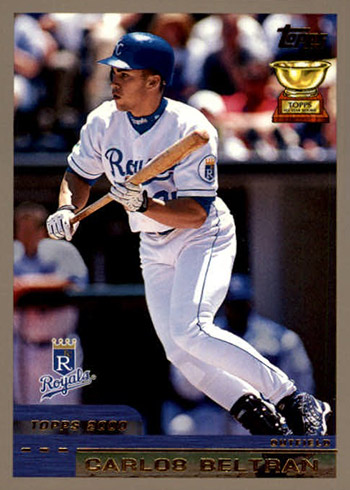 2004 Topps Traded #T17 Carlos Beltran
With free agency looming, Beltran was the biggest prize of the 2004 trade deadline. The Astros acquired him in a three-team deal on June 24, and he posted a 135 OPS+ with 23 home runs and 28 steals in 90 games following the trade. He capped things off by going 20-for-46 with eight home runs and 14 RBI in 12 games in the postseason.
Buy on: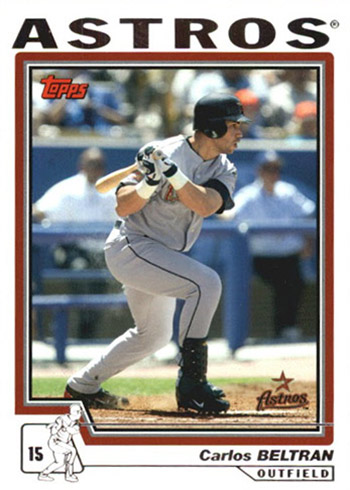 2005 Topps #413 Carlos Beltran
A hot commodity on the free-agent market following his otherworldly postseason run, Beltran inked a seven-year, $119 million deal with the New York Mets. During his time in a Mets uniform, he tallied 149 home runs, 100 steals and 31.1 WAR while earning five All-Star selections and winning three Gold Glove Awards.
He signed his contract on January 13, 2005, which was early enough to include him in a Mets uniform in the 2005 Topps flagship set. There is no shortage of parallels for this one, though his Topps Opening Day card still features him as a member of the Astros.
Buy on: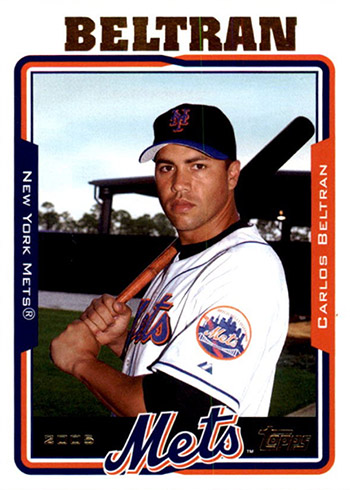 2009 Topps Allen and Ginter National Pride #NP63 Carlos Beltran
Beltran is one of the greatest players to ever come out of Puerto Rico. His 2,725 hits trail only Roberto Clemente (3,000) and Ivan Rodriguez (2,844), while his 435 home runs are second to Carlos Delgado (473).
The National Pride insert set in 2009 Topps Allen and Ginter pays homage to his roots in Puerto Rico, and is a worthy addition to any PC. Another option would be his 1997 Bowman International parallel which features a Puerto Rico flag background.
Buy on: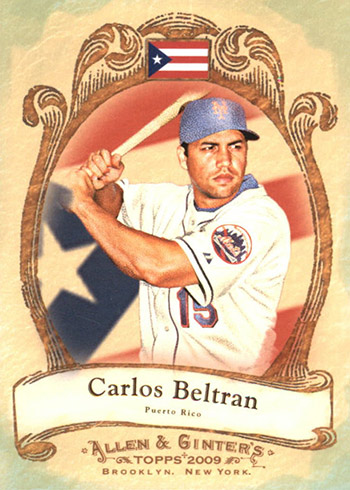 2012 Topps #612 Carlos Beltran
After six and a half seasons with the Mets, Beltran was flipped to the San Francisco Giants at the 2011 trade deadline in exchange for top pitching prospect Zack Wheeler. The 35-year-old became a free agent for the second time in his career that offseason, landing with the St. Louis Cardinals on a two-year, $26 million pact.
Beltran earned a spot on the NL All-Star team in both of his seasons in St. Louis, averaging 28 home runs and 90 RBI. The Cardinals reached the NLCS in his first year with the team and the World Series the following year.
Buy on: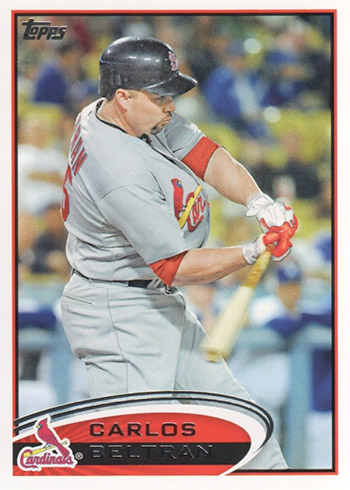 2014 Topps #593 Carlos Beltran
Despite the fact that he was entering his age-37 season, Beltran managed to secure a three-year, $45 million deal from the New York Yankees when he hit the open market again after the 2013 season. He made his final All-Star appearance in 2016 while serving as the team's primary DH.
The Yankees flipped him to the Texas Rangers midway through the final year of his deal in 2016, and his first Topps card in a Rangers uniform is in the 2016 Topps Update set.
Buy on: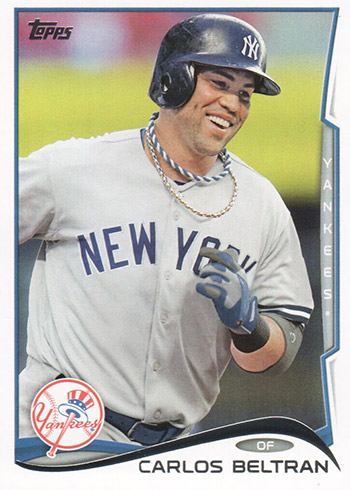 2018 Topps Heritage #148 Carlos Beltran
In 2017, Beltran returned to the Houston Astros for the final season of his 20-year career. The 40-year-old hit .231/.283/.383 with 29 doubles, 14 home runs and 51 RBI in 129 games, and the Astros won a World Series title to get him his only ring.
While his final Topps flagship card was in the 2017 set, he has a base card in 2018 Topps Heritage that features a full stat back. That makes it the perfect bookend to his playing career collection.
Buy on: