10 Career-Defining Adam Wainwright Cards – Instant PC
With so many different base cards, subsets, parallels, memorabilia cards and autographs, building out a collection for a single player can be overwhelming.
Luckily, the 10-Card Instant PC article series is here to help.
There are more than 3,000 Adam Wainwright cards, according to the Beckett database.
So where does one begin putting together an Adam Wainwright PC?
These 10 cards serve as an excellent representation of his playing career and footprint on the hobby, making them a great place to start.
2000 Just #291 Adam Wainwright
The Atlanta Braves selected Wainwright with the No. 29 overall pick in the 2000 MLB draft out of Glynn Academy in Brunswick, Georgia. He made his pro debut in rookie ball after signing and posted a 2.35 ERA with 81 strikeouts in 61.1 innings over two stops.
His first wide release minor league card was in the 2000 Just set, and he is one of the key cards on the checklist alongside Josh Beckett, Adrian Gonzalez, Josh Hamilton, John Lackey and Alfonso Soriano.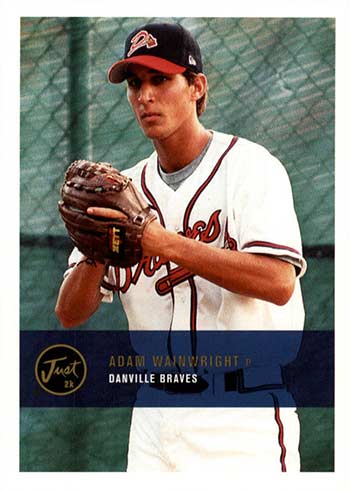 2000 Topps Traded #T88 Adam Wainwright RC
A strong pro debut in 2000 was enough for Wainwright to earn the No. 97 spot on the Baseball America Top 100 prospect list the following year and the No. 7 prospect in a deep Atlanta farm system.
In 2000, many of the top June draft picks were included in the 2000 Bowman Draft and 2000 Topps Traded products, and those cards are considered their Rookie Cards. That includes Wainwright, whose only two rookies are part of those two sets and their respective chrome parallel versions.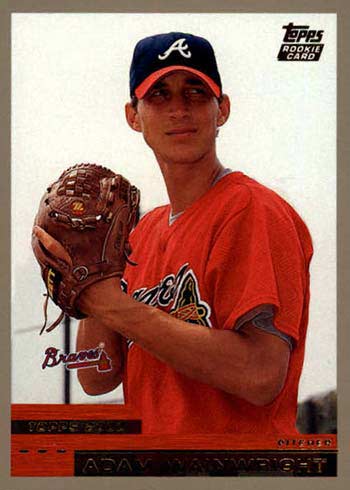 2003 Topps Heritage #422 Adam Wainwright SP
After strong seasons at Single-A in 2001 and High-A in 2002, Wainwright jumped up to No. 18 on the Baseball America Top 100 list, behind only Jesse Foppert (No. 5, SF), Jose Contreras (No. 6, NYY), Gavin Floyd (No. 9, PHI), Francisco Rodriguez (No. 10, LAA) and Scott Kazmir (No. 11, NYM) among pitching prospects.
His strong minor league season at Double-A in 2003 earned him a spot in the Topps Traded set, as well as a short-printed card in the Topps Heritage release that is among his more valuable early cards.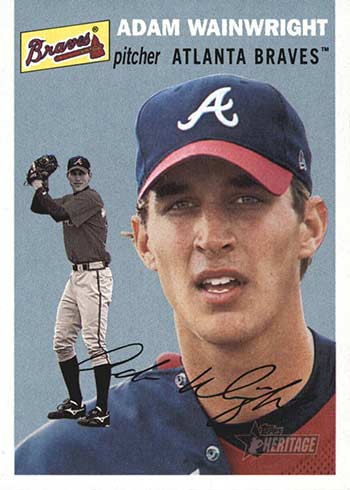 2004 Topps Traded Signature Moves #AW Adam Wainwright
Prior to the 2004 season, the Braves swung a blockbuster deal, trading Wainwright, Jason Marquis and Ray King to the St. Louis Cardinals in exchange for outfielder J.D. Drew and catcher Eli Marrero.
His first Topps card in a Cardinals uniform was actually an insert in the 2004 Topps Traded release. The Signature Moves insert set highlighted players who changed teams during the previous year, and Wainwright was included on the nine-card checklist.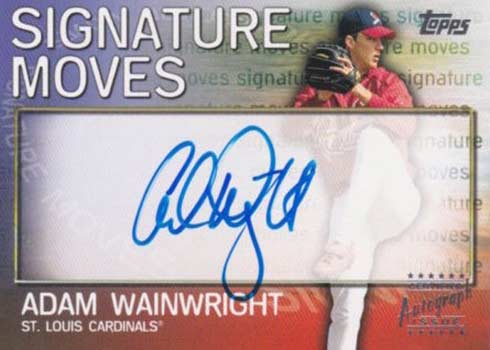 2005 Topps Total #613 Cal Eldred/Adam Wainwright
After pitching to a 4.40 ERA with 147 strikeouts in 182 innings at Triple-A, Wainwright made his MLB debut at the age of 24 on Sept. 11, 2005. He allowed two hits, one walk and three earned runs against the New York Mets in his debut, then tossed a scoreless inning on Sept. 23 against the Milwaukee Brewers in his only other appearance.
That was enough for him to earn a spot on the 770-card 2005 Topps Total checklist, and he shares the card with 37-year-old reliever Cal Eldred who was in the final year of his career.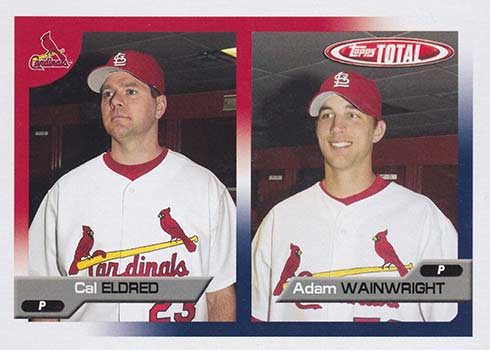 2006 Upper Deck #424 Adam Wainwright (RC)
After his cup of coffee the previous year, Wainwright broke camp with a spot in the St. Louis bullpen the following year. He went on to post a 3.12 ERA with 17 holds and three saves in 61 appearances, and he moved into the closer's role in October when he nailed down four saves in nine appearances while helping the Cardinals to a World Series title over the Detroit Tigers.
His 2006 cards are not considered true Rookie Cards, but many do feature the "RC" logo. His only Topps flagship card that year is an autograph. I've opted here for his first Upper Deck base card.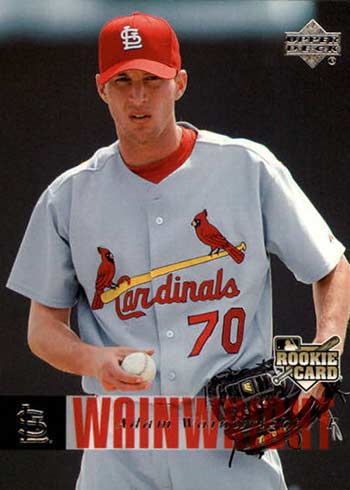 2007 Topps Update Gold #79 Adam Wainwright
Wainwright recorded the save in the decisive Game 5 of the 2006 World Series, and the shot of him raising his arms in the air in celebration after the final otu is one of the enduring images of that year's postseason.
For some reason, Wainwright was not included in the 2007 Topps base set, but that mistake was rectified in the 2007 Topps Update set and his card perfectly captures the moment that he helped clinch a title for the Redbirds. The card has a number of parallels, and the gold version with a print run of 2,007 is the pick here.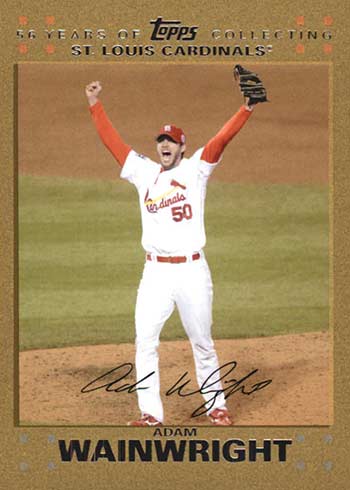 2010 Topps Update All-Star Stitches #AW Adam Wainwright
After moving into the rotation full-time in 2007, Wainwright steadily developed into one of baseball's best young starters. He earned his first All-Star selection in 2010 when he went 20-11 with a 2.42 ERA, 1.05 WHIP and 213 strikeouts in 230.1 innings to finish runner-up in NL Cy Young voting.
His first All-Star appearance is commemorated in the 2010 Topps Update All-Star Stitches set, with each card featuring a game-worn relic from All-Star weekend. The card also comes in a gold parallel (1/50) and a platinum parallel (1/1).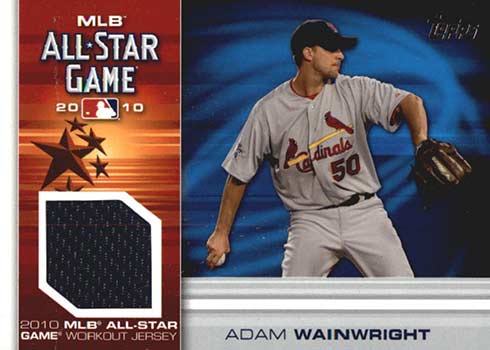 2014 Topps Heritage Then and Now #TANGW Bob Gibson/Adam Wainwright
No one will argue that Bob Gibson is the greatest pitcher in St. Louis Cardinals history, but there is a strong case for Wainwright to be No. 2 on that list. Among St. Louis pitchers, he ranks second in WAR (42.8), second in innings pitched (2,562.2), third in wins (195) and second in strikeouts (2,143), and he is still adding to those totals.
The two hurlers were featured side-by-side in the 2014 Topps Heritage Then and Now insert set. The 10-card checklist was found in 1:10 packs, so it's not a difficult pull, but it's a must-own card for any Cardinals fan.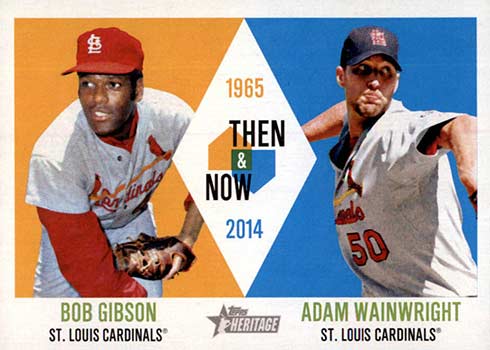 2022 Topps #473 Adam Wainwright/Yadier Molina "Overarching Battery"
What would this collection be without a dual card of Wainwright and his longtime battery mate Yadier Molina?
The pair have started 327 games together over the course of their time with the Cardinals, and this season they passed the Detroit Tigers tandem of Mickey Lolich and Bill Freehan (324) for the all-time lead on that list. Their subset card in the 2022 Topps set is a great low-cost pickup to bookend their time together as teammates.