The tale of two players named John Henderson – a hockey card mystery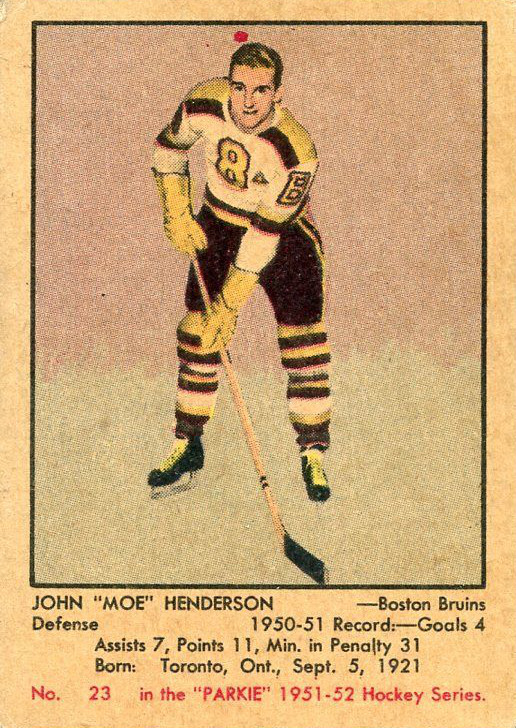 By Stephen Laroche | Beckett Hockey Editor | Commentary
For years, vintage hockey card collectors have been puzzled as to why the 1951-52 Parkhurst hockey card of Boston Bruins defenseman named John Henderson, otherwise known as "Moe", had a premium over other common cards in the set.
In reality, the John Henderson on the card is listed in the NHL record books as Murray Henderson as he seemed to prefer to be addressed by his middle name or nickname. A veteran of seven seasons, all of them played in Beantown, he was a dependable defender that was not a big scorer. The nephew of Roy, Lionel, and Charlie Conacher, he served in World War II before making his big league debut at the end of the 1944-45 campaign. By the time his first hockey card was released, his NHL career was winding down and he was destined for the AHL's Hershey Bears. Eventually, he moved on to coaching in the minors and passed away in 2013 at the age of 91.
However, during the 1954-55 season, a lanky 6'4″ goaltender named "Long" John Henderson joined the Bruins. This is where some of the hobby's confusion likely stems from and may answer why this card has a premium since cards of common goalies tend to be worth more than common skaters. 
"Long" John Henderson had an interesting rookie season as the 21-year-old netminder out of Toronto went 15-14-15 over 45 appearances with the Bruins and posted five shutouts and a 2.49 goals-against average. Taking over for "Sugar" Jim Henry, he struggled a bit in the playoffs and was essentially out of the lineup the next year due to Boston going with Terry Sawchuk, who had been picked up from the Detroit Red Wings. Strangely, both Hendersons played together in Hershey during the 1954-55 and 1955-56 seasons. The goalie Henderson played a final NHL game in 1955-56 before heading on a wild minor league journey which included a run to the Allan Cup and a World Championship with the Whitby Dunlops. He retired for a few years, but returned to action in the mid-1960s before finally calling it a career at the end of the 1969-70 campaign.
With such confusion regarding the Murray Henderson rookie card, is it time for a card company to make a proper John Henderson card to pay tribute to a respected netminder that was a one-year wonder in the NHL? The hobby may never see one, but Beckett Hockey has reduced the value of the 1951-52 Parkhurst John "Moe" Henderson since market data shows that most sellers and buyers treat it as if it were a common card.
What do you think? Let us know in the comments section below.
Stephen Laroche is the editor of Beckett Hockey, Beckett Basketball, and Beckett Sports Card Monthly. Have a comment, question or idea? Send an e-mail to him at slaroche@beckett.com. Follow him on Twitter @Stephen_Laroche.