08-19-2021, 09:51 AM (This post was last modified: 08-19-2021, 09:53 AM by jplarson.)
3x Mega Boxes of 2021 Panini Prizm Draft Picks
I was able to open up some megas from Prizm DP yesterday.  I recorded it, still need to upload it to youtube but for now enjoy the pictures!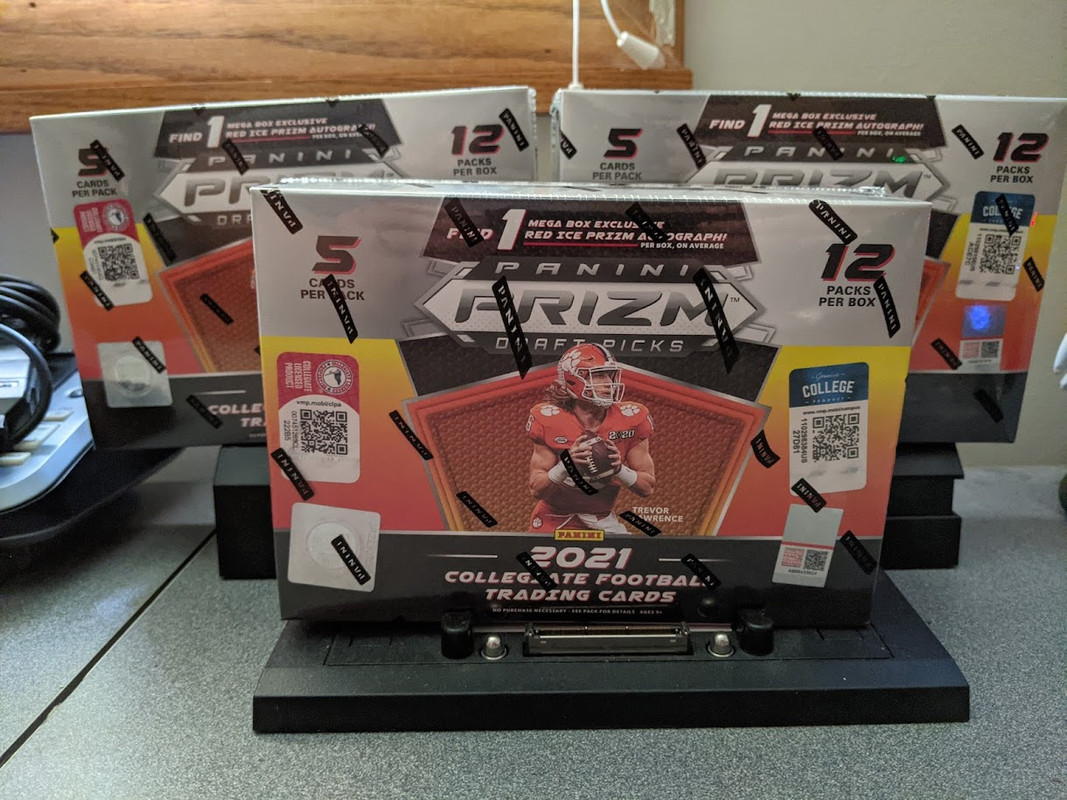 Base - 108
54 veterans
32 rookies
11 crusades
11 all americans
Red Cracked Ice - 66
33 veterans
20 rookies
7 crusades
6 all americans
Prizm Silver - 6
Red Cracked Ice Autographs - 3
I think the most impressive thing about these boxes is that I did not get one single duplicate card. I would always hope and expect that within a box itself I wouldn't get dupes, but across 3 boxes it's understandable to double or triple up. The cards feel as nice as any Prizm product does. Collectors will not be disappointed by the quality. The boxes I opened came from Target and featured Red Cracked Ice parallels which look very nice for most teams.
The set checklist is 200 cards, the first 100 veterans, the next 60 rookies, then 20 Crusade subset cards, and finally 20 All Americans subset cards. 14 rookies including Justin Fields, Mac Jones, Trevor Lawrence, and Zach Wilson appear 3 times within Panini Prizm Draft Picks set. The set is organized with the first 34 cards quarterbacks, the next 39 cards mostly WRs with Alvin Kamara and 3 TE's sprinkled in, then the next 25 cards all running backs, finishing off with 2 defensive players to make up the veterans. Rookies appear to be organized based on school name to start (Alabama, BYU, Clemson, etc) but quickly changes to random card assignments. The first 30 cards appear to be mostly offensive players with the next 30 mostly defensive players.
The Prizm Draft Picks Blaster box consists of 12 packs with 5 cards per pack, plus a bonus 1 card pack that contains the autograph. Based on my sample size of 3 boxes, you can expect the following:
Base - 36 cards = 18 veterans, 10-11 rookies, 3-4 Crusades, and 3-4 All Americans
Silver parallels - 2 cards = 1 veteran and 1 rookie/Crusade/All Americans
Red Cracked Ice - 22 cards = 11 veterans, 6-7 rookies, 2-3 crusades, 2-3 All Americans
Red Cracked Ice Auto - 1 card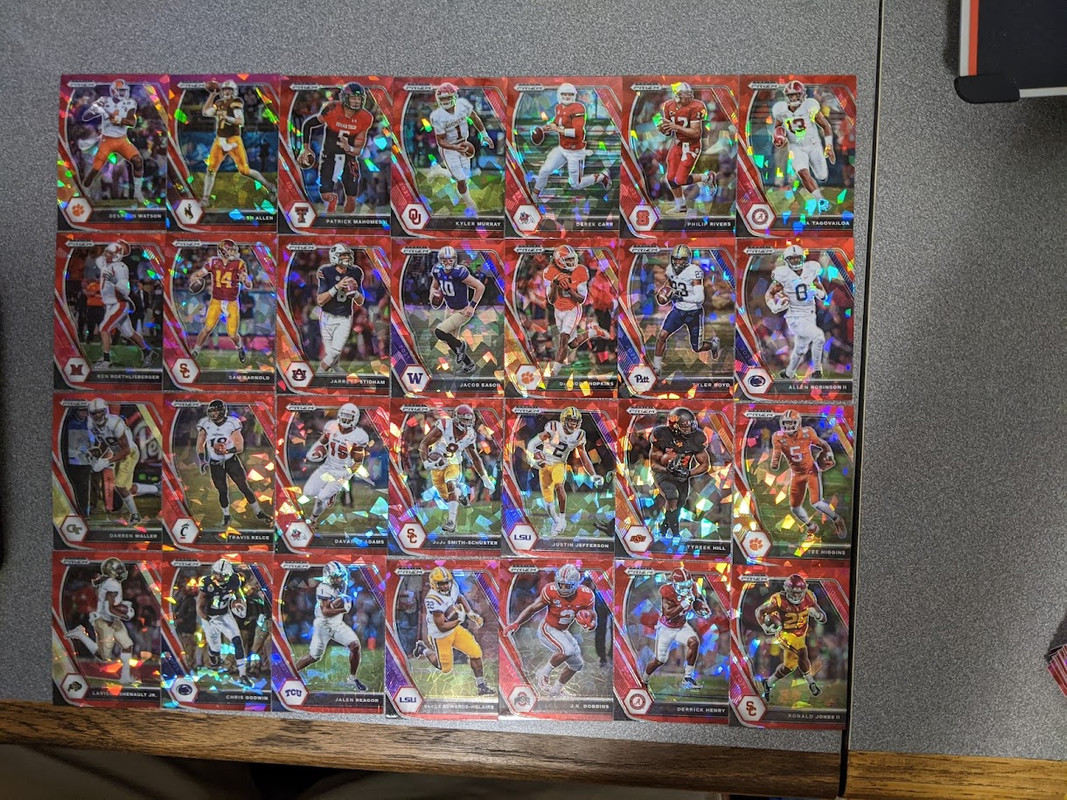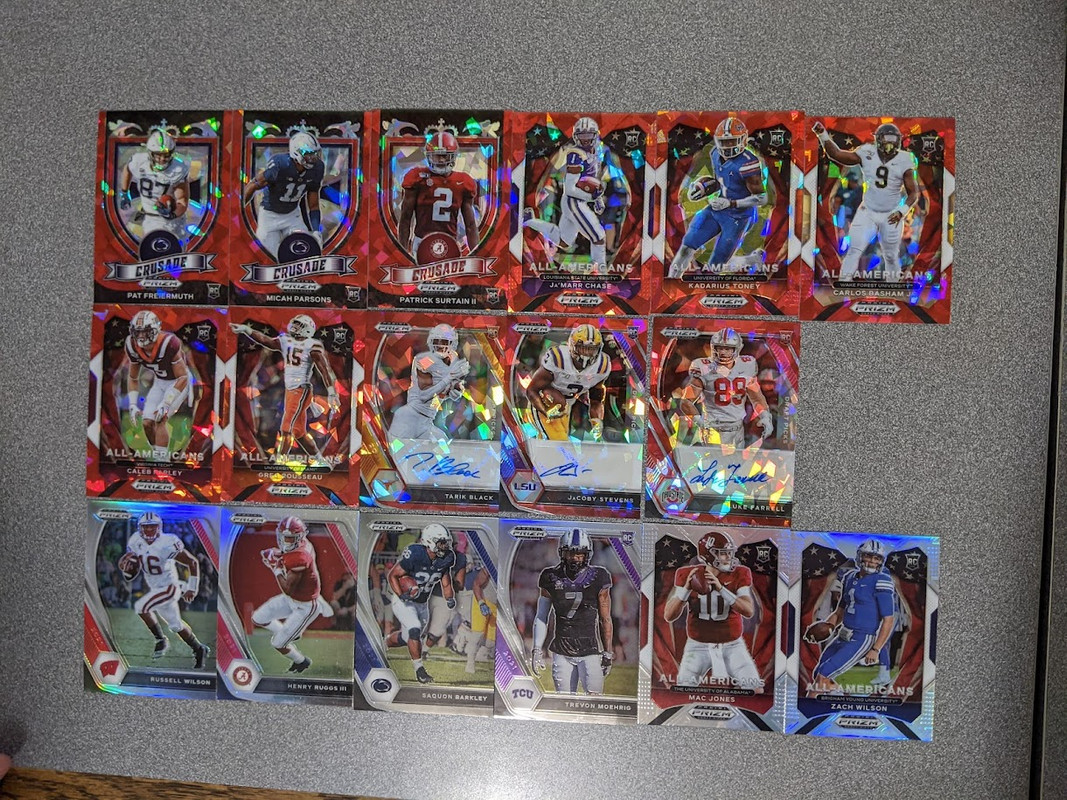 Here's the details on those three rookie autographs:
JaCoby Stevens, LSU, S - Eagles 6th round (224)
Luke Farrell, Ohio State, TE - Jaguars 5th round (145)
Tarik Black, Texas, WR - Colts UDFA
Not pictured are the two Justin Fields Red Cracked Ice Crusade and All Americans, those are already in the JF binder.  Thanks for looking, hope to do a break again once Donruss starts to land.