04-12-2020, 08:27 AM
What's this? A mailday??? Mailday!
Been a while since I added anything. The Alshon's are hard to see but one is #/65 and the other a true 1/1.
However they are overshadowed by Edgerrin James. You see I've wanted this card for over 20 years. I first saw one like it in a display case at my local card shop in Chicago (Big John's and Little Debbies near Cicero and Peterson on the north side -long gone :/). I think this card plus all the packs I busted back then helped spark how my collecting is now.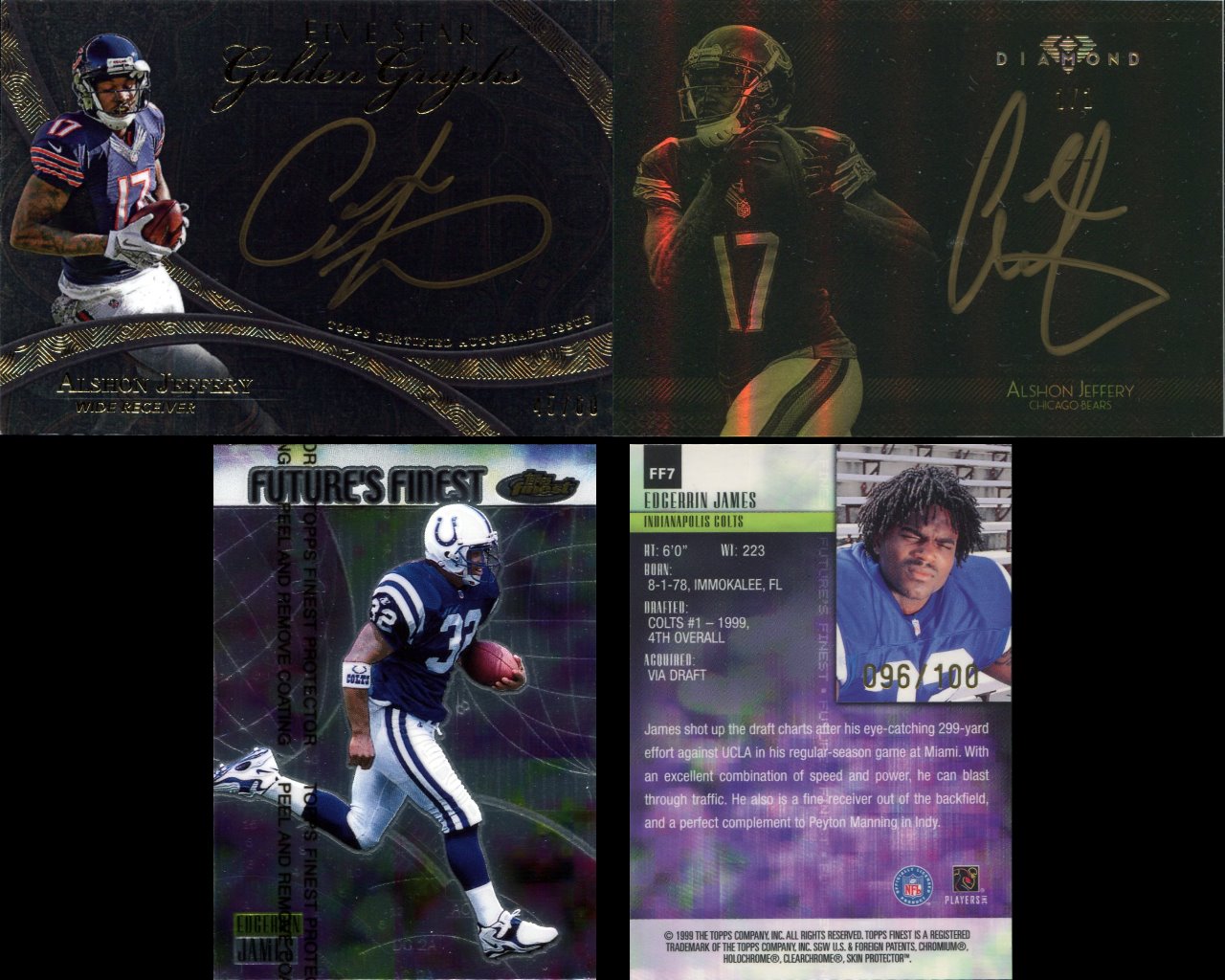 This card looks like a bog standard Future's Finest insert normally serial numbered out of 500. However
this
one is numbered out of 100. Clearly a numbering error off the presses but what an interesting concept to me that a card could be mis-serial numbered! Especially coming out of a pack like that.
Anyways it was priced in the case like it was refractor and I never bought it. After the LCS owner closed down his store in favor of shows and online sales I would ask him from time to time if he still had it but it was buried or sold. Once a couple years ago another graded copy surfaced but the seller wanted over $125 for it. I tried negotiating down but no luck. Then the 3rd example pops up!
I don't know how many of the /500 got incorrectly serial numbered to /100, if any Refractors got numbered to /500, or if all 10 cards in the insert set got the same error but I can confirm I've seen these:
McNabb 76/100, 86/100, 96/100
Williams 73/100
James 61/100 (BGS), 96/100, unknown # from Chicago LCS
Couch 94/100
Anyways, thanks for reading and if you run across any other oddball Finest cards, especially from 1999, let me know!