12-17-2019, 07:56 PM (This post was last modified: 12-18-2019, 05:46 AM by mq13.)
A few questions about...
... Matchmaker

1. Is the date on other traders page correct?
2. When looking for cards I need it indicates a trader has a card I need. When I activate a trade the card does not show up as a Want. Does anyone have this issue?
3. Which is a better search Wants or Trade for?

Any help is appreciated.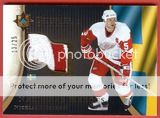 Collecting; Flyers-Red Wings-Brodeur-Cujo-Hasek-Shanahan, 04-05 Franchises Memorabilia