05-12-2015, 11:01 AM
3 packs 2015 HA Celebrity Cuts II
So I took a drive to the main Dave & Adams store yesterday, since right now it's the only one open until they open the SUPERSTORE(!). Finally got a chance to pick a few of these up. There's some other local guys who go nuts like I do for these type of products, so I'm lucky there were any there.
Quite happy with the spoils:
Second Runner Up: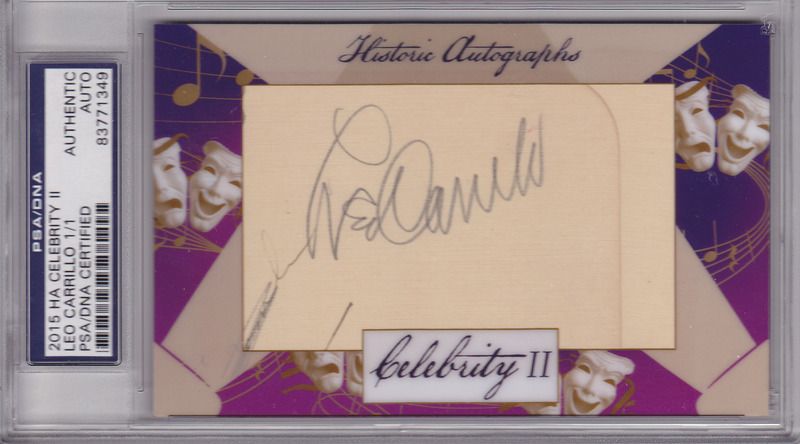 If you are not "of a certain age" you may need to ask your local "Old Timer" about this guy. They may not know either actually. Leo Carrillo was the actor who played "Pancho" on "The Cisco Kid", a western back in the first half of the 1950's. Which, according to Wiki, was the first television show to be filmed in color, and Leo, along with his co-star on the show, were the first regular Hispanic television stars (preceeding Desi Arnaz Sr. by a year).
He also was a very serious conservationist, and has multiple parks and beaches named after him.
First Runner Up: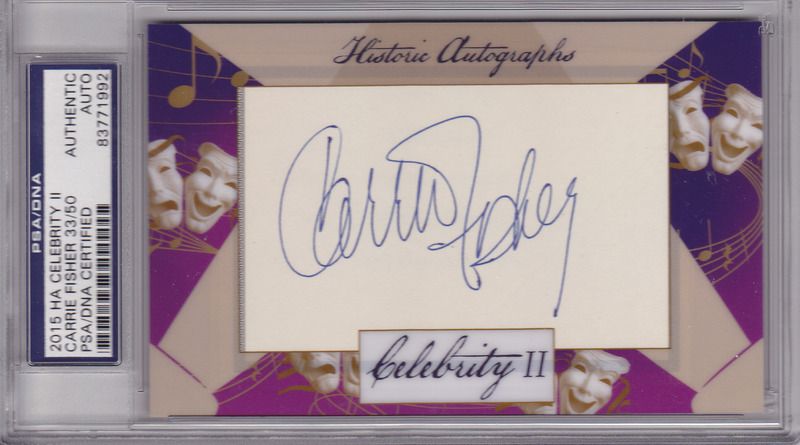 Yes. THAT Carrie Fisher. Hollywood Royalty, daughter of Debbie Reynolds and Eddie Fisher (go ask that old timer about them). Bit role player in such classics as "Jay and Silent Bob Strike Back", "The Blues Brothers" and "Under The Rainbow". She also did a sci-fi flick where she played a princess.
lol! Glad to have another Star Wars Signature in my collection!
Now what would top "Princess Leia"??
Well, in my mind THIS GUY.
"The Man of A Thousand Voices"
WHAT'S UP DOC!
''I've never been in style, so I can never go out of style." - Lillian Gish ( 1
893 - 1993)