02-14-2015, 03:32 PM (This post was last modified: 03-01-2015, 05:20 PM by zubaltec.)
Another Chicago Bears BGS mail day! Updated 3/1/15
BGS announced the perfect 10 Black label, so I had this one relabeled!
A couple 1/1's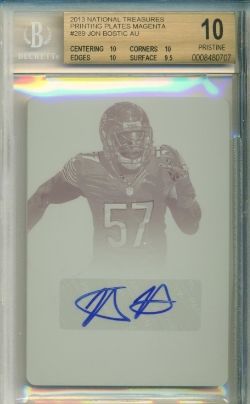 Peanut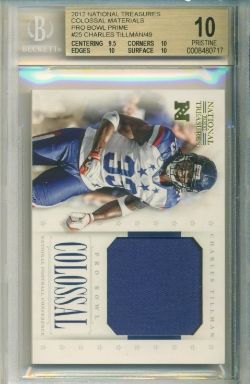 ---
Finally I was able to buy one of these. There is a collector out there that would outbid me every time, but not this time. That card completes the set.
Prime
Base
The (3) 1/1's
---
I needed this one to complete two Briggs sets.
2012 National Treasures Century Materials and every Briggs in the set.
Base 55/99
Prime
The (2) other 1/1's
Base
Prime
Base
Prime
More to come!
---
I had bought 20/75 (The Bears only Super Bowl win) years ago, but it was stolen out of my Dad's mailbox before I had it in my hands. I saw a couple sell for more than I paid for mine, so I let them go. I picked this one up for less than I paid for #20, and better yet it received a gold label!
This next one just might be the most valuable card in my collection. I saw it go up for sale last Easter morning. I put in a couple offers, but couldn't seal the deal because of price. So on the way to my in laws I tell my wife about the card. That is 1/5, it has 6 HOF Bears autos on it, and I need one for my 04 Upper Deck Legends set. Well after a long day with the in laws she gives me the go ahead!
More to come!
Lance Briggs and Brian Urlacher Supercollector