01-03-2015, 01:05 AM (This post was last modified: 07-29-2015, 12:57 AM by gabbyguy.)
End of an era. A tribute to the ITG "Made To Order" card. My story...
I haven't posted on here in eons. But this warrants me coming out of the woodwork again.
My Tribute to the ITG Ultimate "Made To Order" card ...a hockey trading card concept/program that expires as of today December 31, 2014.
As we get ready to bring in a new year, I sit back and reflect on the hobby that has made me so happy the past 25 years. My passion for hockey card collecting really took off when a kid from Trencin, Slovakia was drafted #3 in 2000 by my "new" Minnesota Wild: Marian Gaborik. He showed promise and actually made the team at age 18. He scored the first ever Wild goal in their first ever game. Right then I knew he was special and I started collecting his cards. It has been a 15 year odyssey and was propelled by one specific card company... In The Game run by Dr. Brian Price. When ITG produced the first ever "Ultimate" cards (it was them, not Upper Deck), I was hooked. The limited memorabilia and auto cards were top-notch. And I also became hooked on the vintage player selection offered in those cards.
In the 2nd year of BAP Ultimate production (2001-02), ITG offered a cool card concept....the "Made To Order" card. A redemption card where you, the collector, could choose the player and get a 1/1 card made just for you that included a memorabilia piece for the player you selected. That year they only offered 10 total Made To Order cards (and only 8 of the 10 were ever redeemed). Players in the list that year were phenomenal...Gretzky, Lemieux, Roy, Brodeur, Bure...the list goes on. That year my guy Gaborik was not in the product. He was only in his 2nd year at the time. I did see his jersey memorabilia pieces in other ITG/BAP products that year, so was hoping he was in the Ultimate product. But he wasn't. Baron Bedesky was a VP of the company back then and when I acquired one of the ten "Made To Order" redemption cards, I went to him and asked if I could get a card made of Marian Gaborik. I knew they had a jersey of him from earlier products. He said "sure", but was surprised I didn't go after the big guys like Gretzky and Lemieux (like most of the people did) ...players I could turn around and flip the card for big $$. I told him I collected Gaborik and wanted the card made of him. ITG, being a "for the collector" type company, honored my request and I got my first "Made To Order" card of Gaborik (and the only Gaborik card in the BAP Ultimate 2 product). Cards that year were graded by Beckett and I was pumped when the card came back a BGS 9.5 Gem Mint: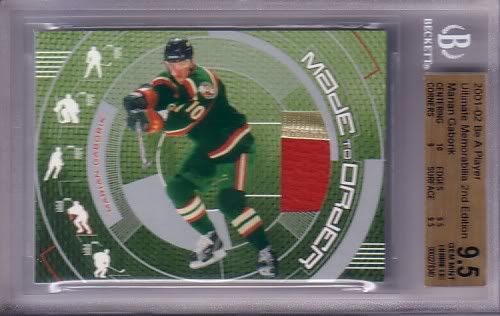 Baron Bedesky even did an article in Beckett magazine about me getting a personal collection Gaborik card made instead of going after the $$ cards like Gretzky. I even met up with him and talked to him at the 2004 NHL All-Star Game FANfest when the Minnesota Wild hosted the All-Star Game. I also met Dr. Price for the first time at that event. Here is a photo of me (on left) with ITG's Baron Bedesky at the ITG Booth at the 2004 NHL All-Star Game FANfest. My then 7-year-old son Trevor was with me. He is now 17 and is taller than me!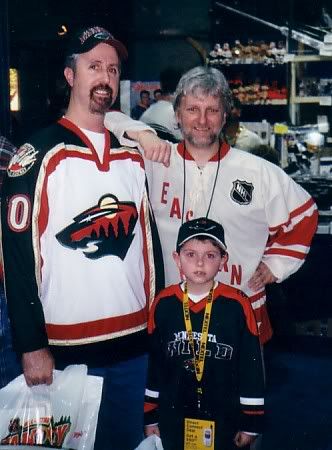 I have met and talked with Baron at Toronto Expos over the years after he left ITG, and we communicate via Facebook still. Great guy!
After that first year of "Made To Order" in the product, I was hooked on the ITG Ultimate product and "Made To Order" concept. I always purchased at least 5 boxes of the product every year. It has always been my all-time favorite product. I tried to get more "Made To Order" cards, and I succeeded a lot (even though these went for big $$ at the time). The only one I ever pulled, I gave to a friend as a Christmas gift and didn't redeem myself. Pay it forward as they say.
Dr. Price at ITG has always been receptive to his collector base and always accessible. I have been to numerous Toronto Card Expos and talked with him about life and the hobby. At one Expo, he approached me with a "Made To Order" concept offering where you, as the collector, could get your photo on the card with the player you chose. I told him that it would have to be for the die-hard "player" collectors, because once made, you really couldn't re-sell on the secondary market. Who would buy a card with a player and some collector's ugly mug on the card (I resemble that remark)?? So if made, it would have to be super limited. And in ITG Ultimate 8, Dr. Price introduced the "Made To Order - Hero" card (only 5 redemptions made). I think the only other year there was a Hero card made was in ITG Ultimate 9 (only 3 redemptions available).
Anyway, I've rambled on enough.
Here are the ITG Ultimate "Made To Order" cards I had made of Gaborik throughout the years after that first card: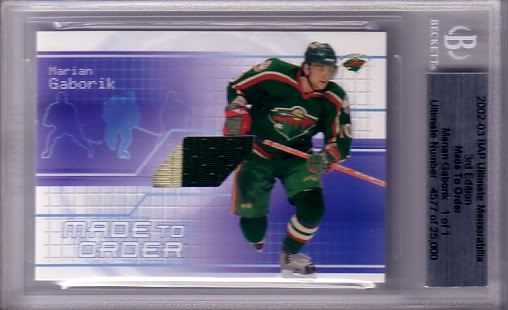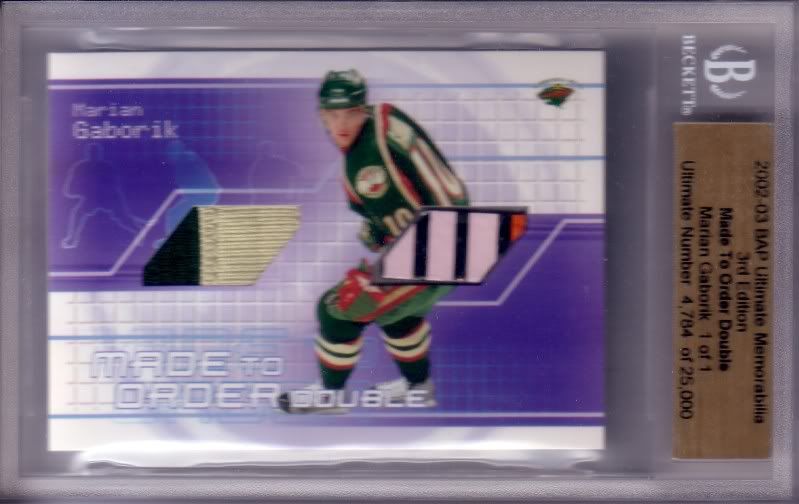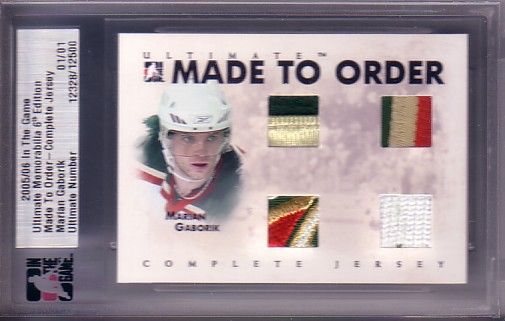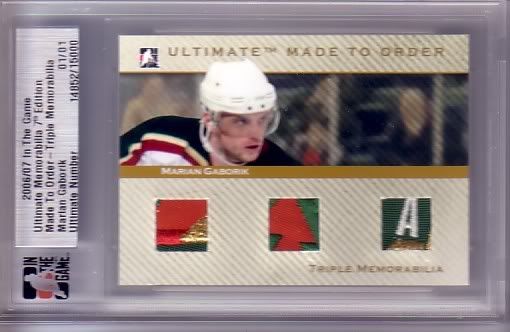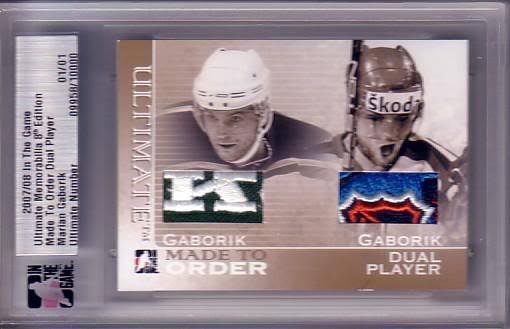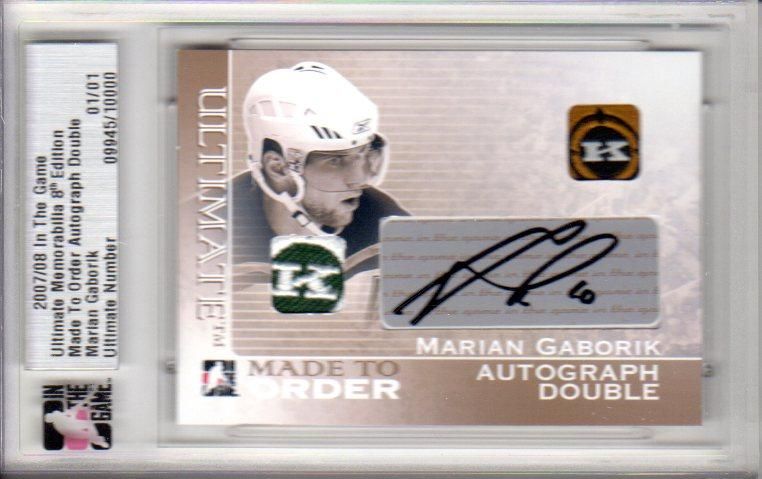 The Hero card I had made from ITG Ultimate 8: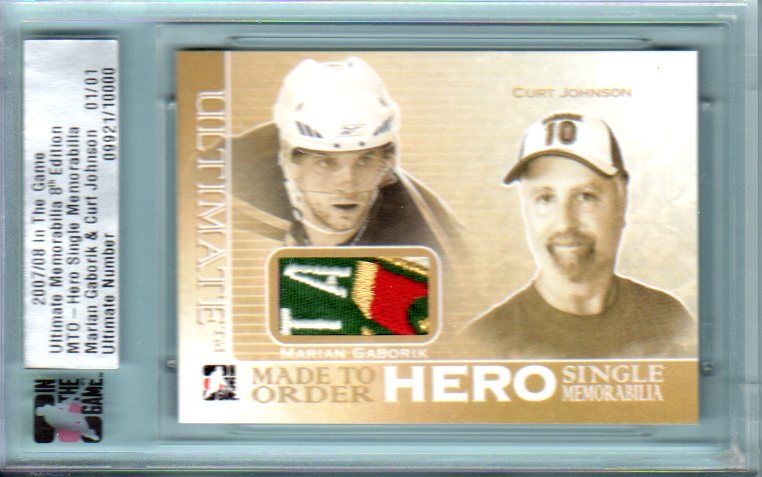 The last "Made To Order" of Gaborik I had made to commemorate him scoring the first ever Wild goal. It came against Guy Hebert of the Ducks on October 6, 2000.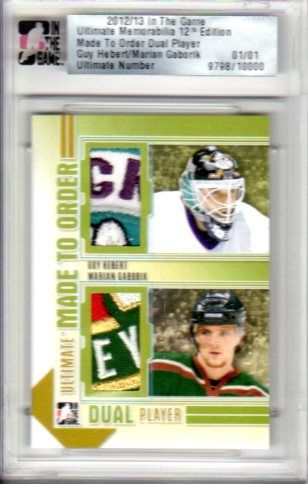 Remember I said I loved ITG Ultimate Vintage player cards? Well, I have two Vintage Player "Made To Order" cards that have been in the "Witness Protection Program" since they were made. And since the "Made To Order" program expires today, so does the secrecy of these two cards.
For the first time, I present to you these cards in my personal collection. Two cards that are the most awesome cards I own from a vintage player perspective.
First, a Triple Autograph from ITG Ultimate 8. I acquired this redemption card: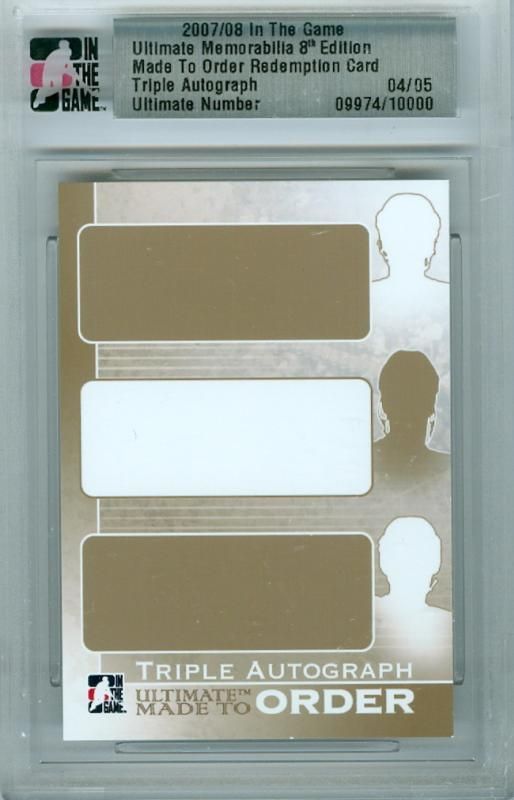 I had it turned into this:
Reason...I went to my first ever NHL game when I was about 11 or 12. Gump Worsley was the goalie for my North Stars then. He didn't wear a mask and looked like my grandpa (who took me to the game). So the Gumper holds a special place in my heart.
Anyway, Gump is tied to history with the other two superstars on the card.
He allowed the 600th goal to Maurice Richard (regular season and playoffs).
Gordie Howe scored his 500th goal against Gump and also his 544th goal (tying him with the Rocket). He then scored on Gump again for his 600th regular season goal.
UM8 Triple Autograph Richard/Worsley/Howe 1/1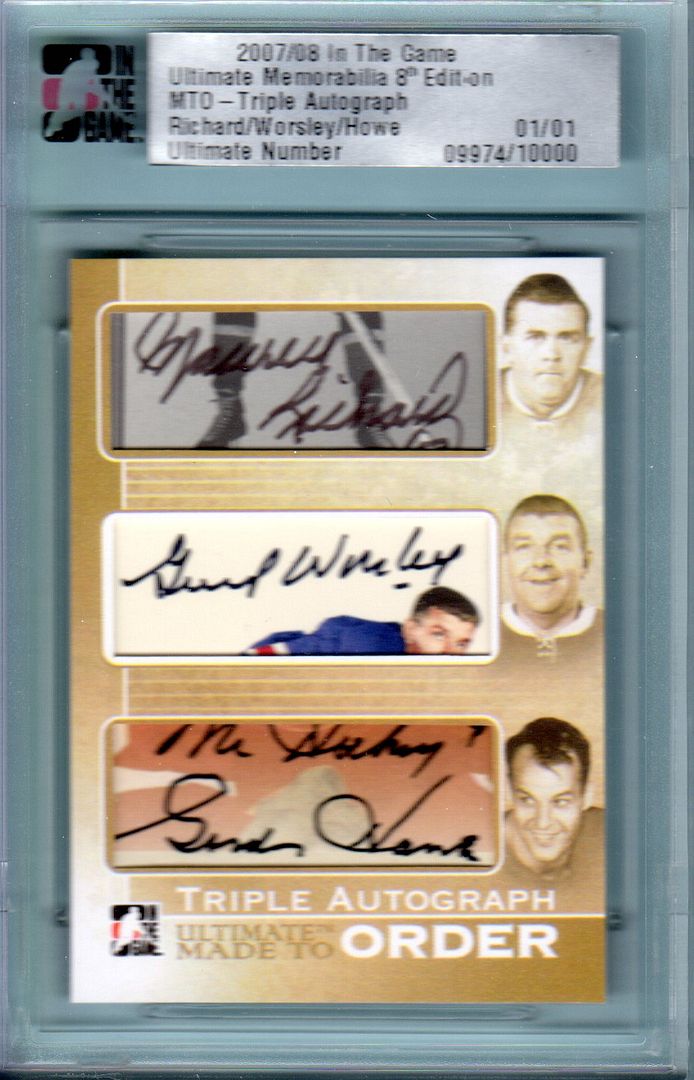 And the last "Made To Order" card....what I consider the best card in my collection. You'll see why.
I have always wanted to do a super vintage player card. This card provided me the opportunity to create a mega-vintage player card.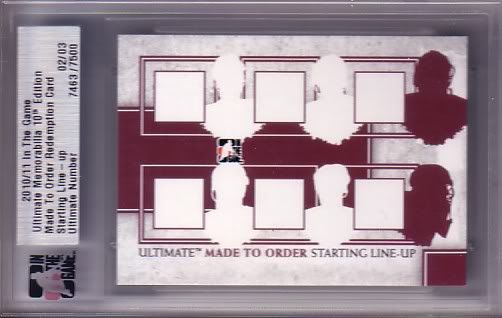 I selected a cast of players who played pre-1920. So here it is:
2010-11 ITG Ultimate 10 Made To Order Starting Lineup 1/1
Jack Adams 1917-27 ; Frank Nighbor 1912-30 ; Newsy Lalonde 1904-27 ; Cyclone Taylor 1905-23 ; Frank Patrick 1904-24 ; Georges Vezina 1910-25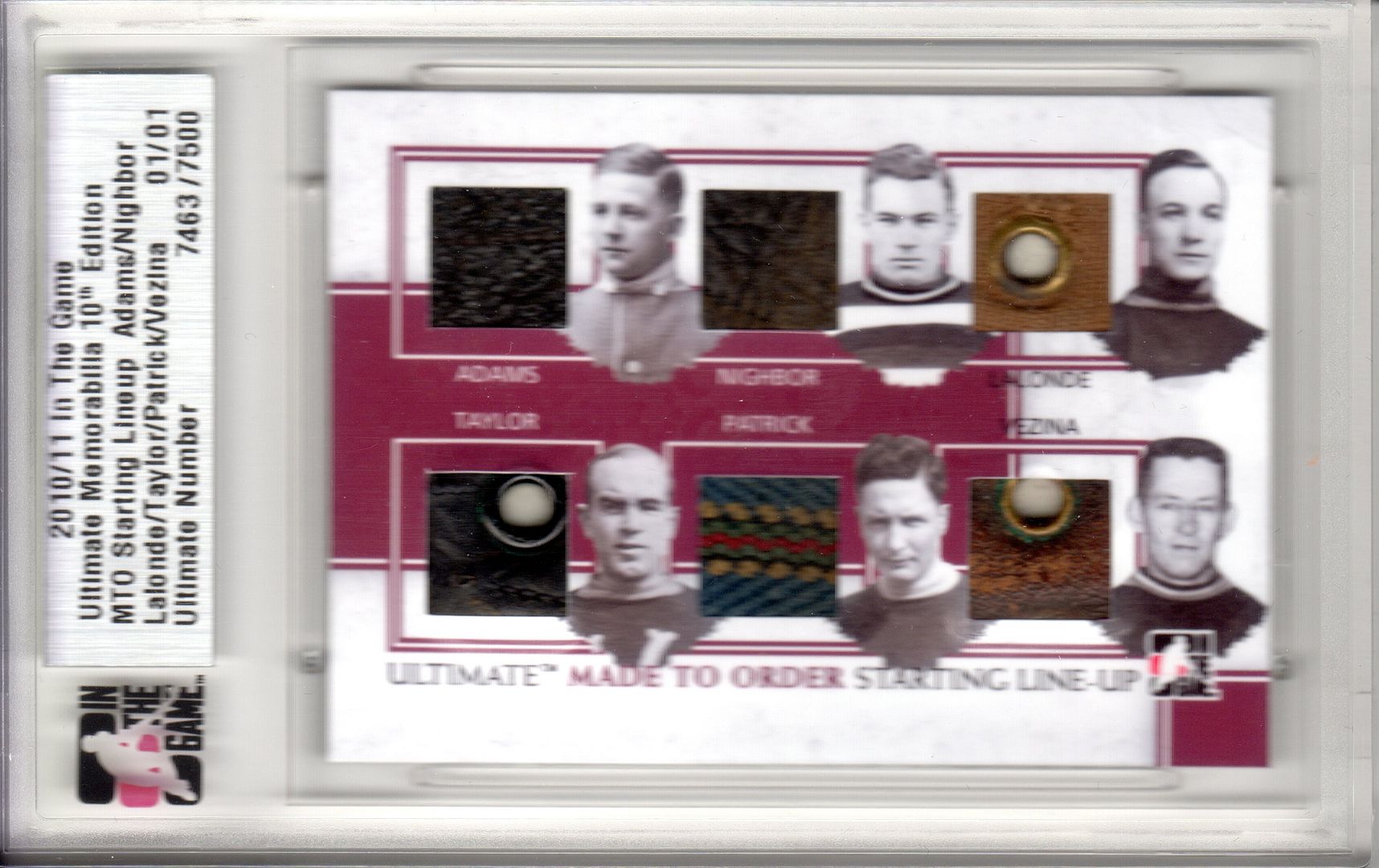 Card only scan: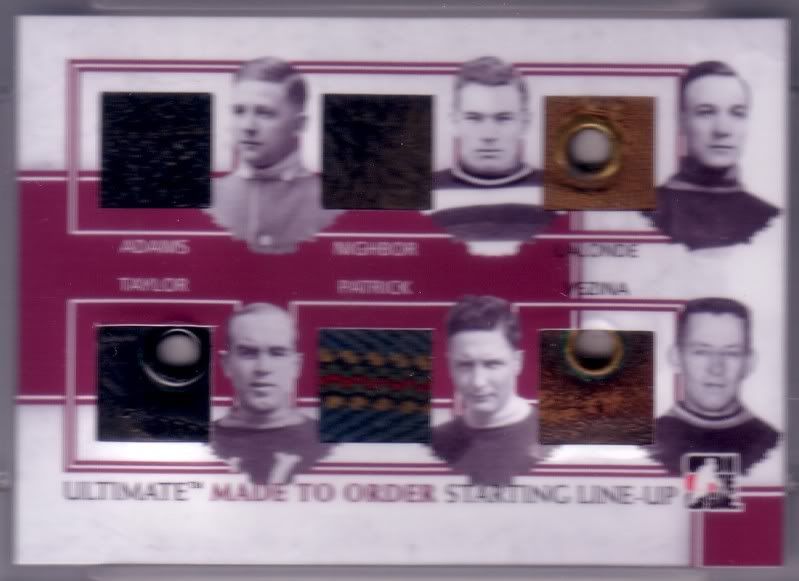 Back of card: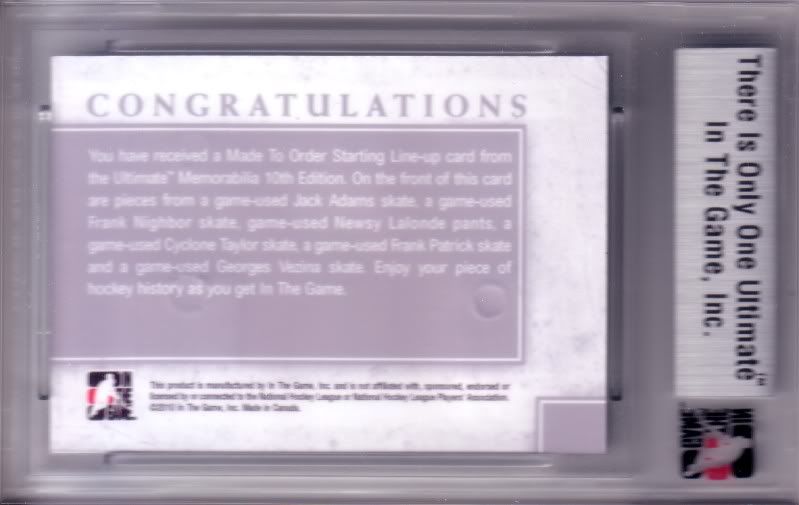 And with that, the end of an era of ITG Ultimate "Made To Order" cards. I want to thank Dr. Price again for keeping the collector first and for the years of making the best hockey cards in the world ....a lot of the time with his hands tied (without an NHL license). You were the best Brian! I salute you! :beer:
Hopefully, Leaf will bring back this awesome concept in the future.
Thanks everyone for sticking with me during this long read. Hope you enjoyed the show.
--Curt
--Curt