12-25-2014, 11:28 AM
Box of 2000 Topps Finest, 2000 Playoff Absolute, 2014 Topps Chrome blaster
2000 Topps Finest
If this box is indicative of the entire print run, Topps had some quality control issues. Several cards were cut noticeably shorter than others, and a couple wound up taller. I noticed some of the stamped serial numbers didn't stamp all the way, missing some gold foil. And maybe it's because they sat in a box for 14 years, but all the base cards have a tacky feel to them. Not something I'd expect from a Finest set, even before it rose from mid-range to mid-high end. The inserts are what steal the show, the base design isn't my favorite in the set's history but not the worst. Not having regular refractors is also a miss. I'm very happy to have hit an auto with average odds of 1 every 2 boxes.
Base: 99 of 125 (6 dupes) - 79% of set
Base + SP: 105 of 205 - 51% of complete set
Rookies (1:11) - JaJuan Dawson 847/2400, Sylvester Morris 884/2400
Inherent Fire (1:8) - Jerry Rice/Plaxico Burress, Ron Dayne/Jamal Anderson, Courtney Brown/Bruce Smith
Gems (1:24) - Payton Manning (complete /w Manning face on the back)
Gold Refractor - Jeff Graham 161/300
Finest Moments (1:8) - Marshall Faulk, Patrick Jeffers, Qadry Ismail
Finest Moments Jumbo (1 per box) - Marshall Faulk
NFL Europe's Finest (1:24) - La'Roi Glover
Out of the Blue (1:24) - Germane Crowell
Superstars (1:16) - Dan Marino, Marshall Faulk, Marvin Harrison
Finest Moments Refractor Autographs (1:48) - Germane Crowell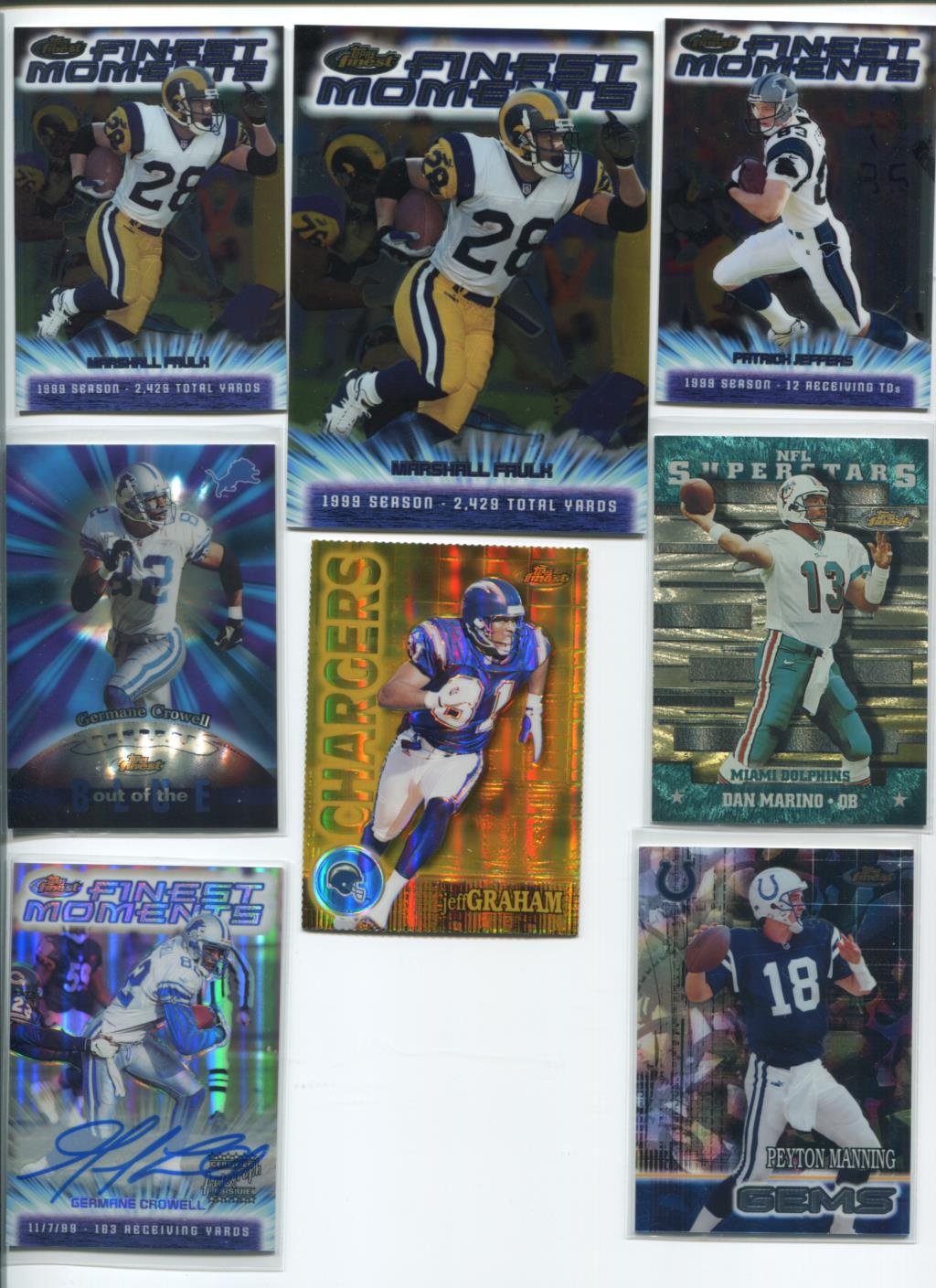 2000 Playoff Absolute
This is the forerunner to the Absolute Memorabilia line and contains my beloved Leather and Laces. This was the "industry first, largest game-used and game-dated football set ever" with 130 different cards, a mark I think still stands today. The box is comes in is super nice, with a hinged top half that reveals 20 packs within. My wife and I noticed the edges of the base set had some rough cuts to them and some chipping on some cards.
Base: 104 of 150 (1 dupe) - 69%
Base + SP: 109 of 250 - 44%
Rookies: Shaun Alexander 1189/3000, Ahmed Plummer 1148/3000, Shaun Ellis 1422/3000, Danny Farmer 544/3000, Erik Flowers 585/3000
Coaches Honors - Kevin Johnson 195/300
Extreme Team (1:27) - Randy Moss
Rookie Reflex (1:10) - Jamal Lewis, Trung Canidate
Tools of the Trade - Akili Smith 538/2000, Marshall Faulk 387/1500
Leather and Laces - Ricky Dudley 102/175
It was a super long shot to get Bobby Engram or Tim Dwight, but it was fun to hope for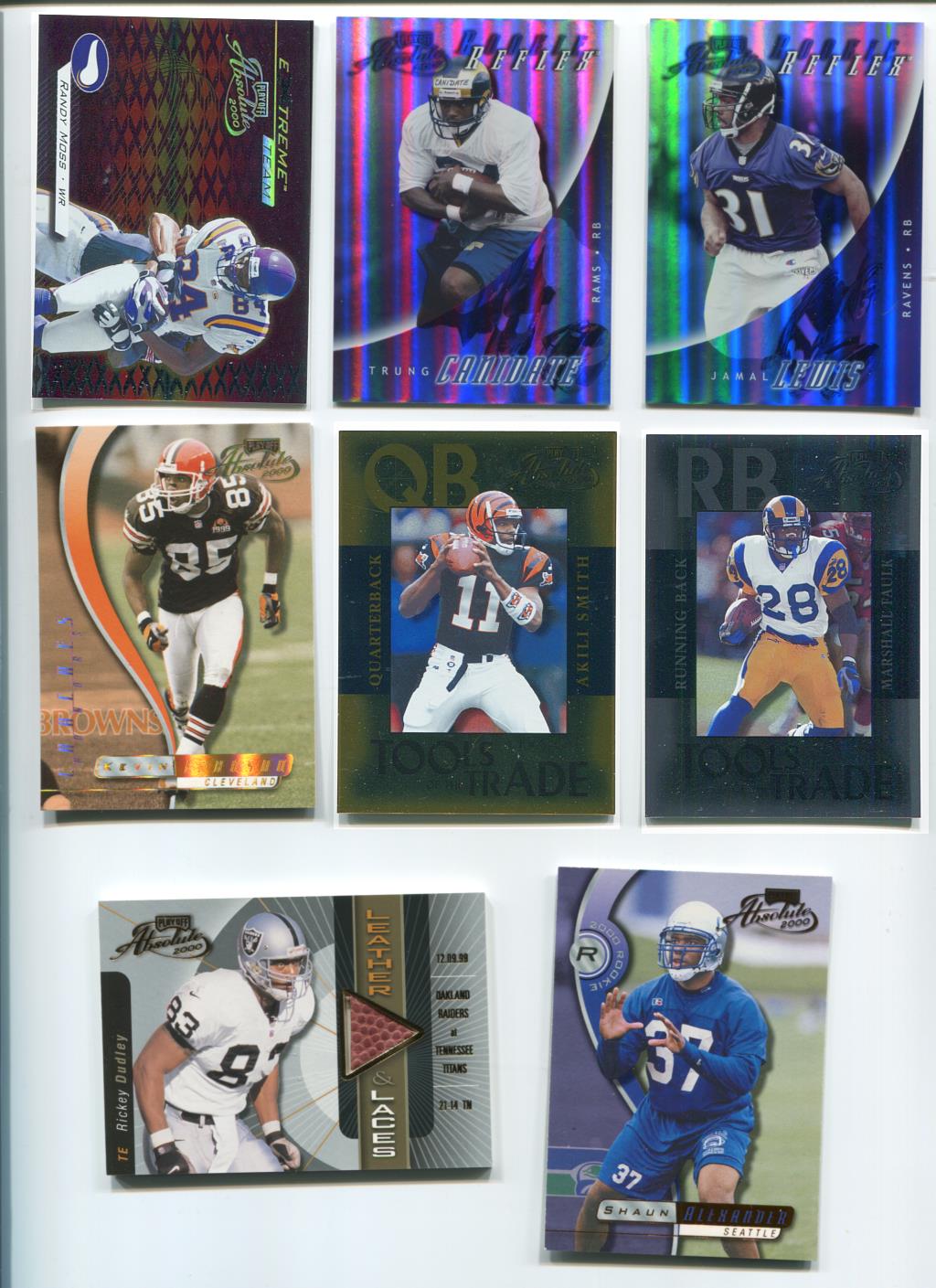 2014 Topps Chrome
Last but not least is the 2014 Topps Chrome blaster. This particular one promised 4 exclusive refractors in a pack plus 7 regular 4 card packs. Here's the breakdown:
Refractors - Matt Ryan, Luke Kuechly
Xfractors - Frank Gore, Vontaze Burfict
Purple Refractors - Dez Bryant, CJ Spiller, Von Miller, Robert Mathis
Blue Wave Refractors - DeSean Jackson
BCA Pink Refractors - Andre Williams 374/399
Fantasy Focus - Vernon Davis
1985 - Bishop Sankey
1963 Minis - Aaron Murray
Rookie Die Cut - Jace Amaro
Rookie Autograph - Jordan Matthews (signed my name terribly)