10-11-2014, 12:17 PM (This post was last modified: 10-11-2014, 12:21 PM by ne12bc12.)
A few nice ones for trade. Babe, Trout, etc.....
As of this posting organize and trade functions are down but thought I would post something anyway. What I consider to be some nice cards but willing to part with them if the offer is good enough. I'm trading only not even considering selling.
Thank you,
Rob
2014 Topps Chrome Rookie Autographs Gold Refractors #RO Rougned Odor 37/50
2010 Topps Pro Debut #181 Mike Trout
2014 Bowman Chrome Prospect Autographs Carbon Fiber Refractors #BCAPAW Austin Wilson 6/10
2014 Topps Tribute Tribute to the Throne Relics Sepia #THRONEBR Babe Ruth 25/35
I think I have this one listed correctly though the back says 2013
2012 Bowman Platinum Relic Autographs #MT Mike Trout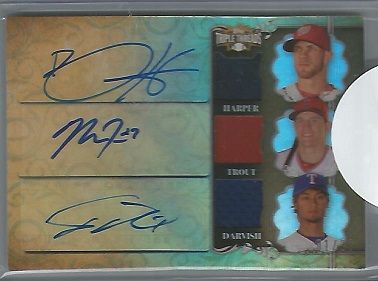 2013 Topps Triple Threads Autograph Relic Combos Sepia #HTD Yu Darvish/Bryce Harper/Mike Trout EXCH 1/27