04-17-2014, 06:43 PM
An Excit-"ING" Museum Mailday!
Hello everyone, and welcome to the newest addition to the Bruce C. Goaltending Museum. Last time I showed you a piece, it was an impressive and rare 1978-79 Ernie Wakely WHA jersey that might just show up at the Summit Show this Saturday (April 19).
Today's addition is of a lesser known goaltender from a more hectic time in the NHL's goaltending history, the early 1990s. With shooting galleries galore, new NHL teams, and an influx of European talent, the number of goaltenders to debut skyrocketed. Among them was this man, Peter Ing.
Born on April 28, 1969 in Toronto, Ing was selected 48th overall by the Toronto Maple Leafs in the 1988 NHL entry draft, right out of the OHL. In a rather hectic year that saw Ing play for the OHL, AHL, and Canadian National Team, Ing made his first three NHL appearances for the Toronto Maple Leafs hockey club in 1989-90. The following season, he was the incumbent starter for the Maple Leafs, appearing in 56 games and recording 16 wins. He was then traded to Edmonton in the off-season in an epic deal that saw Grant Fuhr and Glenn Anderson go to Toronto in exchange for Vincent Damphousse, Scott Thornton, and Luke Richardson.
There, he played in 12 games before being traded to the Detroit Red Wings for a draft pick. The 1993-94 season marked Ing's final one in the NHL, where he appeared in only three games for the team.
The jersey that is showcased today was worn on October 13, 1993, against the St. Louis Blues, in what would turn out to be Peter Ing's final NHL game. In that game, Ing stopped 30 of 35 shots in a 5-2 loss. A great example of an early 1990s goalie jersey, it features minimal wear, and some unique sleeve customizations.
Front:
Front right shoulder: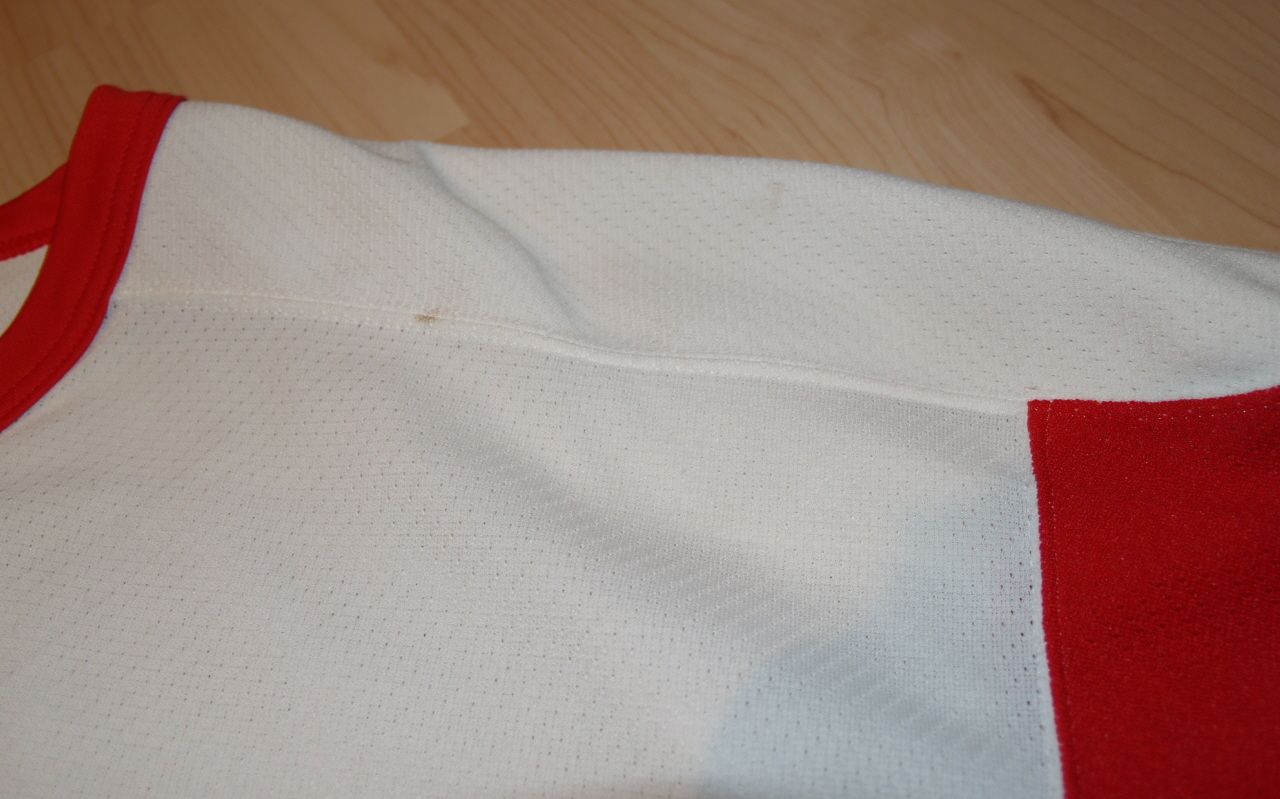 Hem Stamp: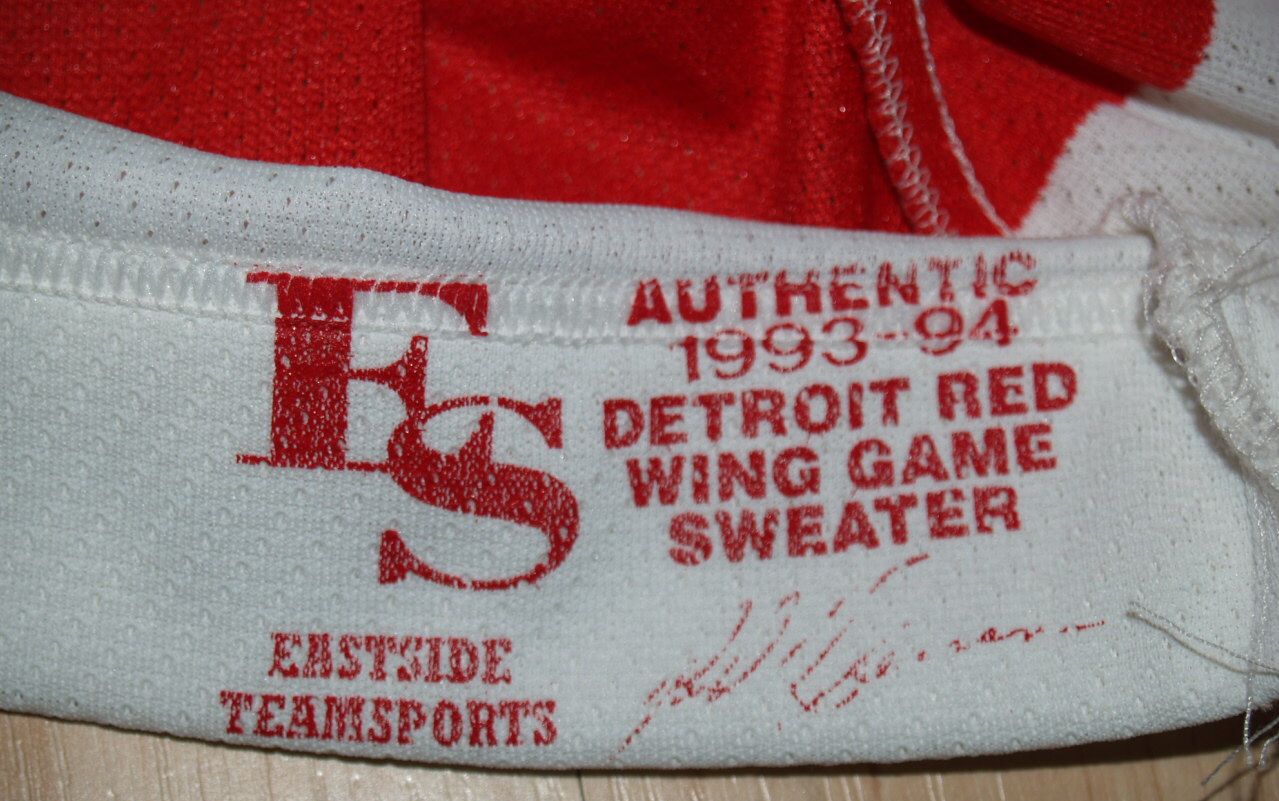 Rear of the jersey: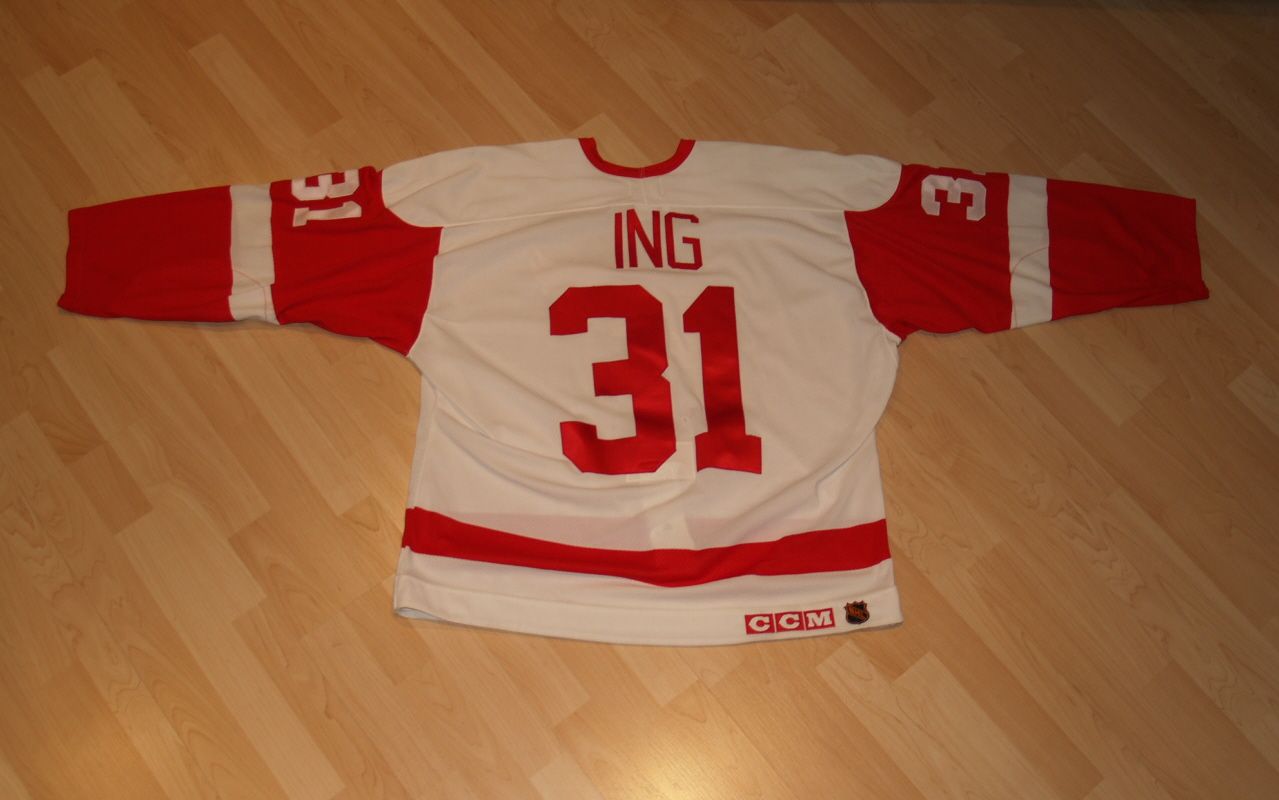 SUPER-BANNER BY THA PENGUIN
Collecting Irbe Items from 1980s to 2009
My Goaltending Museum:
http://bcgoaltendingmuseum.weebly.com/