Share Thread:
Looking for Jeter 1995-1996
03-17-2013, 01:17 PM
dut1818
New Member


Posts: 30
Joined: Mar 2012
Looking for Jeter 1995-1996
Looking for Derk Jeter inserts 1995-1996. Will pay depending on rarity.
03-18-2013, 08:06 AM
RE: Looking for Jeter 1995-1996
How much are you willing to pay for a 1996 Studio Silver Proof Derek Jeter card as I have two of the 100 made. I also have two of the 1996 Sportflix Jumbo Derek Jeter card, I believe an extra 1996 Leaf Gold Proofs. Those are just a few I can think of but there going to be kind of pricey as you just don't see them that often so they sell high. If you have a needs list we can talk later I am down to 3 left and no none of the cards in my signature are for sale but I will be looking to raise money to knock cards off my needs list.
---
Derek Jeter Collector from 1992-1996. 305 out of 306 99% complete.

1450/1919 1990's Jeter cards 76%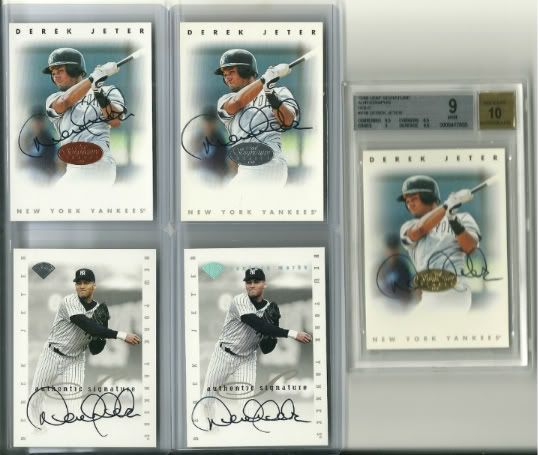 User(s) browsing this thread: