11-30-2012, 02:20 AM
Black Friday Buying Spree - Football breaks
I got the first 5 shipments of my massive orders from my Black Friday shopping spree (see my original post in the Baseball Box Break forum). I am going to post the box breaks for each sport under the proper forum. Here is the one for football.
1st box opened so far: 2011 Panini Gold Standard
Base (#'d/499):Jahvid Best, Sam Bradford, Joe Montana
Rookies (#'d/499): Nate Solder, DJ Williams
Golden Anniversary (#'d/299): Bruce Smith
Gold Leaf Rookies (#'d/299): Christian Ponder
Gold Leaf Rookies Materials (#'d/299): Leonard Hankerson, Torrey Smith
Rookie Autographs (#'d/499): Anthony Allen, Denarius Moore
Rookie Autograph Jersey (#'d/325): Christian Ponder
Here is a picture of the top 5 hits (value-wise) from the box.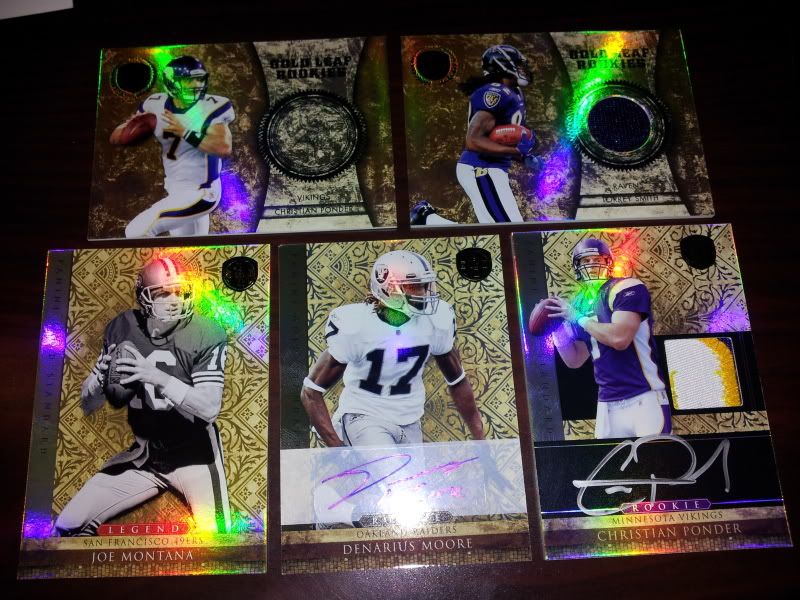 ---
2nd Box: 2010 Plates & Patches
Base (#'d/499): Matt Stafford, Marques Colston
Rookie (Autographed): James Starks (006/449), Devin McCourty (361/549)
Platinum Parallel (#'d/10): Chris Cooley (10/10)
Rookie Blitz (#'d/299): Gerald McCoy
Rookie Blitz Materials: Dez Bryant (128/290), Damian Williams (225/299)
Rookie Prime Signatures: Ryan Mathews (330/699)
Here is a picture of the top 6 hits (value-wise) from the box.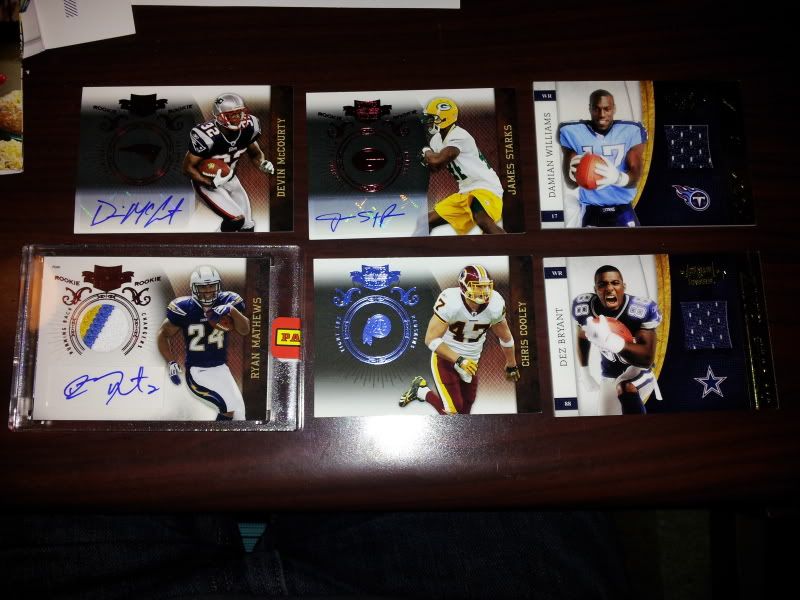 ---
3rd box: 2012 Press Pass Blaster
Base highlights: RG3, Justin Blackmon, Brock Osweiler, Isaiah Pead, Alshon Jeffery
Blue Parallel: Dwayne Allen, Courtney Upshaw, Luke Kuechly
Autographs Silver: Audie Cole
I'm not posting a picture of this box as there isn't anything really worth showing.
---
Next break was 5 blaster boxes of 2010 Playoff Contenders.
Base Rookies: Danny Woodhead x2, Anthony Armstrong x2
Autograph Rookies: Donald Jones, Ed Wang, Nate Allen, David Reed, #129 Exchange Card
Playoff Ticket: Michael Vick (62/99), Brandon Marshal (01/99)
Draft Class: Bradford/Gilyard, Clausen/Tate, McCluster/Moeaki, Suh/McCoy
Legendary Contenders: Rick Casares, Fred Biletnikoff
Rookie Roll Call: Jermaine Gresham, Mike Williams
ROY Contenders: Sam Bradford, TJ Ward, Rolando McClain
Super Bowl Tickets: Namath, Lilly, Greenwood, Perry, McCaffrey, Eli Manning, Brees
After opening a few packs, I really like the base set and will go ahead and will be finishing it off. I am going to take a break from busting boxes to put the base set in order and figure out what cards I still need.
---
So out of the 5 blasters of Contenders I got 63 out of the 100 base cards along with 37 doubles (including doubles of Woodhead and Armstrong). So I still have a ways to go to finish off the set. Maybe I will just buy some more blasters when they go on sale again.