11-20-2012, 02:43 PM (This post was last modified: 04-19-2014, 09:43 AM by rczubaty.)
Oilers Player Collections, Certified Oilers PC. UPDATED Mar 18 2014
UPDATE: April 18, 2014 - added
Sam Gagner-#60 Mirror Red Materials SN092/150
Sam Gagner-#60 Mirror Blue SN48/99
Taylor Hall-#63Mirror Red SN134/199
Mar 18 2014 i am not going to do scans of each card that i add, instead i will do an updated collection scan when i add 10+ cards to this collection. thanks for looking, LMK if you have any SN 11-12 certified Oilers!!
Sept. 12, 2013 2 new Jordan Eberle addirtions
+#50mirror blue materials 09/99
+#50 Mirror Blue auto 82/99
(scans to come soon)
UPDATE: Sept. 6, 2013 added FOTG #58 Jersey Number Prime SN06/10
*Photos updated
New scans of additions to Certified Oilers PC are in newest Posts!!
2011-12 CERTIFIED EDMONTON OILERS: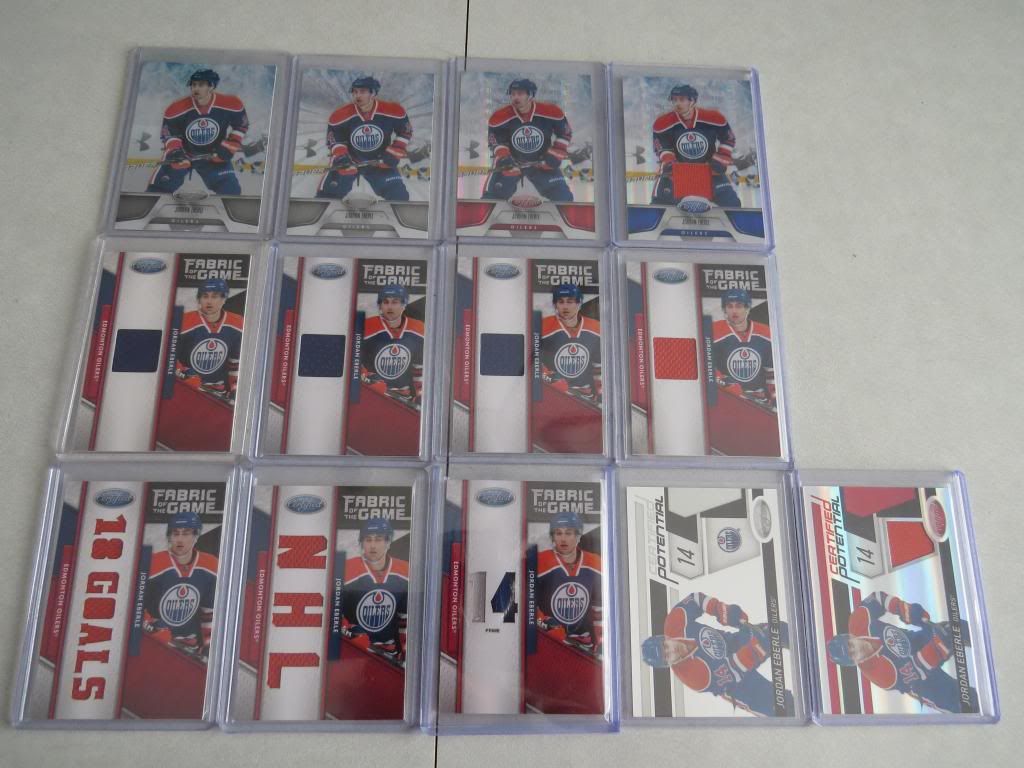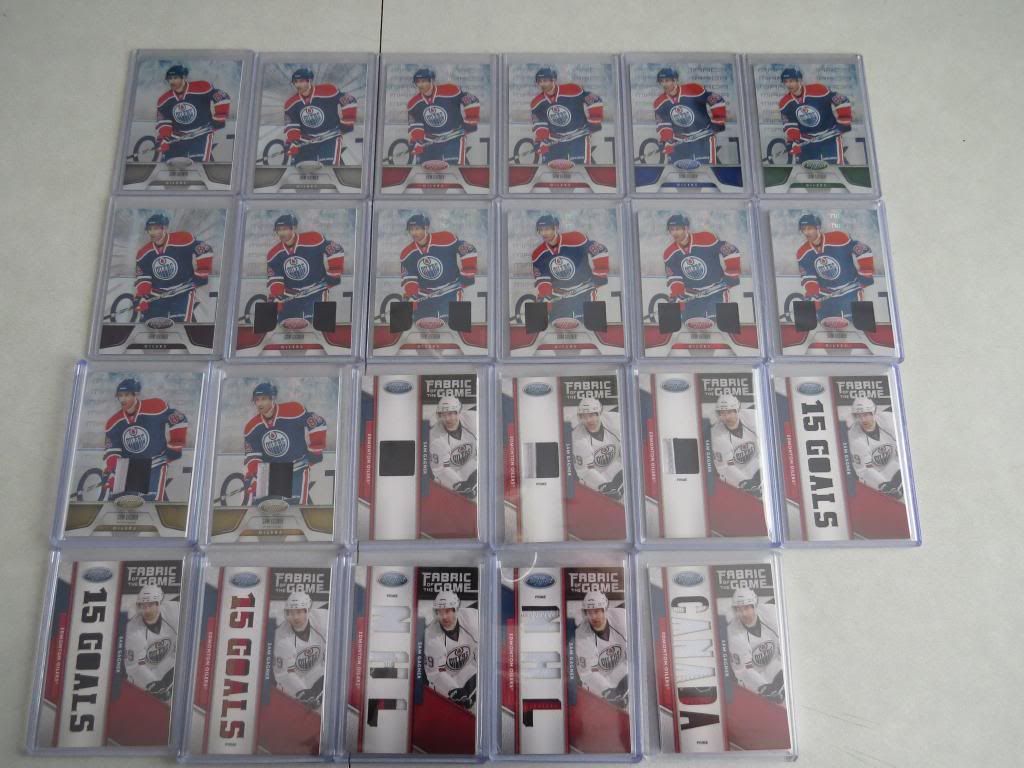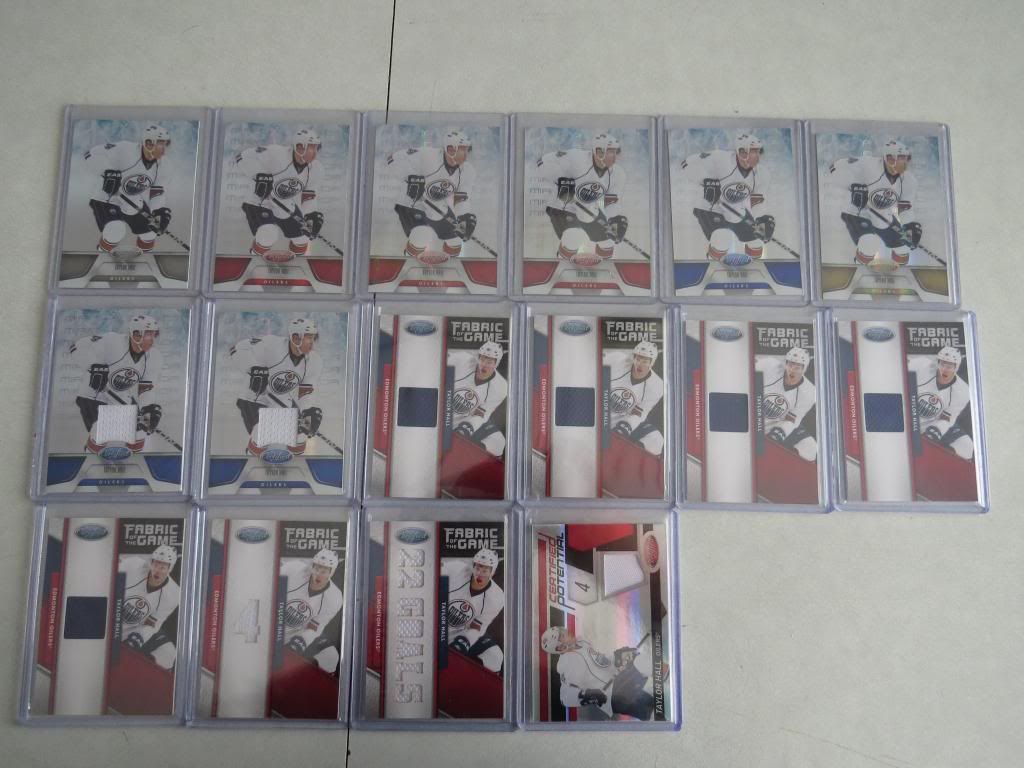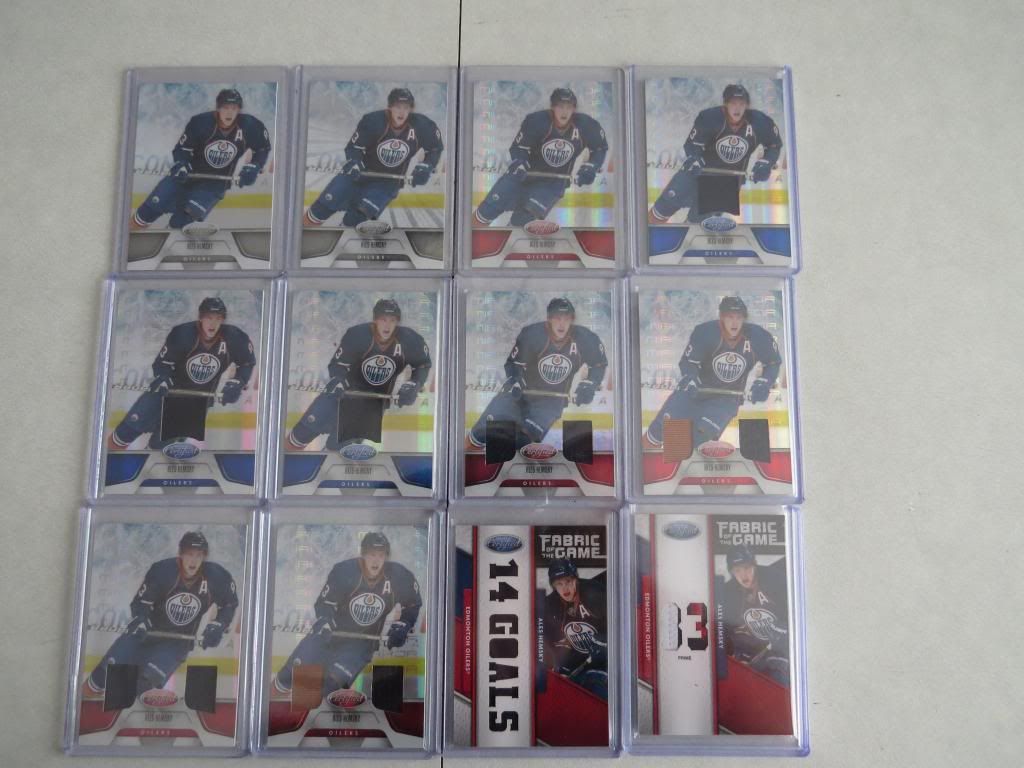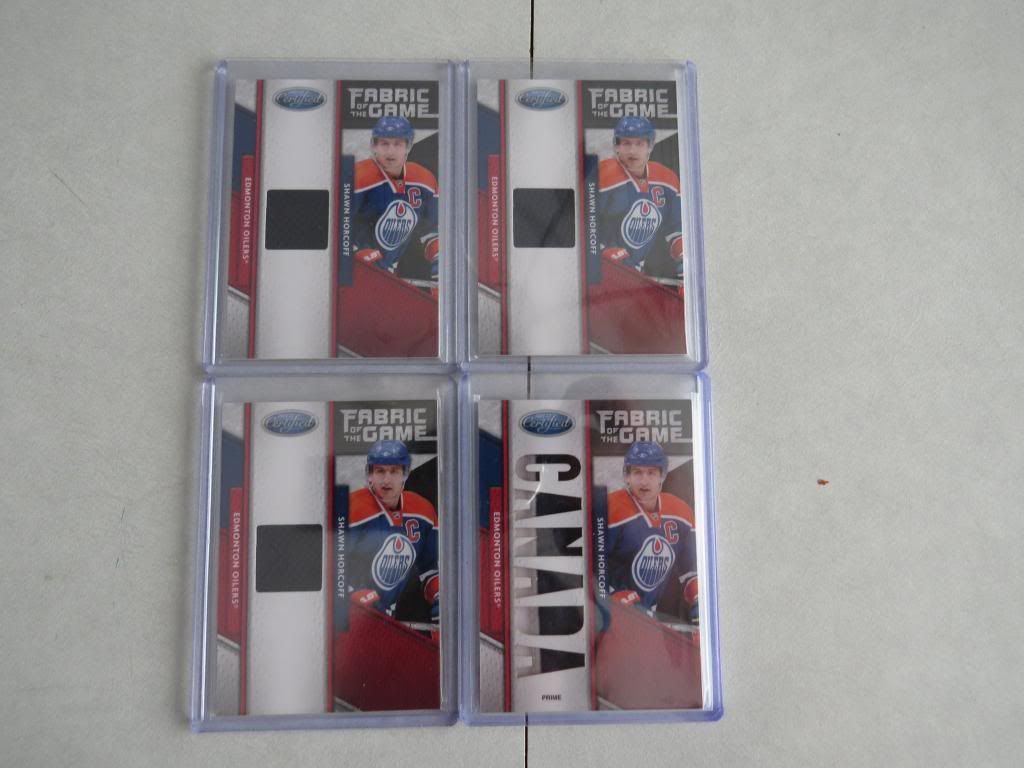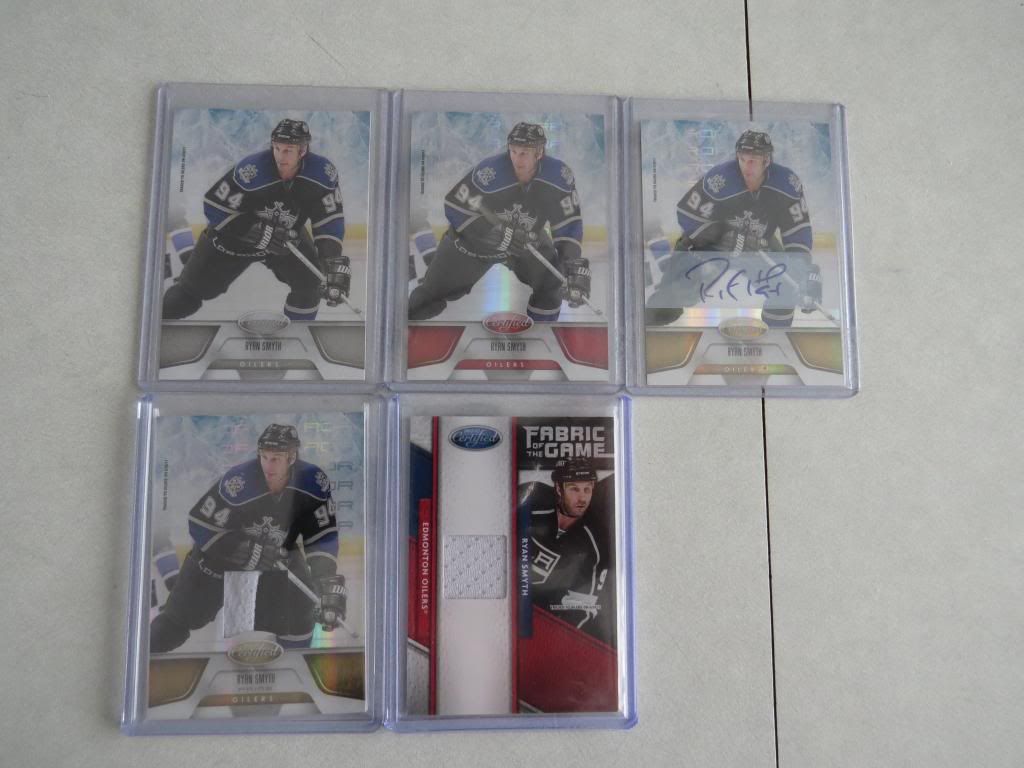 Eberle, Jordan:
- #50 Base
-#50 Totaly Silver
-#50 Mirror Blue SN92/99
-#50 Mirror Red SN120/199
-#50 Mirror Blue Materials SN09/99
-#50 Mirror Blue Materials SN89/99
-#50 Mirror Blue Auto SN82/99
-#50 Mirror Gold Materials Prime SN16/25
-#2 Certified Potential
-#2 Certified Potential Materials SN18/99
-FOTG #58 SN032/399
-FOTG #58 SN049/399
-FOTG#58 SN070/399
-FOTG #58 SN145/399
-FOTG #58 SN341/399
-FOTG #58 Claim to Fame08/25
-FOTG #58 NHL SN01/25
-FOTG #58 Jersey Number Prime SN06/10
Gagner, Sam:
-#60 Base
-#60 Totaly Silver
-#60 Mirror Red SN026/199
-#60 Mirror Red SN035/199
-#60 Mirror Blue SN48/99
-#60 Mirror Blue SN77/99
-#60 Totaly Purple SN4/10
-60 Mirror Green SN4/5
-60 Mirror Red Materials SN056/150
-#60 Mirror Red Materials SN063/150
-#60 Mirror Red Materials SN077/150
-#60 Mirror Red Materials SN092/150
-#60 Mirror Red Materials SN094/150
-#60 Mirror Red Materials SN106/150
-#60 Mirror Red Materials SN111/150
-#60 Mirror Gold Materials SN05/25
-#60 Mirror Gold Materials SN20/25
-FOTG #59 Prime SN16/25
-FOTG #59 Prime SN17/25
-FOTG #59 Prime SN21/25
-FOTG #59 Claim to Fame SN08/25
-FOTG #59 Claim to Fame SN12/25
-FOTG #59 NHL Prime SN01/10
-FOTG #59 NHL Prime SN09/10
-FOTG #59 Claim to Fame Prime SN1/5
-FOTG #56 National Prime SN5/5
Hall, Taylor:
-#63 base
-#63Mirror Red SN049/199
-#63Mirror Red SN113/199
-#63Mirror Red SN134/199
-#63Mirror Red SN145/199
-#63Mirror Red SN156/199
-#63 Mirror Blue SN95/99
-#63 Mirror Gold SN11/25
-#63 Mirror Blue Materials SN52/99
-#63 Mirror Blue Materials SN90/99
-#63 Mirror Gold Materials SN23/25
-#1 Certified Potential Materials SN64/99
-FOTG #60 SN032/399
-FOTG #60 SN049/399
-FOTG #60 SN099/399
-FOTG #60 SN154/399
-FOTG #60 SN316/399
-FOTG #60 Jersey Number SN23/25
-FOTG #60 Claim to Fame SN08/25
Hemsky, Ales:
-#44 totaly Silver
-#44 Mirror Red SN048/199
-#44 Mirror Blue SN24/99
-#44 Mirror red Materials SN048/150
-#44 Mirror red Materials SN053/150
-#44 Mirror red Materials SN137/150
-#44 Mirror red Materials SN148/150
-#44 Mirror Blue Materials SN38/99
-#44 Mirror Blue Materials SN52/99
-#44 Mirror Blue Materials SN99/99
-FOTG #57 Claim to Fame SN01/25
-FOTG #57 Claim to Fame Prime SN4/5
-FOTG #57 Jersey Number Prime SN09/10
Horcoff, Shawn:
-FOTG #56 SN244/399
-FOTG #56 SN253/399
-FOTG #56 SN336/399
-FOTG #56 National Prime SN4/5
Paajarvi, Magnus:
-FOTG #61 SN050/399
-FOTG #61 SN151/399
-FOTG #61 SN218/399
-FOTG #61 SN282/399
-FOTG #61 SN321/399
-FOTG #61 NHL SN17/25
-FOTG #61 JSY# Auto SN 21/25
-FOTG #61 National SN23/25
-FOTG #61 JSY# SN23/25
-FOTG #61 Claim to Fame Prime SN1/5
-FOTG #61 Claim to Fame Prime SN4/5
Smyth, Ryan:
-#73 base
-#73 Mirror Red SN093/199
-#73 Mirror Red SN156/199
-#73 Mirror Gold Auto SN13/25
-&3 Mirror Gold Materials Prime SN10/25
-FOTG #67 SN174/399
Players that are UP-TO-DATE as of NOV 23, 2012:
-Coffey, Paul - 45/298
-Cogliano, Andrew 56/265
-Comrie, Mike 61/399
-Dubnyk, Devan 23/274
-Eberle, Jordan 81/678
-Gagner, Sam 136/903
-Hall, Taylor 89/1244
-Hartikainen, Teemu 33/166
-Hemsky, Ales 190/1274
-Hopkins, Ryan Nugent 91/639
-Horcoff, Shawn 81/383
-Kurri, Jari 63/630
-Lander, Anton 23/159
-Niinimaa, Janne 48/368
-Paajarvi, Magnus 42/308
-Peckham, Theo 22/131
-Petrell, Lennart 15/87
-Pisani, Fernando 24/122
-Schultz, Justin 0/2
-Smyth, Ryan 289/1740
-Yakupov, Nail 5/54