Share Thread:
11-18-2012, 11:02 PM
hlc1949
Jr. Member


Posts: 468
Joined: Dec 2002
1957 Topps Pick-up
Thought I'd share my latest pick-up. Earl Lloyd was the first African American to play in the NBA, October 1950. The 1957 Topps is his RC.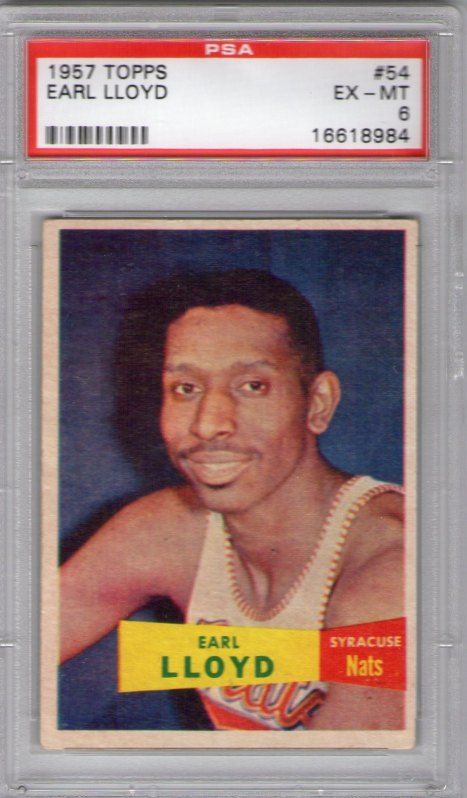 11-20-2012, 08:39 AM
RE: 1957 Topps Pick-up
Good looking card! Ive recently started a vintage kick of my own. Just picked up my first set in a trade here and looking for more
---
Players I Collect:



[/URL]

Henderson Auto PC Stats:
Non 1/1's Autos: 148/166 89.2%
1/1's: 13/33 39.4%
Jersey #'d - 39
12-12-2013, 12:12 AM
RE: 1957 Topps Pick-up
I have picked a few of these up. I will do the set once im done with the 1953 Bowman color set. I plan on doing both in nothing but PSA 5 NQ.
---

WHO-DEY
11-10-2014, 07:46 PM
altz11
Member


Posts: 553
Joined: Oct 2011
RE: 1957 Topps Pick-up
Very cool! Its nice to see the cards of players who had a significant meaning to their sport (besides being talented).
02-01-2015, 09:38 AM
jonathani
Member


Posts: 1,561
Joined: May 2003
RE: 1957 Topps Pick-up
Nice pick-up. You win with that grade.
---
I collect all things Duncan Keith plus other Chicago athletes in their respective Halls of Fame, in addition to several authors, track athletes, and personal favorites from past and present Chicago rosters. The other 37,000 cards in my collection I will happily trade with you.
User(s) browsing this thread: 1 Guest(s)