Share Thread:
11-07-2012, 01:14 AM
RE: Going out on top
I would like to see Derek Jeter go out big but the odds are he will stay in baseball a few more years and his last season he will probably end up hitting .250 and just have a bad all around year. I don't expect him to get another 200 hit year and the odds are at best he might get 180 hits next year if he can be healthy the whole year and it will steadily get worse over the next couple years. But I would like to see him end his career with 4,000 hits though that probably won't happen either.
---
Derek Jeter Collector from 1992-1996. 305 out of 306 99% complete.

1450/1919 1990's Jeter cards 76%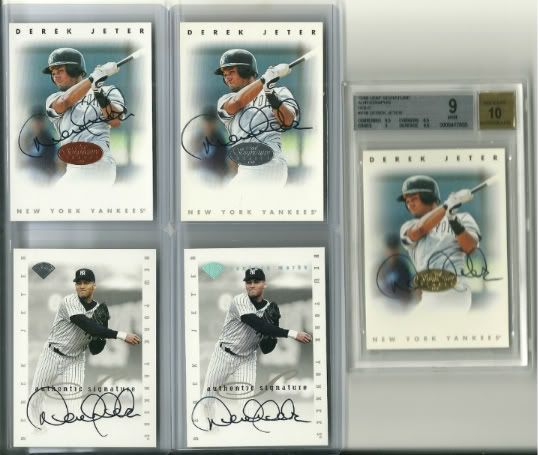 11-07-2012, 02:01 AM
dbacksfan
Jr. Member


Posts: 166
Joined: Jan 2012
RE: Going out on top
Randy Johnson I thought was fling to finish as a dbacks but never seemed to bounce back from his back issues I guess but I'm glad that even as a giant he got his 300th w
---



Randy Johnson and Dan Haren Collector
11-07-2012, 11:29 AM
Haze28
Member


Posts: 2,492
Joined: Jan 2012
RE: Going out on top
As a Cubs fan it was sad to see Kerry Wood struggle this season, go down with an "injury" and then come back for a couple games before retiring.

I still think Chippers retirement is a great one, he had a hell of a run going into the playoffs and for him to have only played for one team his whole career is rare and memorable by itself.
---
11-07-2012, 01:17 PM
zeprock
Sr. Member


Posts: 2,863
Joined: Jan 2003
RE: Going out on top
The only baseball player I can think of that really went out on top was Sandy Koufax. In 1966 he was an all-star, played in the World Series (although the Dodgers didn't win it that year), won the pitching triple crown by leading the Majors in ERA, strikeouts and victories and won the Cy Young Award. Following that season he retired.
---
I collect Hall of Fame baseball player cards and cards of current and retired superstars.





My Huge Wantlist: http://www.zeprock.com/WantList.html
11-07-2012, 01:39 PM
RE: Going out on top
I'd say Kirby Puckett. Loved watching the joy he had when playing the game. Had a really strong 1995 season and looked like he'd continue. Unfortunately, the last image anyone has of him in a regular season game is laying in the dirt after being beaned by Dennis Martinez.
---
User(s) browsing this thread: 1 Guest(s)