09-28-2012, 12:42 PM
Milestone: 100 Bailey 1/1's and some other new treats
I've been collecting Champ for 13+ years now and I didn't realize something like this was possible until I started reviewing my collection earlier this year. I was sitting at 95 1/1's and 95 jersey numbered cards of his. Well, I've found 1 more jersey #'d, but have picked up 5 more 1/1's to reach 100, which is crazy in my mind.
You can find everything scanned in here:
http://chief7575.webs.com/cballmenu.html
Some new additions, including 3 which I didn't know existed, 1 a UD Promo from 05, another a game day giveaway and the other is apparently a Super Bowl giveaway/promo that just appeared as well (10 years later!). Not complaining at all as they are really neat finds, just astounded at the stuff that shows up after so long that I never had any idea existed. (and none of the 3 are check-listed on beckett either)
Here's a 2001 Victory game-day giveaway - red border, different from the standard base and gold parallel that year. Also dated with the game vs the Cowboys:
A 2002 UD EA Sports that was supposedly given away at the Super Bowl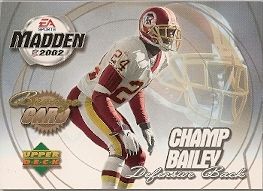 A nice addition to the 5 star auto/patches - piece of the Pro Bowl logo (which goes along well with the 'A').
And finally, the reason for the post - the last batch to reach 100 - a couple Print plates from topps (on my website)
a 08 Premier base 1/1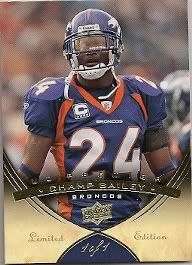 an 08 Superfractor
And #100 - Topps 5 star auto/booklet 1 of 1 (which finished off my run of all 5 star items from last year)

Thanks for stopping by to take a gander. Hope everybody has a great weekend and fun collecting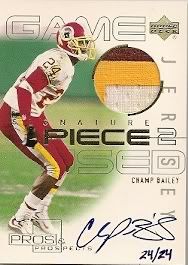 Collecting: Travis Fryman, Champ Bailey, Steve
Largent, Steve Yzerman, Brian Holzinger, Mike Johnson and Jordan Sigalet.