02-29-2012, 01:04 AM
Been bored so I'm organizing my memorabilia
Like I said, I've been bored and I have been accumulating a lot of football memorabilia. I had to start organizing it and making it suitable for display (for when I finally get my man-cave!). I won the LT mini-helmet a few years ago. I got the display the other day and thought it would be cool to add the Starting Line-Up figure. It is from the first year they were made. Too bad I didn't leave them in their packaging. They would be worth a lot now. Also have Marino, Montana, Elway, Dickerson, Darrell Green and Doug Williams.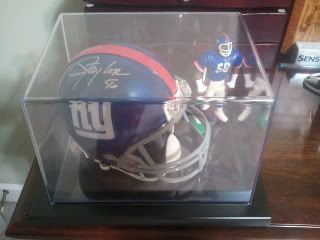 I went to a Monday night football game in 2008 when the Titans played the Colts. I bought a game program and got CJ to sign it the next season at training camp (he actually signed more than just CJ). I decided to put the program with the game ticket in a shadow box and added a couple of cards. I think I may put some kind of Titans decals on the sides of the ticket to make it look a little more professional.
Now it's time to find a new project. Thanks for looking.