02-29-2012, 05:46 PM (This post was last modified: 02-29-2012, 05:50 PM by volatty.)
RE: Been bored so I'm organizing my memorabilia
(02-29-2012, 05:29 PM)

Noswal Wrote: Whats the story on the UT/Bama program?
I love old memorabilia. I have been trying to find an old leather helmet for years, but they are rare and usually very expensive. The game program is from 1952. A family friend was having a garage sale and gave it to me since she knew I went to school there and collected football stuff (I think her father used to go to the games). I have another one she gave me from 1953 from a UT vs. Duke game but I love the UT v. Bama cause that is probably the biggest rivalry of UT throughout history (the 3rd Saturday in October...lol)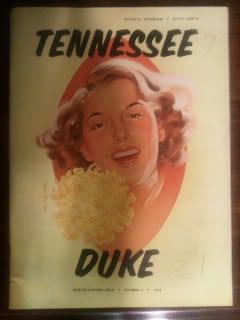 ---
(02-29-2012, 11:07 AM)

mickey7mantle7 Wrote: Pretty cool stuff you have. When do you plan taking over the spare bedroom for your man cave?...lol

Do you have more things?
My wife and I are looking for a house right now, so I am just getting everything ready for display. I told her she can have the rest of the house to do with as she pleased. She can decorate it anyway she wants, but please just give me one small room for my sports stuff and I will be happy. She said ok, but I'll believe it when it happens...lol