01-28-2012, 08:52 PM
Card show pickups...scans!
Spent what felt like about 2 hours at the Raleigh card show today. Was actually there 5 hours! Made some nice pickups, both for the PC and for trade.
First the PC. Traded lots of Jordans I have doubles of and whatnot to get these. Got several lower-end MJs I needed as well, but here are the highlights.
1996 SPx Record Breaker #R1
1995-96 Finest #229
1993-94 Skybox Dynamic Dunks #D4
1993-94 Skybox Center Stage #CS1 (great looking inserts from that product!)
1992-93 Upper Deck Jerry West Selects #JW1 & #JW4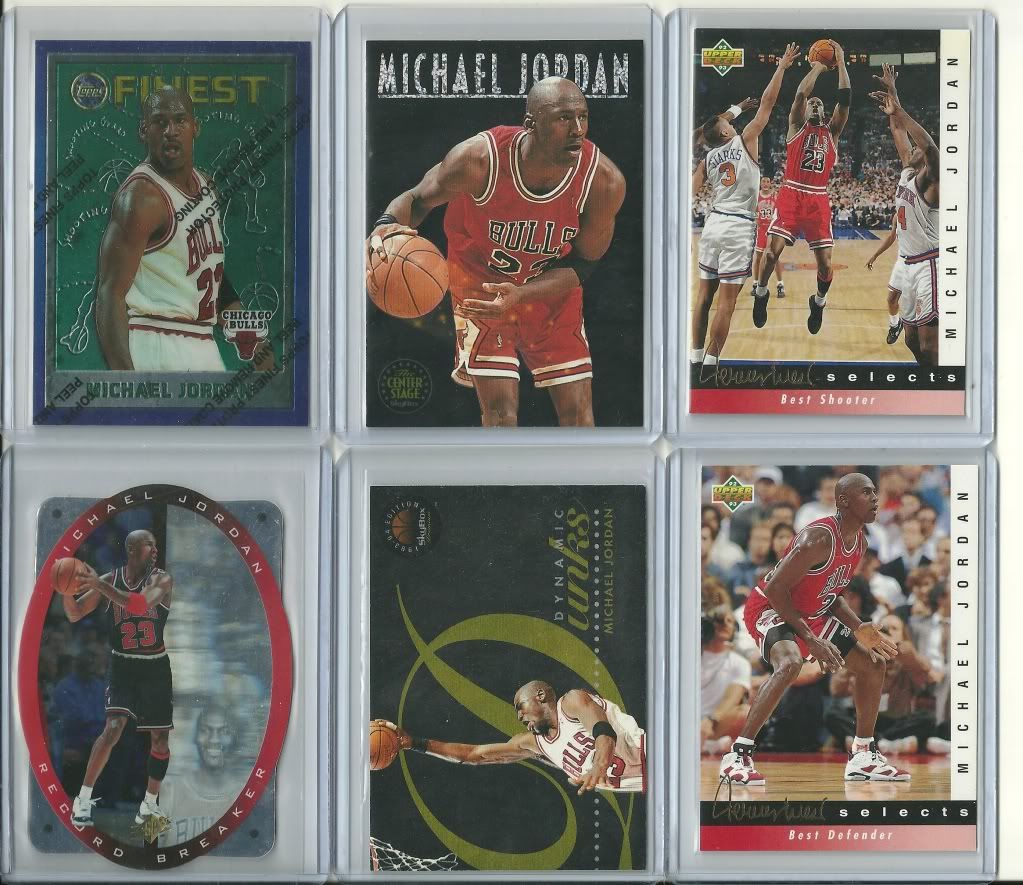 Next, the FT items. A guy was selling some guaranteed hit packs so I picked up a variety. Actually did pretty well, though the second nicest hit bv wise wasn't even a GU/Auto!
2010-11 Donruss Production Line: Tony Parker /99, Stephen Curry /399
2010-11 Classics Membership: Andre Iguodala /499
2008-09 Upper Deck: Game Jerseys-Andrea Bargnani; Starquest- Lebron James Copper
and last but definitely not least...2007-08 Upper Deck Game Jersey Larry Bird!
Lastly, a guy had a table where he was selling GU/auto pieces 4/$10 so I was hoping to find some nice trade bait. Ended up getting 10 cards for just $20 plus my Sam Perkins floor card from 11-12 SP Authentic. Four of the cards were Ohio State football autos for my PC, here are the other six...I think I did darn good. EVERY card is numbered /100 or lower!
2009-10 Absolute Memorabilia: Tyreke Evans (RC year) Star Gazing #4 083/100
2009-10 Playoff National Treasures: Dwight Howard NBA Gear dual #12 05/99
2010-11 Absolute Memorabilia: Chris Paul Hoopla #5 36/49; Steve Nash Star Gazing #29 49/49; Isiah Thomas Marks of Fame #4 23/49
2010-11 Threads: Hakeem Olajuwon All-Time Big Men Materials Prime #5 29/50
Again the Jordans are PC but everything else is for trade! Also, I should have my 07-08 stadium club hits updated soon too. Thanks for looking!
I collect Michael Jordan, Mitch Richmond, and Ohio State players (football and basketball) in OSU gear. I strongly prefer 90's-era cards and use newer cards primarily for trade bait!