Share Thread:
01-01-2012, 08:46 PM
arock99
Member


Posts: 641
Joined: Sep 2007
RE: Trip to the Hobby Box!!!
i bought one box of Zenith once....worst piece of garbage i've ever paid money for...

no jersey or signed card in my box and the cut out giant card had a base card inside of it...

i was lucky if the high value of the cards combined hit 10.00
---
Wanted:

Sidney Crosby, Ryan Nugent-Hopkins
01-01-2012, 10:09 PM
rayeates
Moderator


Posts: 6,607
Joined: Mar 2010
RE: Trip to the Hobby Box!!!
Some very nice stuff! That Seguin is sick! If you are looking to move the Subban, I would be really interested. Let me know! Thanks for sharing!

Randi
01-05-2012, 10:15 PM
RE: Trip to the Hobby Box!!!
It's nuts when you can show hits from a break and it looks like you went to a show and dropped a couple hundred on some sick singles...
---
LOGAN COUTURE | MARTIN ST. LOUIS | JEREMY ROENICK | JONATHAN TOEWS
Malkin | Iginla | Datsyuk | Kane | Larionov | Thornton | Fedorov


(Link) Gimme Your: 09-10 SP Authentic | 09-10 Ice | 07-08 O-Pee-Chee
01-05-2012, 10:56 PM
(This post was last modified: 01-05-2012 10:58 PM by Merovius.)
Merovius
Member


Posts: 637
Joined: Aug 2011
RE: Trip to the Hobby Box!!!
That Seguin is huge, Boston's on a real tear right now. Grats on your hits.

Chris seems like a great guy, part of the reason hes so popular.

Just curious though, if taking the trip why not do a video break?
01-06-2012, 08:01 AM
RE: Trip to the Hobby Box!!!
Just don't like me on video. Really thought about it but didn't want to wait on him to get finished with his rushing around to set everything uP. the triP really was for us to get away from things before the baby is due.
01-11-2012, 10:49 PM
mq13
Member


Posts: 2,279
Joined: Sep 1999
RE: Trip to the Hobby Box!!!
Nice breaks on both sports.
---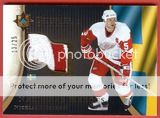 Collecting; Flyers-Red Wings-Brodeur-Cujo-Hasek-Shanahan, 04-05 Franchises Memorabilia
User(s) browsing this thread: 1 Guest(s)