12-27-2011, 12:16 AM
SPX 08-09 SIGNATURE BLOCK PRINT RUN?
Any idea what the print run was for SPX 2008-09 "SIGNATURE BLOCK"?
They are not serialized. I do not see to many of them pop up online. I've never seen the MJ or Alonzo... I have a few of the not as popular guys, plus a Lebron. I loved this set, when I first seen them.. just hated the sticker autos. Since the stars are almost scarce or never been shown on any card forums or auctions.. I would imagine that MJ would be worth more than what the BV says. Most cards of this set are listed as N/A.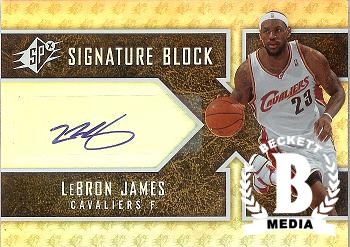 NEED: SPA 08-09 "CITY NAME LETTERS" G, E, S 1/1 & /3 *ALL LAKAERS
NEED: ELITE BLACK BOX LAKERS AUTOS (KAREEM/10 & BAYLOR/24)
MY BUCKETT:
http://photobucket.com/jpleazme
*United States Navy*