10-29-2011, 03:30 PM (This post was last modified: 10-29-2011, 03:34 PM by alanch.)
My Packers TTM Mailweek 10/29
Had a pretty good mailweek of TTM Auto returns this week. Received both of my customs back signed from Lynn Dickey. Received both customs back and a signed letter from Ted Thompson and both customs as well as a signed testimony card from Tim Masthay.
Also received one back from rookie lineback D.J. Smith (kept one for himself) and one back from former linebacker Chris Gizzi who kept the other for himself. Mr. Gizzi also sent me a business card with a small note thanking me for the card. Was very excited to get the Gizzi card back because I made it with the photo of him running out of the tunnel with the American Flag after 9/11 which is what he is most famous for.
Finally, I received a 4x6 custom autographed photo back from 1950's Packer John Martinkovic. I had sent Mr. Martinkovic some free custom cards because he requested some a few weeks back after signing a custom for me. Comments welcome and thanks for looking!
If you want to learn more about TTM collecting, here is a helpful thread started by gadsden86:
http://www.beckett.com/forums/thread-1458905.html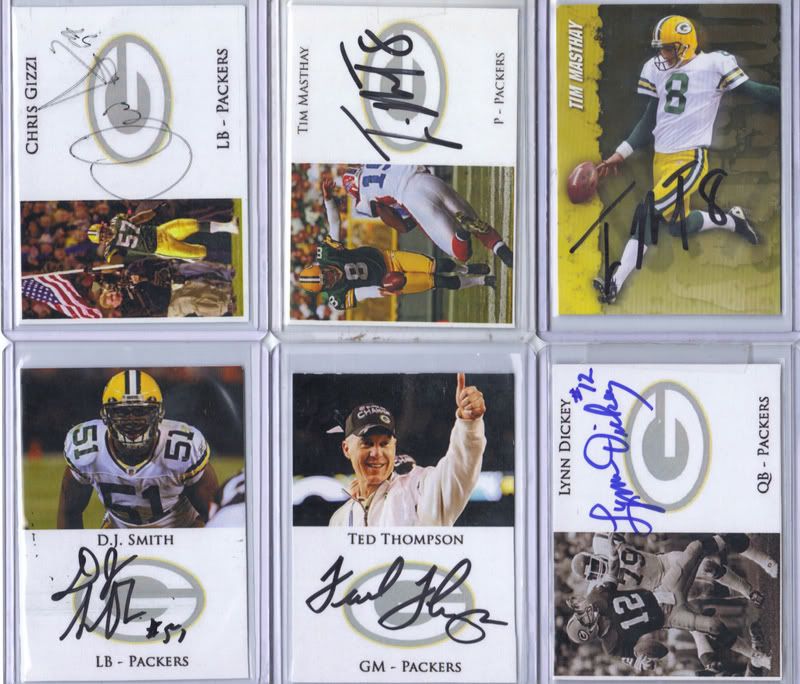 -Banner Courtesy of rogue655-
Jim Leonhard Needs:
2005 Longevity Holofoil /25
2009 SPx Super Scripts Autographs Eight /8
Joel Effertz Needs:
2013 Bowman Draft Black Paper /1, Black Plate /1, Cyan Plate /1