Share Thread:
10-29-2011, 11:08 AM
(This post was last modified: 10-29-2011 03:17 PM by shelbysaleen.)
shelbysaleen
Beckett Racing Forum Moderator


Posts: 991
Joined: Oct 1998
die cast
These are actually models. The two Davey Allisons were given to me as a gift. The rest I built to varying degreees. I was getting better at it when shelby was born I quit. It is about time to start up again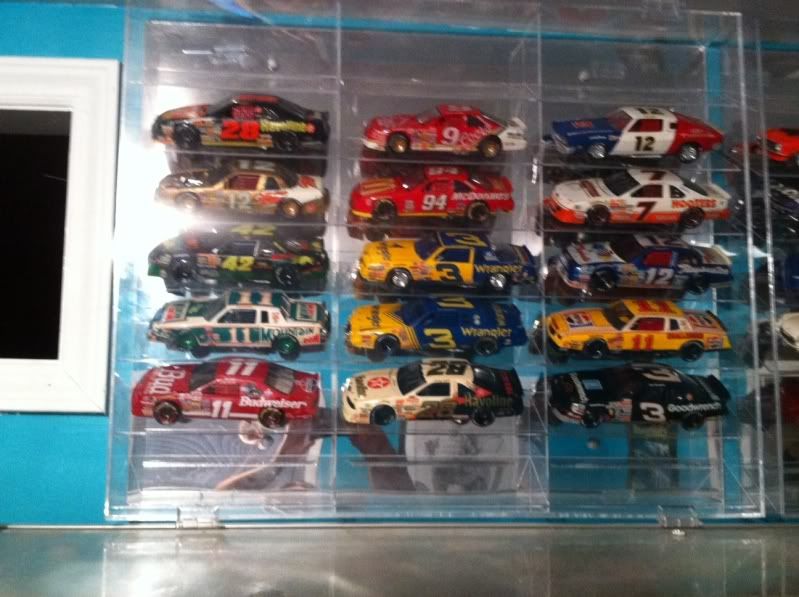 These are diecast and are all autographed. I am going to try and put them in order of HOF entry thats why the holes right now. The harvick came from NUTS member rowdyman. The Petty was signed at the HOF this year as was the DW. Now I need the pearson torino that is signed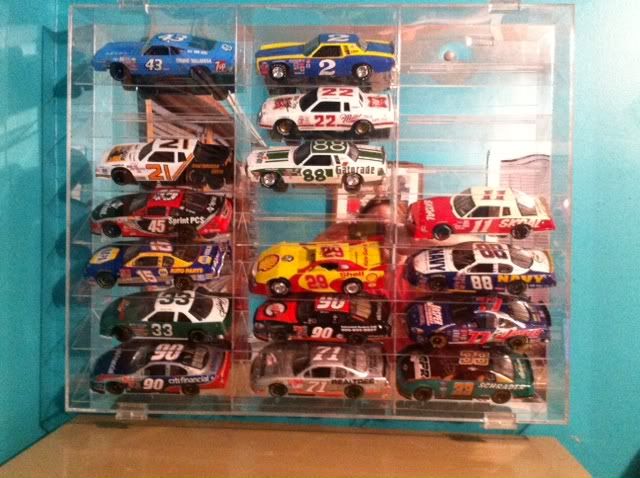 This is my memorial lane. It started off as an accident. I had an empty case put a couple of leftover cars in it and realized they were all dead. Bells went off and now its this.
From left to right top to bottom here are the members
MARSHALL TEAGUE, JOE WEATHERLY, FIREBALL ROBERTS, JOHNNY THOMPSON, JIMMY PARDUE
SPEEDY THOMPSON, CURTIS TURNER, RALPH EARNHARDT, TINY LUND, BOBBY ISSAC
MARTY ROBBINS, LEE ROY YARBROUGH, RICHIE EVANS, NESLON STACY, TIM RICHMOND,
RAY HENDRICK, ROB MOROSSO, WENDELL SCOTT, JD MCDUFFIE, BILL FRANCE
CLIFFORD ALLISON, ALAN KULWICKI, DAVE ALLISON, NEIL BONNETT, CASEY ELLIOTT
TIM FLOCK, BOB WELBORN, JOHN NEMECHECK, ELMO LANGLEY, BANJO MATTHEWS
KENNY IRWIN, ADAM PETTY, LEE PETTY, TONY BETTENHAUSEN, JOHN SEARS
BLAISE ALEXANDER, SMOKEY YUNICK, DALE SR, TONY ROPER, HERB THOMAS
JOE LEE JOHNSON, RICKY HENDRICK, EMANUAL ZERVAKIS, ANDY KIRBY, BUCK BAKER
dick HUTCHERSON, dick BROOKS, JACK BOWSHER, LOUISE SMITH, BOBBY HAMILTON
BENNY PARSONS, CHRISTIAN ELDER, GC SPENCER, SAM MCQUAGG, STUB FADDEN
KEVIN GRUBB, dick MAY, LARRY FRANK
BLANK ROW
BILL FRANCE JR, TOM MCEWEN, AL HOFFMAN, RONNIE SOX, EARL BRIGGS CUNNINGHAM
I am only missing that I know of a couple of modified drivers that drove nascar for a couple of races. if you see any missing let me know or if you have any i dont have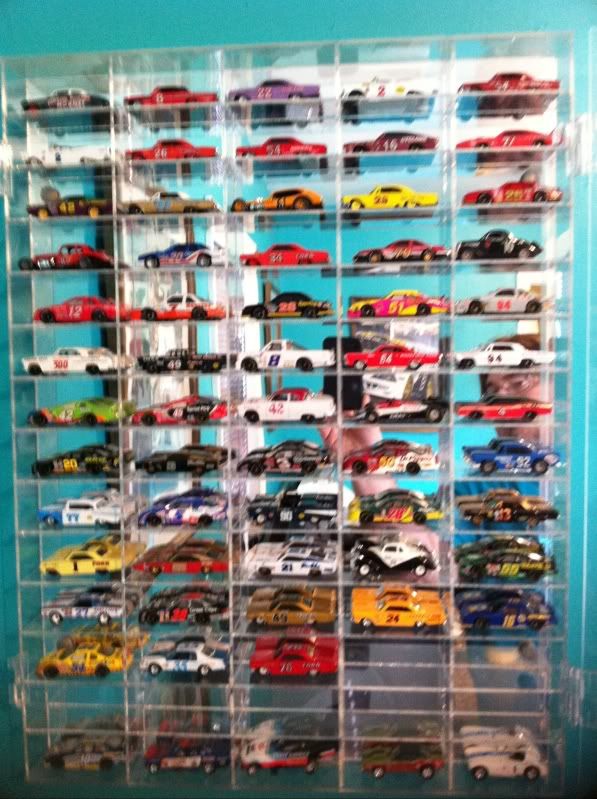 The display cases were bought from Clint Sapp earlier this year and the kyle petty autographed diecast was a gift from clint.
---
CANCER SUCKS

10-29-2011, 03:28 PM
RE: die cast
Nice cars/cases! I still need to get a display case for my JJ die cast. I just keep putting it off.
---
Always looking for: Ozzie Smith/Stan Musial/Lou Brock/STL Cardinals, NFL-CAR/GB/NE and NASCAR-Jimmie Johnson/Mark Martin

10-29-2011, 04:01 PM
pretz6969
Jr. Member


Posts: 181
Joined: Jan 2010
RE: die cast
Sweet collections Michael!!

Adam- im with you, keep putting off getting some cases for my Bobby and Tony cars
---
Collecting all Travis Pastrana. Also Bobby Labonte autos and race used




My Bucket: http://s325.photobucket.com/albums/k390/dprissel/
11-11-2011, 02:33 AM
(This post was last modified: 11-11-2011 02:37 AM by Nicholastoth.)
RE: die cast
Amazing collection! I can imagine what a big fan of thee racing car. Some car of them are so old classic range, rare to see those now a days, keep it up.
____________________
Granite Countertops
11-11-2011, 05:15 PM
RE: die cast
Nice collection
---


STAN MIKITA CUP FOUNDATIONS
MATT SMABY CUP PRINTING PLATES

BUCKET LINK
User(s) browsing this thread: 1 Guest(s)