Share Thread:
08-11-2011, 07:41 PM
shigfrag
Member


Posts: 641
Joined: Jul 2009
Sharing a few from my PC
I know I don't have anything that compares to some of your beauties, and I surely don't have the patience to scan everything but wanted to share a few of my favorites of the guys I collect and tell why they're my favorites:
Rod Smith, greatest wide receiver the Broncos have ever had and part of one of the most consistent duos ever alongside Ed McCaffrey.
The auto I like because I got it in person. The others I just like because aside from being beautiful cards, I know we all like when we can tell what part of the jersey ours came from. I especially love the Tools one with the piece of either the 8 or 0 from an away jersey.
Atwater, one of the hardest hitting safeties to ever play in the NFL, and my personal all-time favorite player. Jason Elam, one of the most consistent NFL kickers ever who holds the record for a field goal at 63 yards (tie). Howard Griffith. The man who plowed forward and made sooo many of those Terrell Davis runs possible. Also scored two TDs in the Broncos second Super Bowl win.
The 89 Atwater was signed in person for me when I was 10 years old and he was in his second season. I like the 100 stripe Wild Card just because they're so damn hard to find. The Elam auto is a really tough one to find and goes for way over bv any time I've seen one. Griffith doesn't have a lot of cards and I have very few but like this one because it features both him and the guy he helped make a legend in Denver.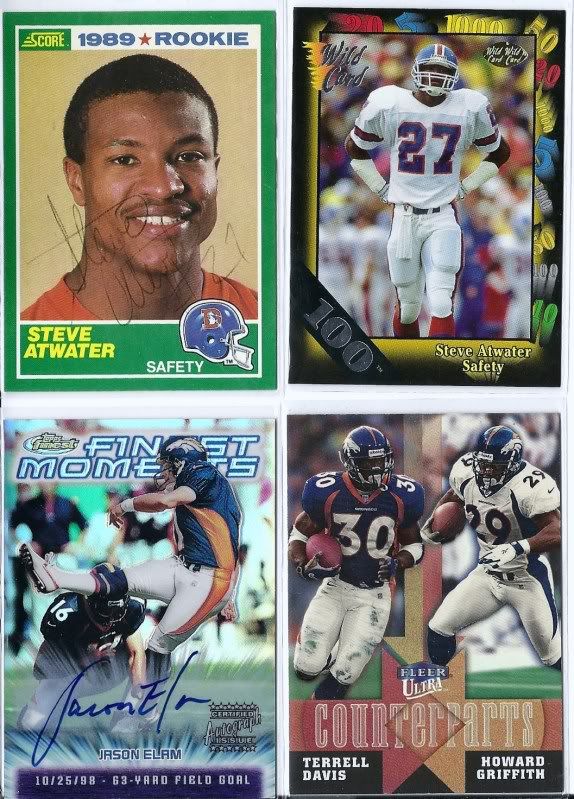 thanks for looking. I'm ALWAYS looking for ANY and ALL of these four guys. Dig 'em out for me! =)
---



Broncos I "super collect": Von Miller, Rod Smith, Steve Atwater, Jason Elam, Howard Griffith.

(also collecting ALL kickers)
08-11-2011, 07:44 PM
RE: Sharing a few from my PC
sweet! those smith patches are great!
---

Football- Tom Brady, Rob Gronkowski, Aaron Hernandez, Brandon Bolden
08-11-2011, 07:46 PM
RE: Sharing a few from my PC
that tools of the trade is sick
User(s) browsing this thread: