07-26-2011, 03:14 PM
Recent collection find.
I was cleaning my folks attic out and ran across the box of cards I collected back in the 80s. It was my first card collection. I haven't really went through much of it but it looks to be over 5000 total cards from late 50s to early 80s. It looks to be mostly baseball and football but I have ran across a few basketball and hockey. Now to the bad news. Most of the stuff looks to be in shape you would expect since I probably bought most for nickels, dimes and quarters back in the 80s.
So is there a market for any of this stuff? Even the poor quality stuff I would imagine could be used as temporarily set fillers.
I added some examples of the stuff to my organize under the vintage folder if anyone wants to take a look there. There is 1000s more cards to be added but I am not going to add everything until I know there is even a market for it. If you look at the vintage folder do not pay attention to the condition it is marked. If anything interest you inquire with me and I will give you the condition as 90% of the stuff is probably EX and below.
Here is the Al Kaline 1959 and I would say at least 1/3 of the cards are in this condition or worse.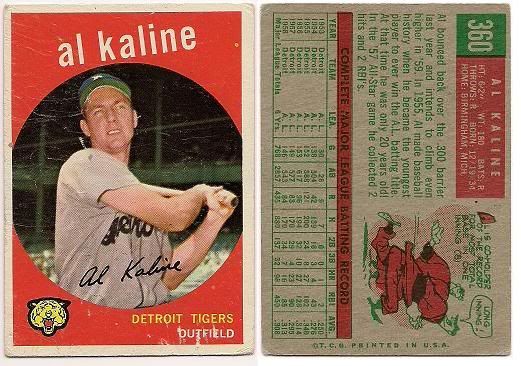 My wants

AJ Green AUTO
Rookie Cards
Ticket Stubs