06-20-2011, 10:25 PM
A Beautiful PC addition and a 2010 Topps Chrome 6 Pack Break
First of all, here is a beautiful addition to the Rams PC: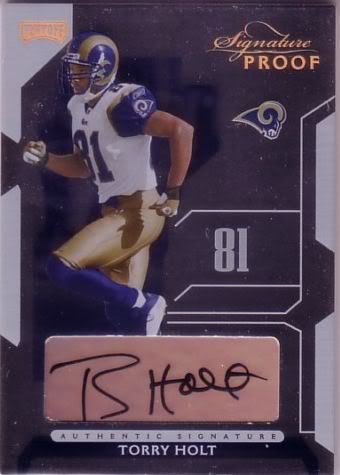 2006 Playoff #64 Torry Holt autograph #2/5
The card and sticker is silver with a refractor finish and looks much better in real life. The scan does the card no justice. Nothing like picking up a beautiful PC auto of a great player numbered out of 5 for only $10!
At the card shop, I picked up the last six packs of Topps Chrome.
I'm a huge fan of the design of both the inserts and the base cards.
Here is the video break:
I'm a big fan of the LT chrome rookie. It's an awesome looking card and who cares if rookie cards aren't valuable and reprints are common? This card makes me feel like the little kid who opens an old pack and finds a rookie of his favorite player.
Check out my blog at
http://cccollecting.blogspot.com
!
I collect Rams, Giants, A's, and Mavs (to a lesser extent).
Trade Bait is available through the blog link.