Share Thread:
10-20-2010, 08:58 PM
Hidden Cards...
Okay so I have been seeing alot of people showing off "hidden pcs" And I thought of an idea. Instead of showing off entire hidden pcs show off a card you have never posted. Post a new card no ones seen once or twice a week and see what everyones hiding lol. I dont have a scan of many cards that havnt been shown however I will be sure to post some big time cards that i havnt posted into the forum. Feel free to post as often as you like just try not to clutter the thread all at once, give everyone a chance to show off there hidden gems.
Thanks.
---

WHO-DEY
10-20-2010, 09:24 PM
mik253
Sr. Member


Posts: 9,857
Joined: Aug 2008
Hidden Cards...
Here is one of a few I have never shown off.
Good idea for a thread.
---
10-20-2010, 10:45 PM
Hidden Cards...
Here is a really nice scan I havnt shown. It isnt football but I dont think anyone will have a hard time relizing who it is
Throwback /25 Greats of the Hall/50 Auto (not numbered but on card)
Great cards btw guys! They are all very nice! Hopefully this will become a great thread!!!
---

WHO-DEY
10-21-2010, 10:55 AM
Hidden Cards...
Bump...I will try to scan a few more in a little bit, I have alot of big time unshown baseball cards and some football and even some basketball haha.


---

WHO-DEY
10-21-2010, 11:16 AM
debully
Member


Posts: 634
Joined: Nov 2007
Hidden Cards...
I don't think I've shown this one but I could be wrong.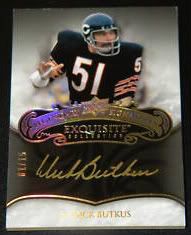 ---
Collecting auto's, Hall of Famers & Lions (Calvin, Suh, Pettigrew, Stafford, Leshoure, Broyles, etc)


Not much uploaded but here's my bucket link: http://s268.photobucket.com/albums/jj12/.../Football/
10-21-2010, 11:38 AM
Hidden Cards...
Nice butkus! I still want to get one of him. Like I said I have alot of baseball basketball and football so I wont always post football. However here are two nice basketball cards I got a little while ago that I havnt shown off....
---

WHO-DEY
10-21-2010, 11:54 AM
Hidden Cards...
I know hes not a huge star, but very hard to find, not many people sell his stuff.  But hes my fav
---
http://s944.photobucket.com/home/bigballa3200/allalbums

Anthony Rizzo-Paul Goldschmidt-Mike Montgomery-Sonny Gray-Henry Owens-Bubba Starling-Tony Sanchez-George Springer-Bryce Harper-Mike Olt-Trevor Bauer-Alex Gordon-Jaff Decker
10-21-2010, 12:07 PM
Hidden Cards...
Nice Beasons!!! He is a really good player, I would actually like to pick up one of his myself...
---

WHO-DEY
User(s) browsing this thread: 1 Guest(s)