Share Thread:
Beckett Baseball: Ask the editor
06-14-2010, 08:09 PM
aquila34
New Member


Posts: 16
Joined: May 2002
Beckett Baseball: Ask the editor
What do I do with a card that has one player on the front and totally different player from a different team on the back? There is no way for me to catelog it and notate the error. I have a 1976 Topps Johnny Briggs (Twins) on the front (sb #373), on the back it lists the stats for 1976 Topps Mickey Scott, Pitcher for the CA Angels with Card no 276.
06-14-2010, 09:15 PM
aquila34
New Member


Posts: 16
Joined: May 2002
Beckett Baseball: Ask the editor
06-18-2010, 10:54 AM
jonathani
Member


Posts: 2,415
Joined: May 2003
Beckett Baseball: Ask the editor
Chris,

I you are looking for anyone to write some book reviews, please keep me in mind.  As someone that studied English for one college degree and wrote a thesis for another before teaching English and writing at the college level, I would be more than happy to assist.

You know how to find me.

Jonathan
---
I appreciate Chicago players that begin their careers with the city's sports organizations in whichever league they play and stay with their teams through the temptation of free agency.
06-19-2010, 06:18 PM
Beckett Baseball: Ask the editor
Here's one for you. I'm a big fan of the old 1980's Kellogg 3D cards. I also enjoyed the Sportflick cards. Opened some packs of 2010 Topps Series Two and got a 3D card of Zach Grienke. Would it be possible to get a master list of sets and sub sets that contain 3D cards?
---
Check out my baseball card collection website at:
http://bart73man.tripod.com//
index.html
06-21-2010, 12:16 PM
tkopinetz
New Member


Posts: 3
Joined: Jun 2010
Beckett Baseball: Ask the editor
I have a question.

I had pulled a 2009 t-206 Ruth Relic card and while initially happy, was not sure what type of relic would be painted a bluish color. So, I started to do a little research. I ended up finding your article on the Tribute cards and the information stating they were actually stadium seat relics. Well, this prompted me to see if this card was actually a ruth relic card or not. The research I found on line implied it was not a bat but a seat, so I decided to call Topps.

Well, to say they were evasive is an understatement. Initially, everyone insisted this was was a bat card and then after I mentioned that it was painted, they though it may be a stadium seat but after speaking to a supervisor, informed me it was a stadium seat.

Well, I asked for a letter form Topps confirming this, which they insisted they would not provide. Well I continued to try and get something with no luck until I wrote customer services requesting my question be forwarded to customer service. I received a message back informing me that the Topps 2009 T-206 Ruth relic is actually a bat and not a seat and the reason for the paint is that it is a coaches bat.

Now here lies my question, what exactly was a coaches bat as defined by that era. I remember bats having a red or blue stripe around the neck or a bat when I was young to assist with hand positioning, but I am not sure in this case. there seem to be a lot of blue relics out there.

Secondly, how exactly could this be considered a Babe Ruth Game Used Relic as advertised on the cards? While I understand you point from a previous article about cost cutting and vague labeling, I do not 100% buy the answer. I have a bunch of the 2009 T-206 relic cards and over 90% of them are labeled correctly (that is to my knowledge), except for the FR1 Alex Rodriguez bat card that is labeled jersey on the back.

Let's be honest, most collectors do not buy as much to build sets as they buy for the autos and relics and they expect these relics and autos to be authentic. If you truly believe topps labeling issues on these relic cards is just a result of topps cutting corners, why is it so hard to believe they are cutting corners on the relics they are using and where they get both their autos and relics. I think the response I was given about a coaches bat being utilized as a Ruth game used relic should speak to that.

So back to my question, can you help me with a clearer understanding of what a coaches bat is in relations to this card containing a ruth relic and the relic is a coaches bat.

Thanks

06-21-2010, 10:02 PM
Knoxhuskerknox


Unregistered

Beckett Baseball: Ask the editor
I recently purchased some 1955 Bowman baseball cards on eBay. Two of the cards are 3/32" shorter than the others, and one is 5/32" shorter. When I contacted the seller about this, I was told "Size of the cards is normal. The 55 Bowman set had card lengths all over the place. I thought everyone that collected this set would have known by now." Do you know anything about this?

Chuck Knox
06-23-2010, 08:25 AM
jnjbj
Member


Posts: 649
Joined: Apr 2004
Beckett Baseball: Ask the editor
$0
$0$0Hi Chris, can you help me identify these.$0$0Rick Hague TJANT-RH Black Auto No Serial #'s$0$0Ladson Montgomery TJA18U-LM Black Auto No Serial #'s$0$0I dont see these listed.$0
---
If you have less than 25 trades. I ask that you ship first!
Collecting RC's / Prospects / USA / Aflac & Mike Stanton......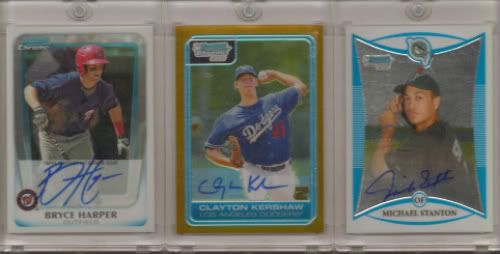 06-26-2010, 10:43 AM
cato9er
New Member


Posts: 19
Joined: Feb 2007
Beckett Baseball: Ask the editor
This question is in regards to the 2004 Fleer Authentix Baseball subset of "Ticket to the Majors" quad autographs. I currently have 19 of the autographs, but cannot confirm if the Alfredo Simon exchange exists. I have been unable to find an accurate checklist, but if the Simon exists I believe there only to be 20 cards in the setl. Please tell me you have the answer! Thanks, James Caton (Kennebunk, ME)
---
http://i1201.photobucket.com/albums/bb34...ackson.png
06-28-2010, 12:18 PM
zelman7
New Member


Posts: 7
Joined: Dec 2009
Beckett Baseball: Ask the editor
Chris,$0$0$0$0I have a 2010 Bowman Strasburg Auto - no refractor, no colored border - and was wondering how many were produced. It's just the basic white-bordered auto. I think they're going on ebay right now for like $500. $0$0$0$0$0Thanks.$0
06-28-2010, 12:39 PM
chrisolds
Member


Posts: 1,480
Joined: Dec 2000
Beckett Baseball: Ask the editor
Will catch up with this thread soon. Prepping magazine content.

Topps did not announce a quantity on the regular Strasburg autograph.

---
Chris Olds
Editor, Beckett Media
colds@beckett.com
Twitter @chrisolds2009
beckett.com/news

>>>> IF YOU HAVE A SITE ISSUE, please do not DM me.Please email customerservice@beckett.com. (I don't actually handle any of that stuff.)
User(s) browsing this thread: 1 Guest(s)