Share Thread:
Your 10 Favorite Hockey Cards
05-29-2016, 03:04 AM
hornet59
New Member


Posts: 80
Joined: May 2014
RE: Your 10 Favorite Hockey Cards
OK, this might be stretching things a little, but it will buy me some time to sort out and scan my actual favourite 10 cards.
My proposed sub-title for this post is "My Favourite 10-card Set". I have been thinking about posting this for a while, and this great thread gives me a close-enough reason.
Back when Beckett Hockey used to be a magazine-only format (which would take 2 months to arrive in these shores), there was a regular feature called "Mission Accomplished". It was with great pride - now replaced with embarrassment - that I had a feature published in the August 2005 issue. Enough said, here's the proof: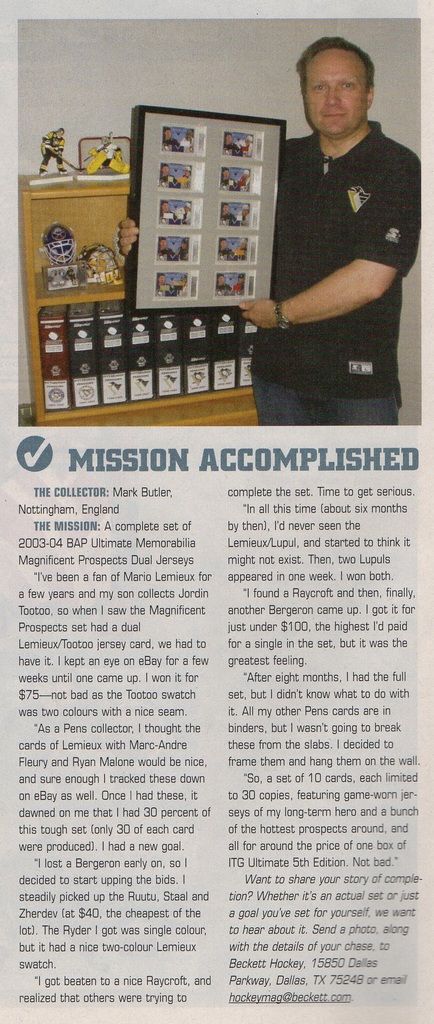 I've still got them, and no, they never did hang on the wall but are kept in a dark place away from the light - which is why it's taken so long to find them!
I suppose this could start another debate:- how Magnificent were Mario's Prospects? Here's my ratings:
MP1 - Marc-Andre Fleury - Hit (1 Cup....soon to be back-up for a 2nd!)
MP2 - Eric Staal - Hit (member of the Triple Gold Club)
MP3 - Patrice Bergeron - Hit (1 Cup)
MP4 - Michael Ryder - Semi-Hit (1 Cup)
MP5 - Ryan Malone - Hic! (sorry, Hit - one of my favourite Pens of all time, despite being shipped out just before they won the Cup)
MP6 - Tuomo Ruutu - Miss
MP7 - Joffrey Lupul - Miss (despite being the inspiration for the wicked king in Game of Thrones)
MP8 - Jordin Tootoo - Hit (several, very hard ones. No notable achievements, I just like the way he plays)
MP9 - Andrew Raycroft - Miss (Calder winner 2004, but limited shelf life)
MP10 - Nikolai Zherdev - Miss - (someone told Mario he had to include a token Russian*...)
* I know he was born in the Ukraine, but he won 2 WC Golds for Russia.
---
Always looking for Penguins GU/Autos/Parallels/RCs
PC website: http://www.myollimaattacollection.weebly.com
05-30-2016, 06:20 PM
csamsal
Member


Posts: 1,559
Joined: Oct 2007
RE: Your 10 Favorite Hockey Cards
06-16-2016, 11:12 AM
RE: Your 10 Favorite Hockey Cards
Lets bump this
---
Collecting Bryce Harper, Mike Trout, Griffey, ARod, Colt McCoy, Drew Brees, Brett Favre, Sidney Crosby, Nathan Mackinnon, Tyler Toffoli and young gun needs
I can Only Ship Mondays and Thursdays
06-16-2016, 05:12 PM
(This post was last modified: 06-16-2016 05:13 PM by johlix.)
johlix
Member


Posts: 821
Joined: Jan 2012
RE: Your 10 Favorite Hockey Cards
---
http://s1172.beta.photobucket.com/user/k...n/library/
06-17-2016, 09:49 AM
ak11
Jr. Member


Posts: 286
Joined: Jun 2000
RE: Your 10 Favorite Hockey Cards
Alright, here's 10: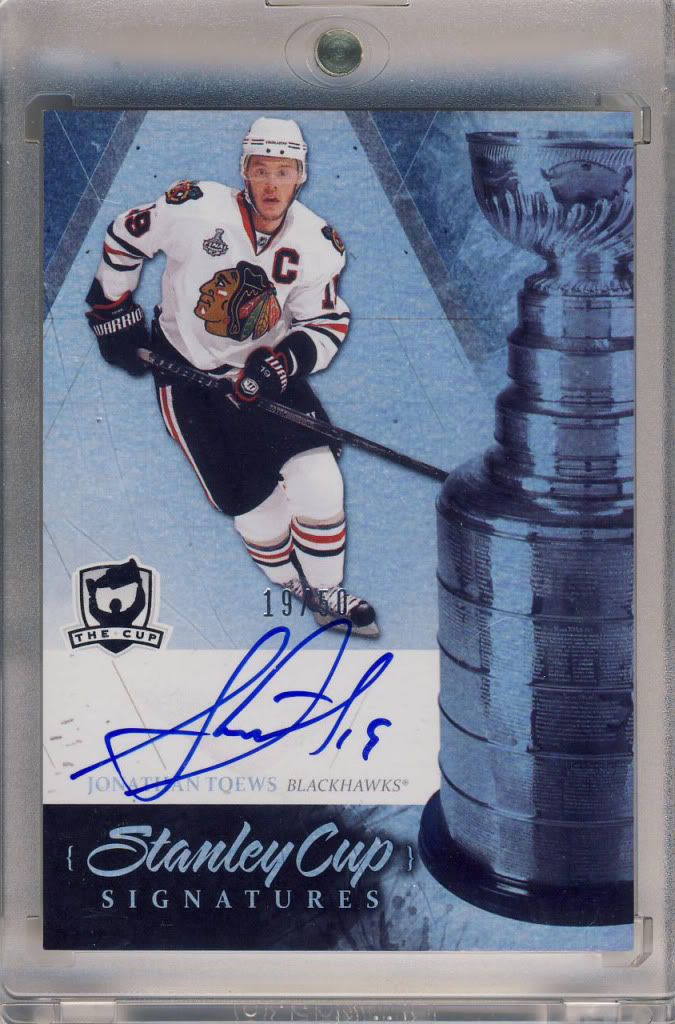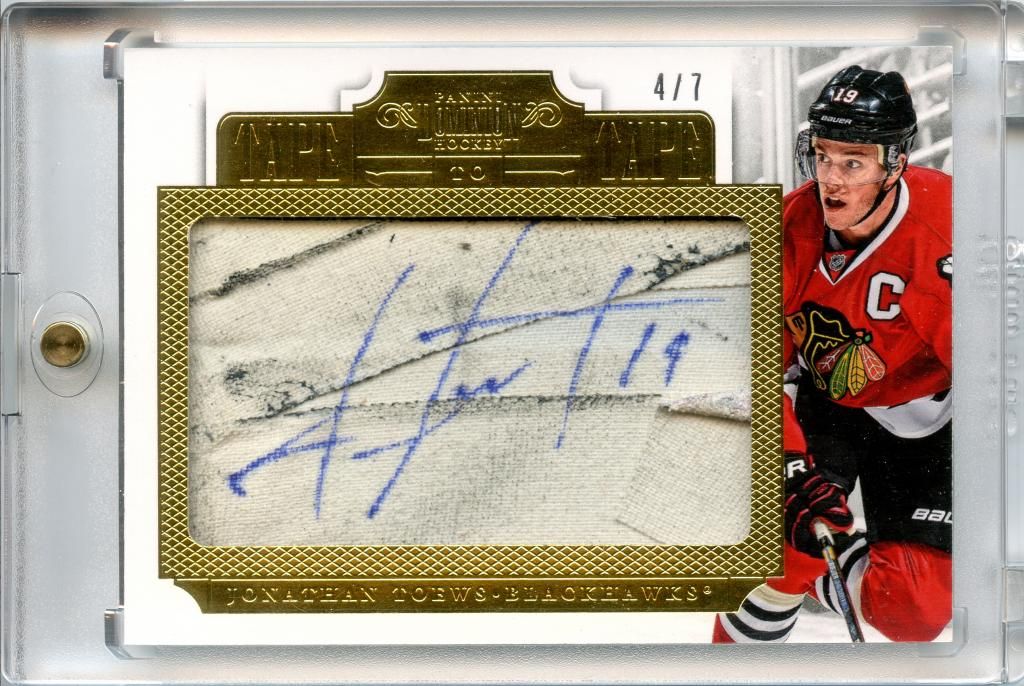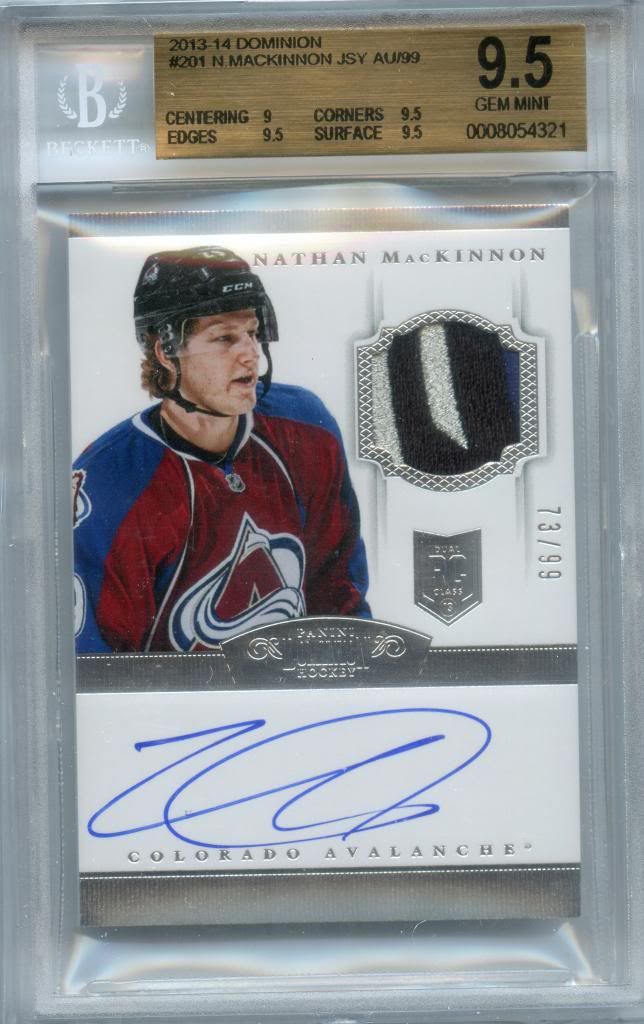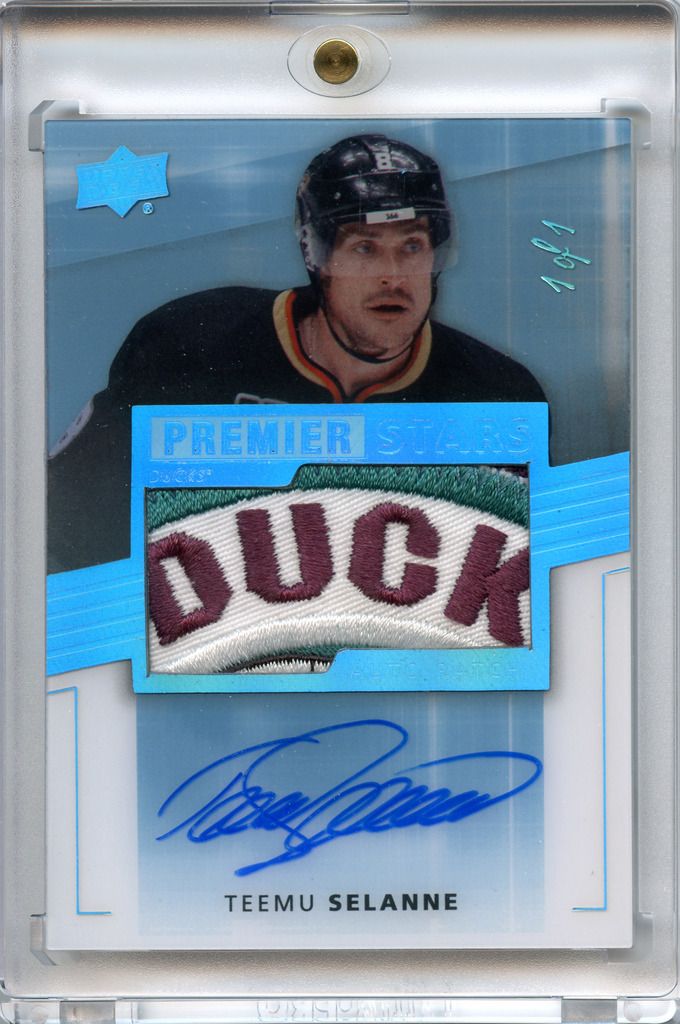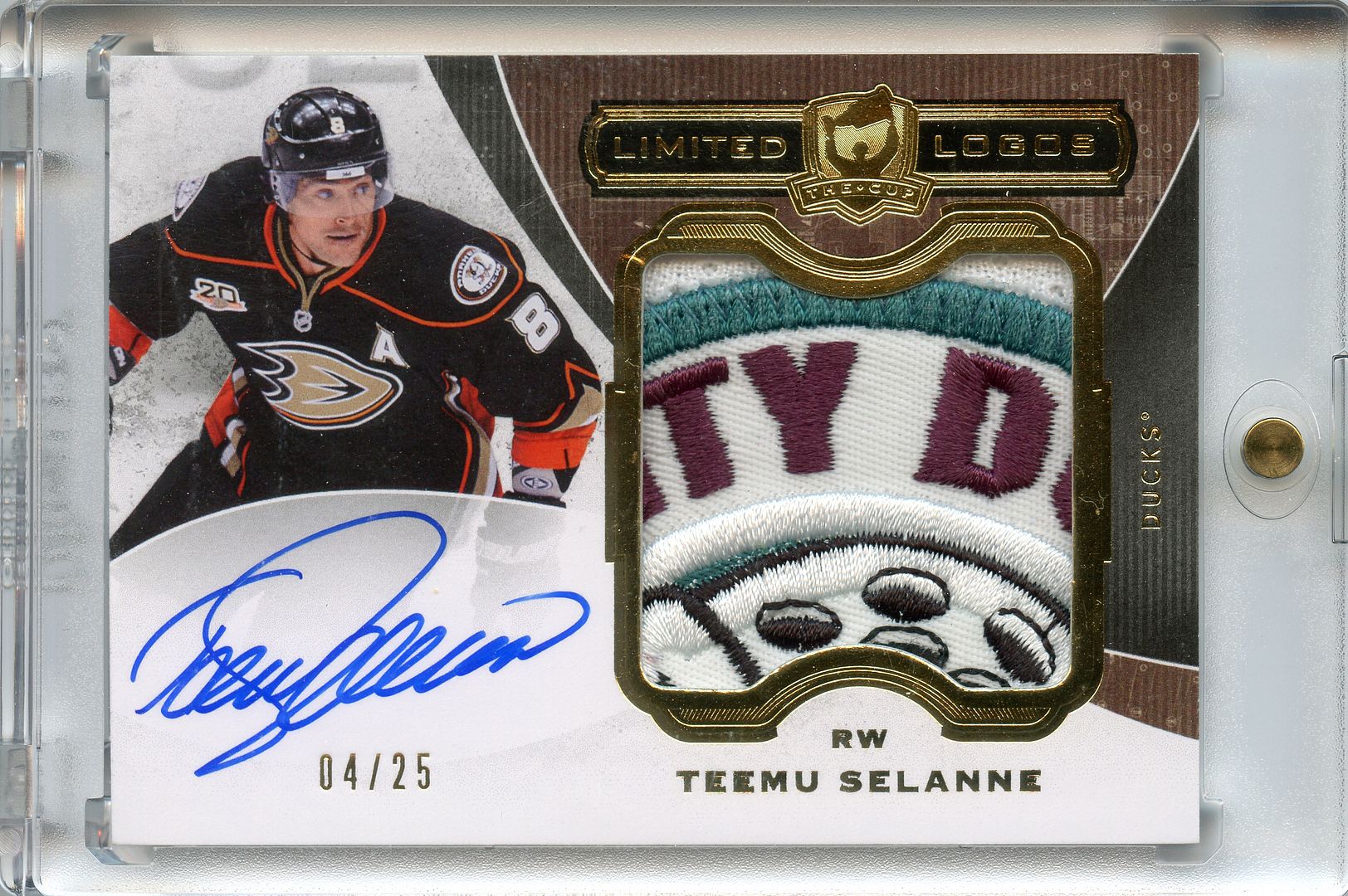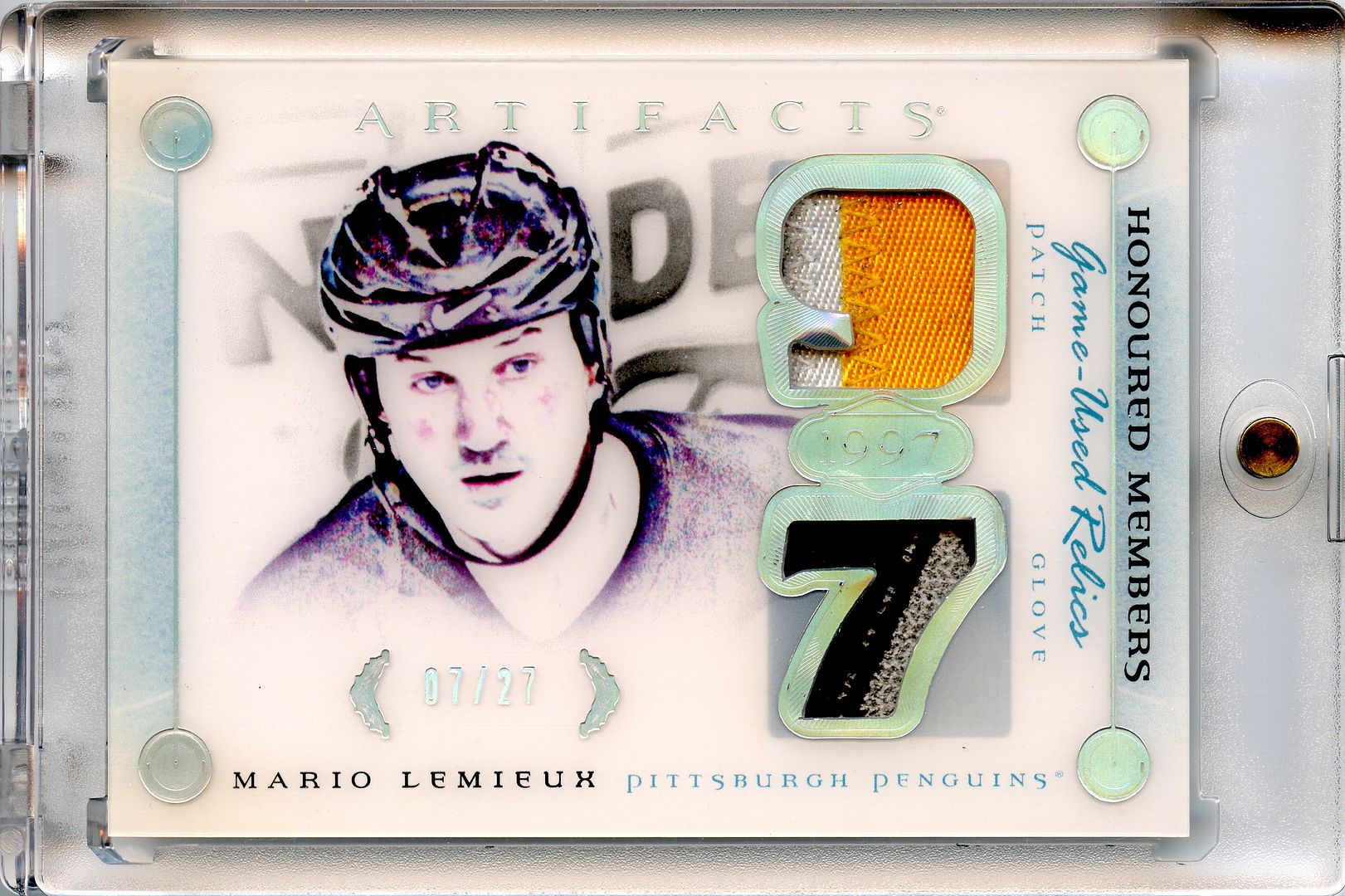 ---

http://www.kopitarcollector.com
06-19-2016, 09:11 AM
RE: Your 10 Favorite Hockey Cards
Here are my ten, also in no particular order.
My first one has a story to go with it. My son bought a box of Upper Deck and the LCS was having a promotion and gave him 5 packs of Overtime free with his purchase. He decided to give the free packs to me, and the following card is what I pulled. Man was he pissed!
Datsyuk # 2 / 3 Flash of Excellence Auto
Head of the Eagle Patch
Side 1 of 6 way auto
Side 2 of 6 way auto
Precious Metals Selanne (1 gram of gold)
Like the patch on this
Thanks for the look.
Rick
---
PHOTOBUCKET;
http://s898.photobucket.com/albums/ac190/titan501ca/

User(s) browsing this thread: 1 Guest(s)