Share Thread:
NFL new advertising strategy...
08-08-2014, 02:59 PM
bojesphob
Member


Posts: 1,853
Joined: Feb 2013
RE: NFL new advertising strategy...
Well, it's local for the 9ers only, and I mean, we see advertising on every extra square inch of the rest of the stadium and in the pre and post commercial stuff, this is probably the next natural progression of it. Next they'll have the Viagra Yards To First where they put a digital blue pill in the space between the line of scrimmage and the first down line....
---
My Photobucket
08-08-2014, 11:13 PM
savagenate
Sr. Member


Posts: 3,182
Joined: Jul 2011
RE: NFL new advertising strategy...
What people will do for money...especially when they know that no one will stop watching or going to games. The money is ridiculous. I love football, but it's getting, or maybe past the point, of being able to go to games for most hardworking people...and TV is pushing everything to cable and satellite...and now they want to go international???? Haha sorry to rant...I just get annoyed with some of this stuff.
---
Packers:Rodgers, Nelson
SB MVPs
Prizm Patented Penmanship autos
2009 Exquisite Autobiographies
Chasers:
A. Rodgers Chrome blue 2006
A. Rodgers Playoff 2016 parallels
https://sportscardalbum.com/u/savagenate
08-09-2014, 03:08 AM
y2hood
Sr. member


Posts: 1,272
Joined: Sep 2004
RE: NFL new advertising strategy...
And for the Saints game we had a local sponsor's logo appear in the red zone. Don't worry about Yahoo news when it comes to sports news. They once had a columnist take an assistant coach to task for his horrible wardrobe choice. The item? The camouflage outfits that the ENTIRE league was wearing a few years ago.
---
Seeking 2007 National Treasures Drew Brees Laundry Tag cards #'d to 10.
Trade/Buy for: Saints and Frank Thomas
08-09-2014, 07:48 AM
(This post was last modified: 08-09-2014 07:51 AM by duch2izback.)
RE: NFL new advertising strategy...
You ain't see nothin till you've seen...the Slap Ya Mama Red Zone LOL!

I'm pretty sure Punch Ya daddy might get banned

Actuallly, I loved what I saw during the Saints game last night. What I didn't like was messing with the field goals
---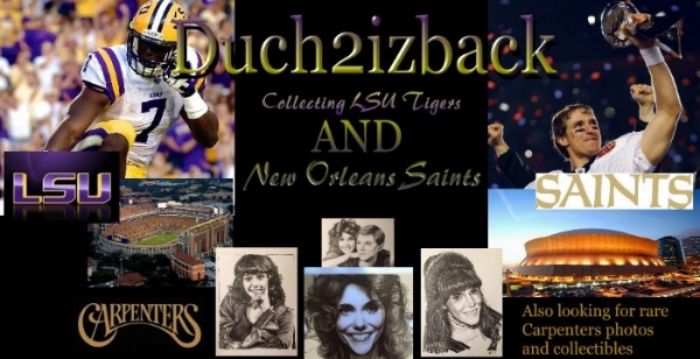 08-09-2014, 11:22 PM
jplarson
Member


Posts: 1,509
Joined: Sep 2007
RE: NFL new advertising strategy...
Next step is to offer an ultra exclusive TV package where you get NFL games without on-field advertising. We dirty peasants with regular TV programming get red zone ads and tiny pop-ups each time the QB drops back to pass.

They're testing the waters here, hopefully they find it doesn't work and stop messing with their bread and butter product... the actual game.
---


2000 Absolute Leather & Laces | Blog | 1999 Finest
08-10-2014, 07:33 AM
jonathani
Member


Posts: 2,402
Joined: May 2003
RE: NFL new advertising strategy...
Remember, according the "Wall Street Journal" studies a few years ago that I've brought up here before there is less than 10 minutes of actual playing time in an NFL game (from snapping the ball to a whistle ending the play). The other 3+ hours on TV is all commercials--on and off the field. If a man played every play on offense, defense, and special teams for an entire 16-game season, he would actually be doing something meaningful on the televised field less than 3 hours per year, but each game itself is longer than that on TV each week. The NFL could be called the National "Filler" League because that's what most of a game is. I like football and am a huge Bears fan interested in the whole history of the game (my pets are named "Halas" and "Payton"), but it's the only sport wherein I can watch an entire game on TV in my living room while completing a weeks' worth of my Family's laundry in another room and never miss one second of action. There aren't enough breaks in any other sport (even baseball, I've tried) where I can make that happen. Heck, with hockey I barely have time to get a beer except between periods. Yet, the advertising dollars just aren't there in the other sports right now on a per-game basis because their playoffs are longer than an entire NFL season. The money gets spread out over around many, many performances and is not linked to less than 20 like for most NFL teams.
---
I appreciate Chicago players that begin their careers with the city's sports organizations in whichever league they play and stay with their teams through the temptation of free agency.
08-10-2014, 03:37 PM
RE: NFL new advertising strategy...
And this is why I love my DVR... Only way I roll...
---
JAXON SHIPLEY SUPER COLLECTOR-PAYPAL ALWAYS AVAILABLE!!!
08-10-2014, 08:04 PM
(This post was last modified: 08-10-2014 08:04 PM by mooncricket916.)
RE: NFL new advertising strategy...
wow that looks terrible! Gotta pay for that new stadium somehow though lol.
---

User(s) browsing this thread: 1 Guest(s)