Share Thread:
04-29-2014, 06:34 PM
RE: Great job Panini
Yeah man, getting them is such a bummer for me, I have never gotten one back before that
04-29-2014, 07:31 PM
RE: Great job Panini
Topps is way worse. I redeemed a 2012 Supreme Nicks/Cruz 1/1 back in Feb 2013 and I'm still waiting for them to mail it.
---
Looking for any and all New York Giants!
http://sportscardalbum.com/u/geemen10
Thanks, Russ
04-29-2014, 08:12 PM
RE: Great job Panini
Thats what I hear, Topps has always been bad. I pulled a Prince Fielder Topps auto #/5 I wanna say in 06, and being in the military I moved since then. I got a call a few years ago saying the card was sent back (after I changed my mailing address on the site) and they told me I had to go online to change my address. My address has been updated every time I move, and still no card. Every time I call them it's a shitshow. Maybe that's why I find myself buying anything but Topps now.
04-29-2014, 08:19 PM
RE: Great job Panini
(04-28-2014 07:50 PM)

bselje Wrote: I've been waiting for 2 Rueben Randle Contenders autos, the first submitted 3/3/13, and the short print version since 6/4/13.
And seriously - I bought 3 packs of 2013 Crown Royale out of different boxes at the LCS and pulled a redemption card out of each one. 3 for 3...I cant tell you how impressed I was.
So lets just say I'm not the biggest Panini fan out there right now.
TEN Stevan Ridley Contenders autos since his rookie year, still waiting
Four Rueben Randles, including Short Prints, waiting as well
I definitely feel your pain
And I'm pretty sure we'll have another LSU player go the same fricken route this year
---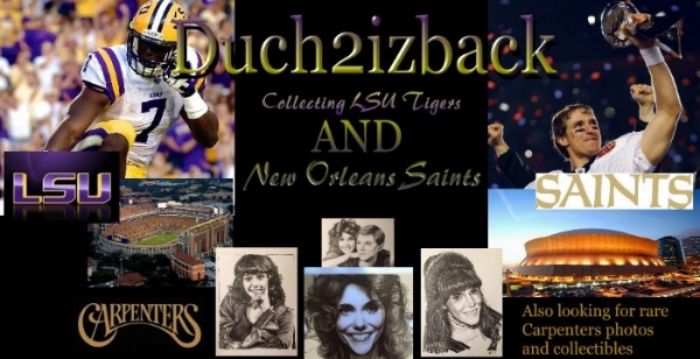 04-29-2014, 08:20 PM
RE: Great job Panini
I hear ya bud, gotta love LSU players wanting to sign the contracts but not the cards. GEAUX SAINTS by the way.
User(s) browsing this thread: 1 Guest(s)