Share Thread:
another 4 racks of 13-14 Prizm
02-08-2014, 04:26 PM
djohn
Sr. Member


Posts: 4,268
Joined: Jul 1997
another 4 racks of 13-14 Prizm
I was on a business trip in San Diego this week, and while I didn't get a chance to get to any card shops as I was hoping, I did manage to swing buy a Walmart and they had 4 rack packs of 13-14 Prizm. I grabbed all 4 and managed to wait until I flew back home to open them. Here is what I got:
HRX Rookies: McLemore x2, Cody Zeller, Rice Jr, Caldwell-Pope, N.Noel x2, Solomon Hill, Hardaway Jr, Trey Burke, Oladipo
Green Prizms: Ben Gordon, Jared Dudley, Marcin Gortat, Francisco Garcia
Blue Prizms: Avery Bradley, Ronnie Brewer, Thaddeus Young, Sam Perkins
Red/White/Blue Mosaics: Solomon Hill, Gorgui Dieng, Gordon Hayward, Jared Dudley, Jeremy Lin, Kevin Love, Evan Fournier, Alec Burks, Carmelo Anthony, Glen Davis, Shaq, Manute Bol
and this autograph #'d 23/25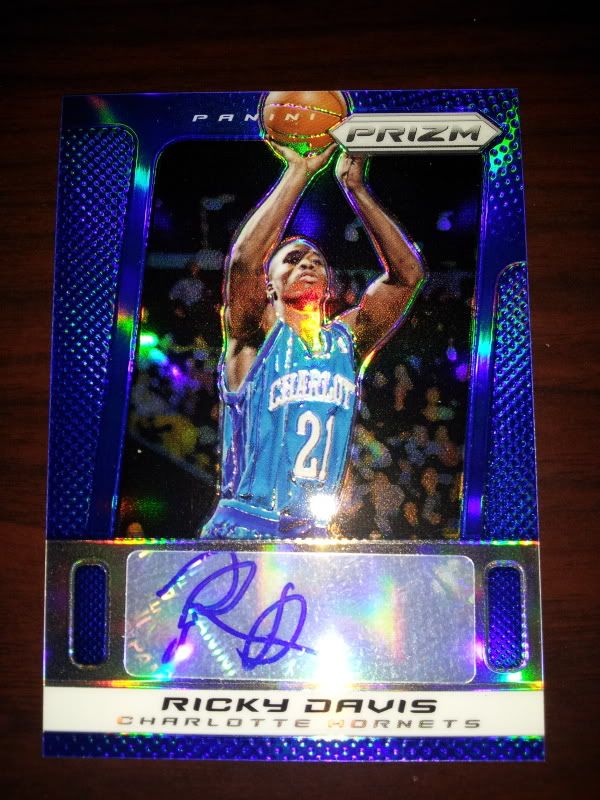 I really love busting these rack packs, and hopefully I can find some more soon.
---
Collecting John Stockton, Karl Malone, Ivan Rodriguez, Gary Carter & UF player rookie year cards. Plus Jedd Gyorko rookie and prospect cards.
Jedd Gyorko 2010-2013: Have 313/419 including 1/1s
Wantlist: http://sites.google.com/site/sportscardsite/set-needs/
02-09-2014, 12:11 PM
RE: another 4 racks of 13-14 Prizm
Nice blue auto
---


STAN MIKITA CUP FOUNDATIONS
MATT SMABY CUP PRINTING PLATES

BUCKET LINK
User(s) browsing this thread: 1 Guest(s)