Share Thread:
02-12-2014, 09:37 AM
RE: Goodwill/Yardsale Finds
Another mans junk, is another mans treasure. If I find something that good, I jump on it.
(02-12-2014 07:22 AM)

jaykayzee Wrote: I like to hit up the local AmVets around me every once in a while. I've done pretty well picking up some nice furniture and dish/glass wares for pennies of what they sell for. Picked up a baggie of old loose SLUs once for like $2 or something, nice to have Joe Montana on top of my TV.

Did have one real "FIND" once, about 4 years ago. I walked in and saw this hanging on a hook, along with all the other well worn, dirty, beat-up winter hats and scarves :






There were 2 of them.

Both brand new - with tags still on them.

They were 49 cents a piece.

Yes, I bought them both.

As I was cashing out, I could hear a guy start yelling from the back of the store, using some very lovely words, about how "THEY'RE GONE!"

Yeah, cherry on top.
---
Quinton Patton's GU and Autos


02-12-2014, 02:46 PM
RE: Goodwill/Yardsale Finds
I've only gone once (my mom dragged me with her when I was visiting) and found a BGS 9.5 Tiger Woods RC for $5. Sold it for $90 lol Cant ever get motivated to go tho.
---
Collecting =

Peyton Manning


Manning PC
02-12-2014, 03:35 PM
gadsden86
Member


Posts: 1,938
Joined: Jan 2001
RE: Goodwill/Yardsale Finds
I have started looking at salval and goodwill as well. In the summer its the best a guy that lives about 10 min away started selling off his sports card/ figure/ book collection and i have gotten a ton for pennies. Best find was a box of commons that had 30 richard sherman rookie cards in it. I sold the for like 50 bucks at the time. So i was happy.
Hope he starts up again this spring.
---
Collecting Dolphins, PSU Alumni(in college uni)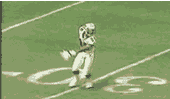 Like my Facebook page.
https://www.facebook.com/PHsportscards?ref=tn_tnmn
02-12-2014, 03:46 PM
(This post was last modified: 02-12-2014 03:47 PM by foleylion08.)
RE: Goodwill/Yardsale Finds
When I was younger, my mom worked at a Waterfront Mission, which is similar to Goodwill, Salvation Army, etc. So I got her to tell the people in the receiving and sorting department to keep anything sports related set aside for me.
Some of the Awesome finds included old 90s Alabama football game programs and magazines, a VHS recording of the 1992 National Championship, a book autographed by Gene Stallings (former 'Bama coach) along with ridiculous amounts of Alabama memorabilia. Back in the early 2000s, in the "pre-Saban" era, Alabama stuff was a dime a dozen, so I jumped all over it and racked up. Now ANYTHING Alabama at a thrift store here in South Alabama is ridiculously overpriced and STILL flies off of the shelves.
Also got these for little to nothing (and still have them if anyone is interested!):
1997 All Star MVPs of the Cowboys: Aikman, Novacek, Sanders, Smith and Irvin. And the 49ers: Hanks, Young, Norton Jr., Rice and Jones.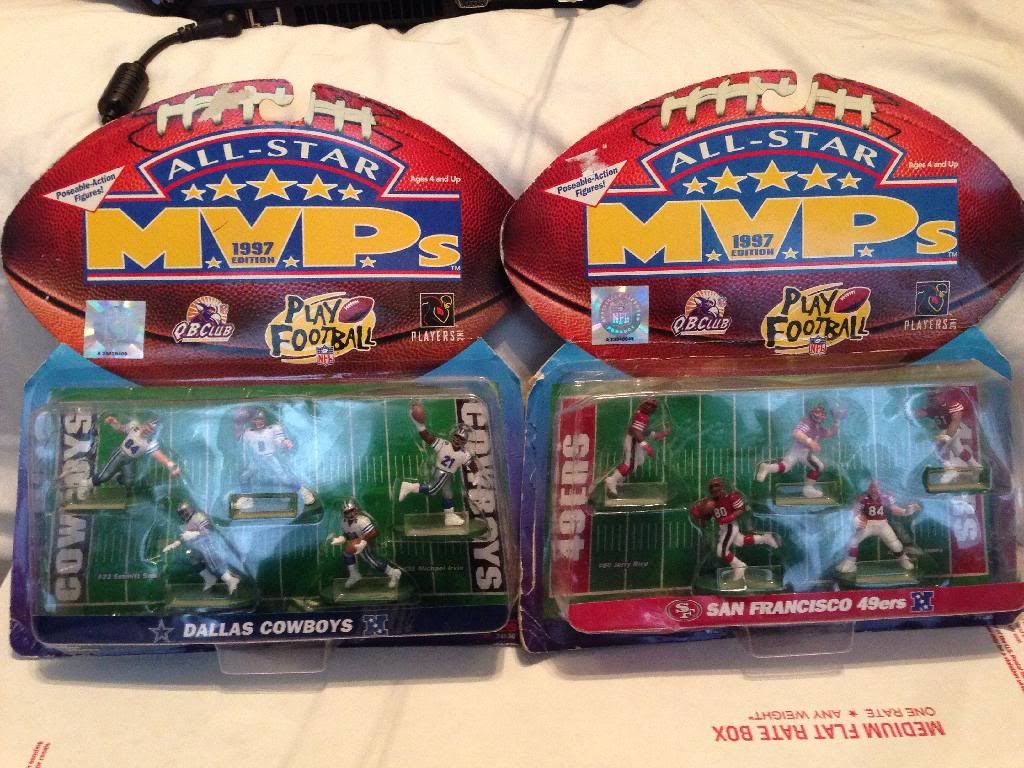 Boxes aren't in the best shape, but they've never been opened. $1 each!!
And these two, on the same day, for $5 each (sorry for blurry pic):
Good thread idea by the way.
---
Collect BARRY SANDERS, Tom Brady, Bama Alums and Randy Moss


I only give DC for trades over $50
02-12-2014, 03:51 PM
RE: Goodwill/Yardsale Finds
I saw a similar thread on another site and I thought it would be cool to bring it over here. Like hearing about what people find in these types of places. I love going, so I can find some hidden treasures.
---
Quinton Patton's GU and Autos


02-24-2014, 04:57 PM
(This post was last modified: 02-24-2014 04:57 PM by jywilli69.)
RE: Goodwill/Yardsale Finds
Me and the wife went to Goodwill today and I ended up picking up this mug. I got a good deal on it and I will probably put it up for trade for any Michigan Fan.
Mug
---
Quinton Patton's GU and Autos


03-04-2014, 11:50 AM
RE: Goodwill/Yardsale Finds
I thought I would bring this back to the top and see anyone found any goodies lately.
---
Quinton Patton's GU and Autos


User(s) browsing this thread: 1 Guest(s)