Share Thread:
2013-14 SP Game Used Gudas Auto?
02-08-2014, 12:50 AM
kstjst
Member


Posts: 886
Joined: Jul 2003
2013-14 SP Game Used Gudas Auto?
Busted close to two cases of 2013-14 SP Game Used...opened a pack and there was a card sleeve in it...so I put it on the side until I busted the rest of the box. Pulled it out and to my surprise there was a Brendan Gallagher Jersey Auto Inked Rookie Sweater. Wasn't sure why it was in a card sleeve though...but when I looked closer, the back of the card showed the following: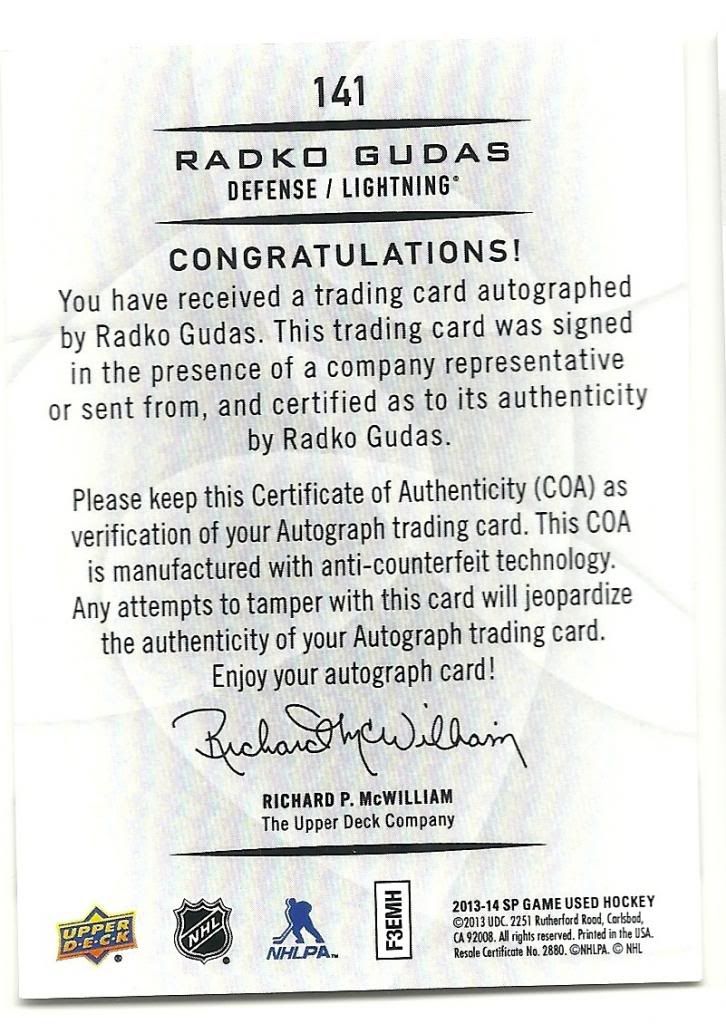 wait...what?!
Took the card out and it was actually two cards...the Gallagher Inked Rookie Sweater, but also the Guda card...except, this is what was on the front:
(I blocked out the serial number just in case)
So, technically, I actually DIDN'T get a Guda autograph?!
Any idea what I should do?
02-08-2014, 02:25 PM
rayeates
Moderator


Posts: 6,612
Joined: Mar 2010
RE: 2013-14 SP Game Used Gudas Auto?
I think that they may have messed up a bit! Haha! Contact Upper Deck and let them know. Just tell them that the Gudas was not in the sleeve and see if you can request it.
Congrats on the Gallagher, and if it is for trade I would love a shot at it.
Randi
02-09-2014, 11:19 AM
bonnev659
Sr. Member


Posts: 9,099
Joined: May 1997
RE: 2013-14 SP Game Used Gudas Auto?
agree contact them and see what they can do
---
using tracking numbers (all US and some Can)
02-13-2014, 11:25 AM
RE: 2013-14 SP Game Used Gudas Auto?
You know what i reckon that is? Thats the auto version of the true RC.... the last one made like 24/24 or whatever his number is. I MAY be stating the obvious here. Lol. If thats so, i wonder how they plan to replace that, seeing as only 1 was produced for each player, on the final serial number......
---


Sig by tha_penguin

After Joe Thornton serial #1's

Joe Thornton PC: (515) 11.36% Joe Thornton #'d 01/xx: (37) 1.34%
Owen Nolan (260) 15.63%
Couture (37) Demers (26) Sateri (23)

AFTER: TOMAS HERTL, HARRI SATERI
User(s) browsing this thread: 1 Guest(s)