Share Thread:
2013 Secret Santa show off thread!
12-26-2013, 03:59 AM
RE: 2013 Secret Santa show off thread!
I do enjoy the design of this year's Artifacts! Jean Beliveau was a friend of my father and I do have a small collection of the rare OPC blank backs. You did way more than alright!! Thank you, DJ
(12-25-2013 11:06 PM)

Dnj_cards Wrote: Glad they arrived on time!!! I was worried they may not since i had to ship to Canada and mail can be slow this time of year. I hope you enjoy all the cards, i was told you like this years artifacts and thats it lol so after talking to a few guys they thought you also liked the Habs and veterans so i hope i did alright.

Merry Christmas,
Jon
---
O-Pee-Chee collector.
12-26-2013, 02:06 PM
pens1fan
Member


Posts: 2,118
Joined: Feb 2010
RE: 2013 Secret Santa show off thread!
(12-26-2013 12:21 PM)

bguzowski16 Wrote: Why is the Lindros Ruby /399, and not /299 like the rest?
The regular base ruby are all /399 the SPs such TC, goalies and rcs are /299.
Nice Santa gifts so far!!!!
---
Collecting:
Current Penguins / Sidney Crosby / Penguins RCs




The mountains are calling and I MUST GO!!!!
12-28-2013, 02:10 PM
st3ve85
Jr. Member


Posts: 123
Joined: Apr 2011
RE: 2013 Secret Santa show off thread!
Im late for this again but thank you very much to my secret santa for the four nice addition to my Keith Yandle collection!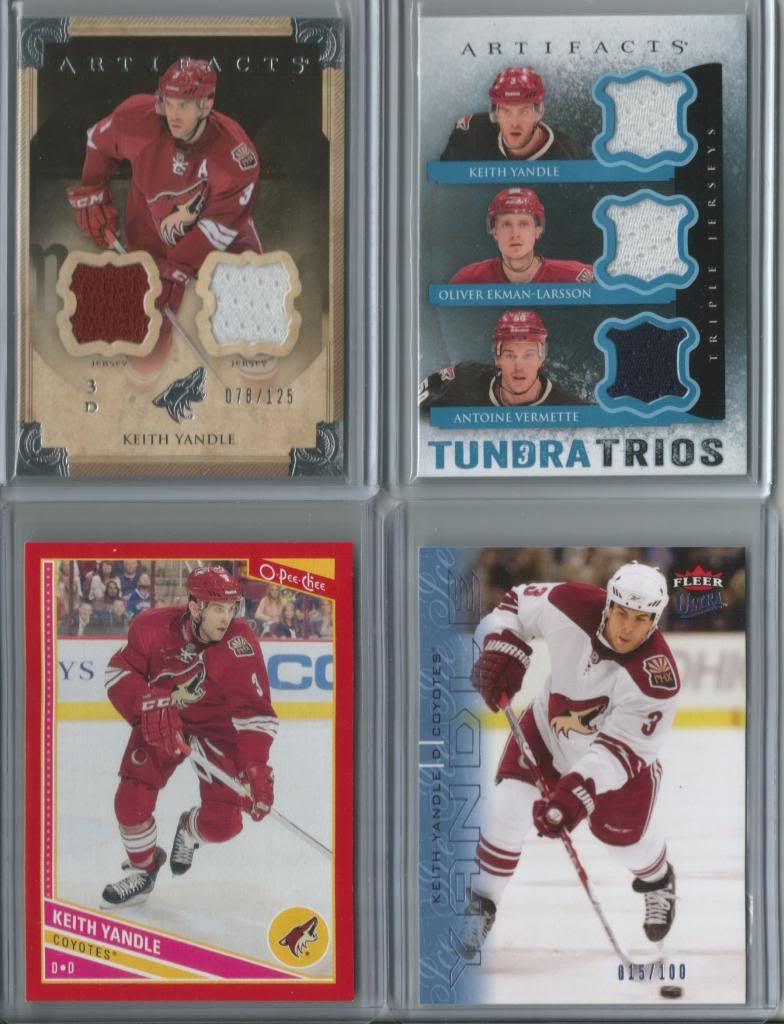 ---
PC: Mike Richter, Keith Yandle

NEW Top 3 Most Wanted Cards :
1- 1995-96 BE A PLAYER AUTOGRAPHS #S191
2- 1997-98 UPPER DECK GAME DATED MOMENTS PARALLEL #107
3- 1997-98 PINNACLE TOTALLY CERTIFIED PLATINUM GOLD MIRROR #13
12-28-2013, 04:42 PM
mrdub
Member


Posts: 896
Joined: Feb 2010
RE: 2013 Secret Santa show off thread!
i got mine few days ago, just now got around to getting a picture. id like to say thank you so much to my secret santa, two awesome cards for my pc's.
---

12-29-2013, 12:58 PM
RE: 2013 Secret Santa show off thread!
Secret Santa gift arrived Friday afternoon but had to work that night, then a Christmas party yesterday so here we are finally....
Big thanks and shout out to this above and beyond board member!! Received a bunch of newer Avs base...Stastny, Duchene, Barrie, Parenteau, Hejduk, etc....and below the "hits"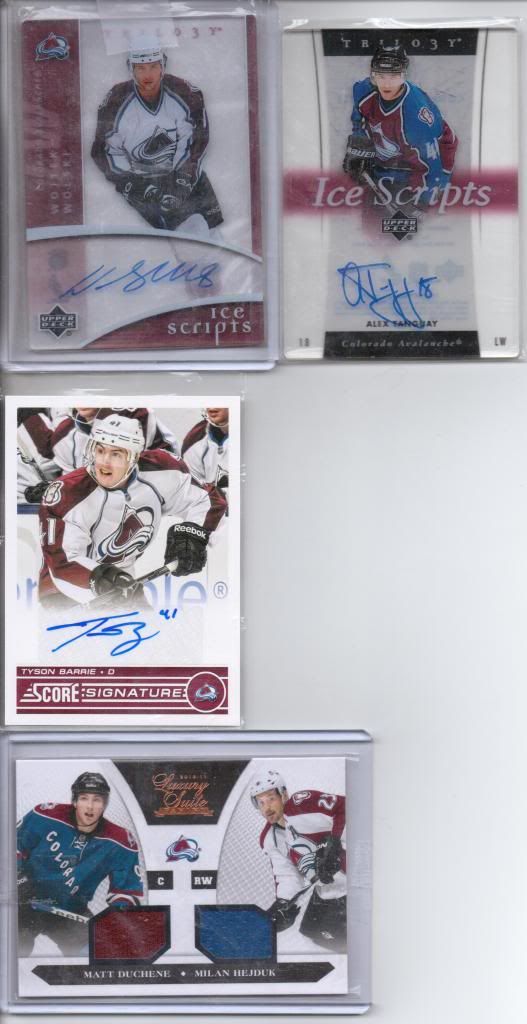 Wolski Icre Scripts, Tanguay Ice Scripts (shockingly my first Tanguay auto!)
Barrie Score Auto
Duchene/Hejduk Luxury Suite Dual JSY /599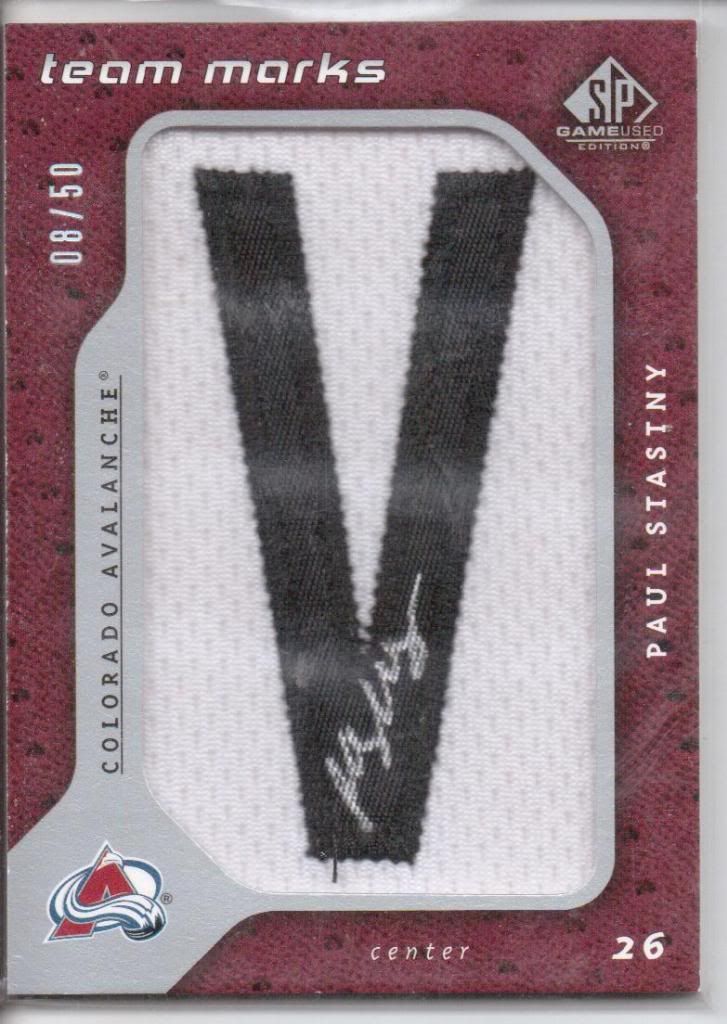 2008-09 SP Game Used Team Marks "V" Paul Stastny Auto /50!!!
And then this guy....
Joe Sakic postcard!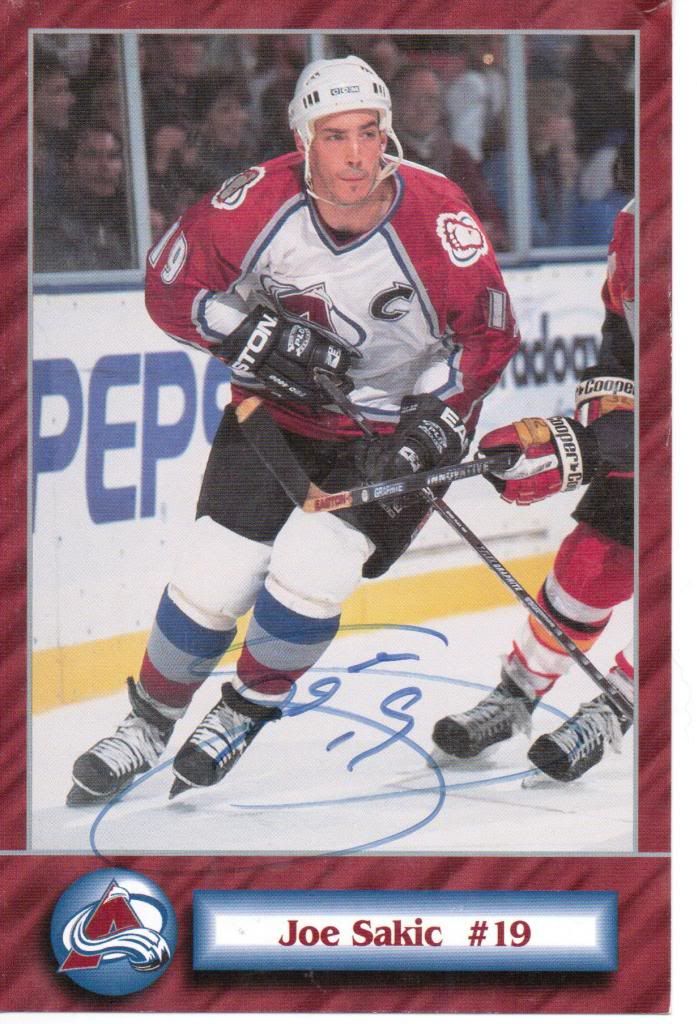 Thanks again and Happy Holidays to you, kind sir!
---



Collecting Nathan Mackinnon and the Colorado Avalanche
12-30-2013, 12:01 PM
RE: 2013 Secret Santa show off thread!
After a week of horrible sickness, I've finally been able to scan these cards on. I must admit, After picking out what I wanted, I thought to myself how difficult of a person I would be whoever got stuck with me, but holy smokes, way to come through santa. Not only knocking off an extremely hard fresh ice patch, but also a sweet ITG patch of cheveldae. Knocked my socks off. and than threw in some huge stars from my favorite team... I love you santa.
---
Looking for: Brandon Nolan, Manon Rheaume
Trilogy Ice Scripts / Ultimate Collection Premium Patches
2011-12 Upper Deck Ice / 2008-09 Upper Deck Ice
1995-96 Bowman / 1995-96 Select Certified / 1995-96 Playoff 1 on 1
2014-15 Upper Deck MVP / 2005-06 Upper Deck Ice Fresh Ice Patches
01-02-2014, 04:42 PM
Dnj_cards
Jr. Member


Posts: 448
Joined: May 2012
RE: 2013 Secret Santa show off thread!
Part 1 of my SS package arrived today, i guess my Santa had some slacking elves as he sent a message a letter saying another package will be on it's way shortly, lol.
In this package was sweet addition to my 12-13 Luxury suite set. Funny story about this card is i believe i had this exact one (Or it could have been similar) on my watch list on Ebay and almost bid on it but decided not to as i couldnt really afford to spend the extra, so the next day i found a guy overseas who had a single colored Messier stick that i traded for but i would have still been looking fo a multi colored one to upgrade and then Santa sent this so it couldnt have been a better gift!
Thanks Santa!!!
01-03-2014, 11:04 PM
washjeff
Jr. Member


Posts: 379
Joined: Oct 2012
RE: 2013 Secret Santa show off thread!
We have some really generous members here...
---
User(s) browsing this thread: 1 Guest(s)