Share Thread:
2007-08 Topps Hobby Box break
10-19-2013, 06:05 PM
2007-08 Topps Hobby Box break
I was in the city where the LCS that I infrequently go to is so I decided to stop by to see if there was any cheap wax for sale because I have been itching.
I actually landed 3 Oden RCs, 3 Durant RCs, 2 Conley RCs and 2 Jeff Green RCs.
The Durant Gold was from one of those $12 boxes from Target that I broke last week. I hadn't scanned it yet. I hit the Melo in the 3rd pack and I figured my hits were done. I hit the Boozer (which I need for a PC project anyway) in the last pack.
Now for the small PC pieces.
The Z-Bo is a first day issue /119 I believe. THe Kobe is the gold /2007.
All in all, I was pretty happy about this break.
Thank you for looking!
---
http://i1356.photobucket.com/albums/q728...232c31.jpg

I am typically a fast shipper and I ALWAYS use Delivery confirmation. Sometimes I forget to provide the number.
10-19-2013, 06:14 PM
RE: 2007-08 Topps Hobby Box break
dang you killed it on the durants!!!!
---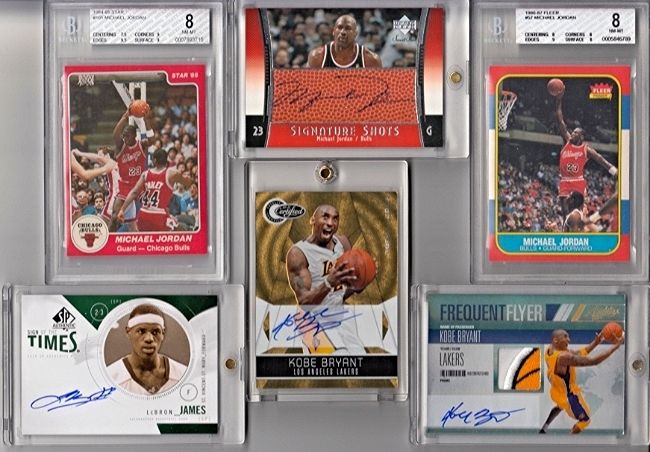 10-19-2013, 07:06 PM
kevinr
Member


Posts: 1,048
Joined: Aug 2011
RE: 2007-08 Topps Hobby Box break
Very nice break dude congrats. Sweet Melo......
---
I collect Michael Jordan, Larry Bird and Kevin Garnett also certain High End Celtics HOF's.



10-21-2013, 03:22 PM
RE: 2007-08 Topps Hobby Box break
nice golds
---


STAN MIKITA CUP FOUNDATIONS
MATT SMABY CUP PRINTING PLATES

BUCKET LINK
User(s) browsing this thread: 1 Guest(s)