Share Thread:
08-30-2013, 04:04 PM
Todays In Person Haul
Well, I went back to the practice this morning to watch with my son and target Jayson Megna whom was missing from yesterdays practice. I wanted to get his auto on an item before he left Sunday back for PA. to get ready for the Rookie Tournament in Ontario next week.
He was awesome yet again. As soon as he stepped off the ice and saw me he asked me if I happen to get the item we had talked about last Monday. when I said I did he offered to sign it right then in his full gear. I told him no hurry, go in and get changed/showered and when he's done and ready Ill be here...
The first two are just photos of him form the 2013 Black & Gold game as he was taking his shootout turn on Vokoun, which he eventually scored and won the Game for his team!
The next item is the one referenced above. I bought it on Monday and it was delivered Tuesday morning so that I would def have it for Thur...well, now Fri!
2013 Jayson Megna #12 Pittsburgh Penguins Game-Issued Home Jersey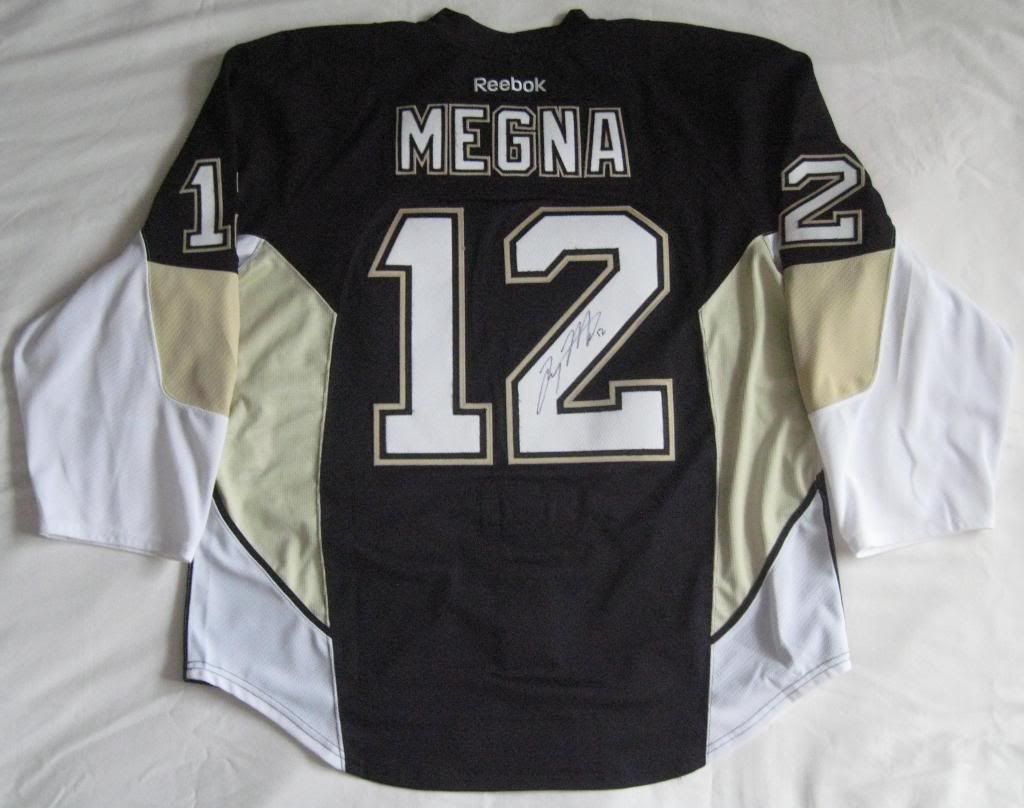 A lot of you know I collect Game-worn jerseys. I will NEVER have a game-worn signed. However, I have no problem having a Game-Issued Jersey signed.
Thanks for the look!
---
Joe Vitale PC- 104/125= 83% 0 - INCOMING

TRADERS: http://s171.photobucket.com/albums/u317/...5/TRADERS/

GAME WORN SITE: http://www.theigloolockerroom.com/



09-03-2013, 08:39 AM
RE: Todays In Person Haul
Congrats and nice pick-ups! It must have been amazing seeing all these players over the past couple weeks.
---



Collecting Nathan Mackinnon and the Colorado Avalanche
09-03-2013, 09:17 AM
pens1fan
Member


Posts: 2,115
Joined: Feb 2010
RE: Todays In Person Haul
Great autos Hugh!!! You can just send me the extra auto pic
It's really is cool that the players have been so nice about signing, that's the one thing about hockey that I love so much, is that the players seem more likely to sign for the fans than in other sports. Congrats!!!
---
Collecting:
Current Penguins / Sidney Crosby / Penguins RCs




The mountains are calling and I MUST GO!!!!
User(s) browsing this thread: 1 Guest(s)